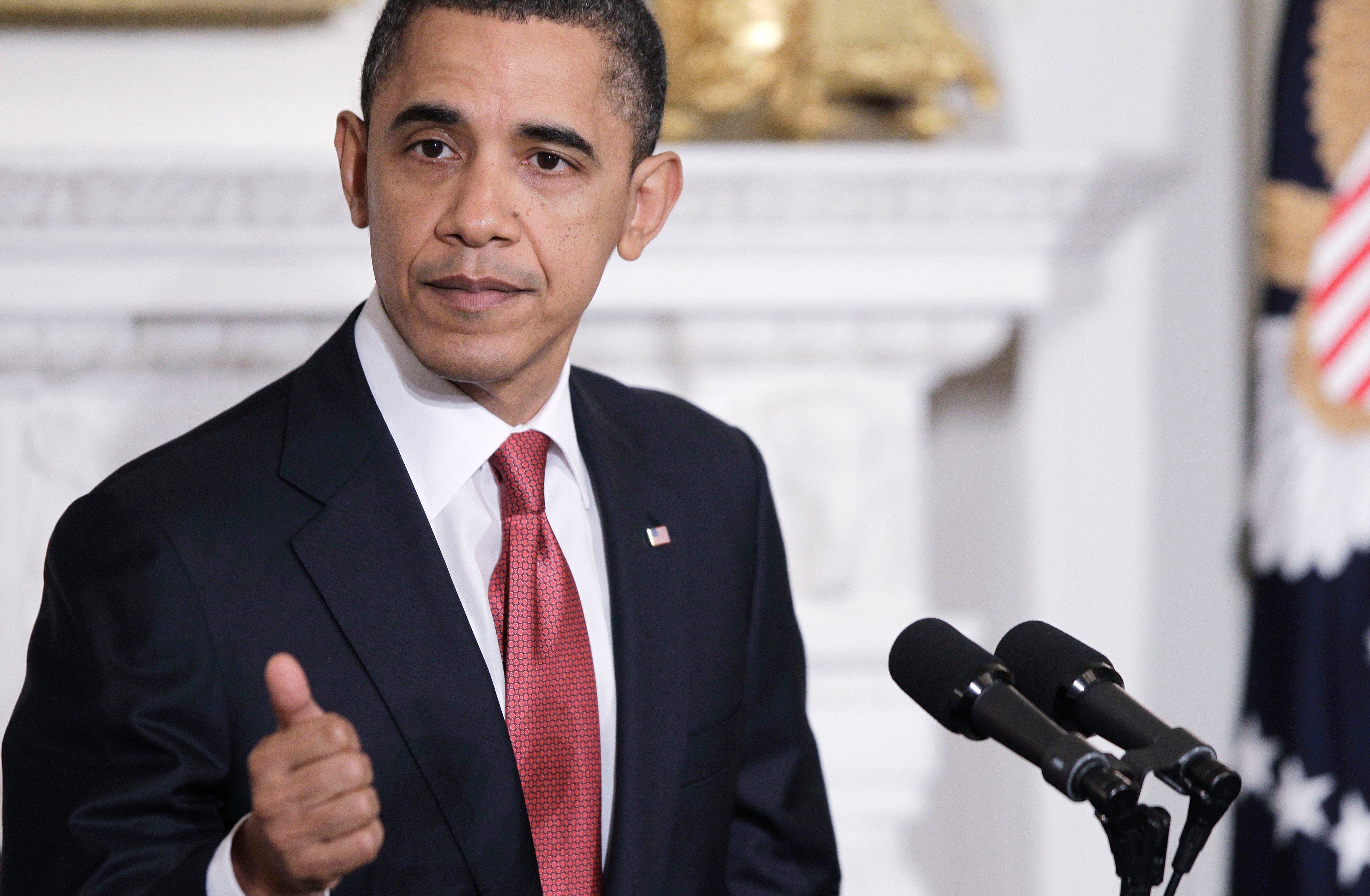 Forget the machete, or the scalpel: Obama takes a butter knife to the budget
President Obama said he'd take a scalpel to the budget instead of a machete. So far, though, he appears to be wielding a butter knife - trimming little more than soft edges.
The White House insists they're meeting the Republicans half way on budget cuts, but the numbers simply don't add up.
Here's the White House's fuzzy math:
White House cuts:
Freeze on 2011 spending: $40.8 billion
Cuts in Senate bill: $4.0 billion
New proposed cuts: $6.5 billion
Total: $51.3 billion
Republican cuts:
Freeze on 2011 spending: $40.8 billion
Cuts in House bill: $61.5 billion
Total: $102.3 billion
The Democrats' $51.3 billion is about half of the Republicans' $102.3 billion, so they're "meeting the Republicans half way." Right? Wrong. What makes this nonsense is the fact that BOTH parties are using fake numbers. The $40.8 billion in savings used by Democrats and Republicans is imaginary -- it's not cuts, it's the amount that would be saved by a freeze compared to a 2011 proposed budget that never came close to being enacted.
Without that imaginary $40.8 billion, the real numbers are Democrats: $10.5 billion; Republicans: $61.5 billion. So Democrats are meeting them one-sixth of the way.
And that's not the only reason these numbers don't add up. Take a closer look at the Democrats' "new proposed cuts" of $6.5 billion. Here's a list of some of those cuts obtained by CBS News. They were put forward by top White House officials (including Vice President Joe Biden and Chief of Staff Bill Daley) in their meeting Thursday with Republican and Democratic leaders on Capitol Hill:
Milk purchases (-$60 m)
DELAP (dairy) (-$290 m)
Agricultural Research (-$71 m)
USDA Single Family Housing Guarantees (-$173 m)
USDA Farm Loans (-$26 m)
Watershed Programs (-$50 m)
Public Telecommunications and Facilities Program (-$20 m)
EPA Homeland Security Activities (-$36 m)
Great Lakes Restoration Initiative (-$125 m)
Wildland Fire Suppression Program (-$250 m)
HUD University Community Fund (-$25 m)
EPA State Revolving Funds (-$950 m)
EPA State and Tribal Grants - Watershed, Airshed, and Climate Change (-$187 m)
Biomass Crop Assistance Program (-$100 m)
National Park Service, excluding LWCF (-$105 m)
Career Pathways (-$125 m)
SCSEP (-275 m)
FEMA State and Local Grants (-$425 m)
FBI Construction (-$133 m)
Rural Development S&E (-$20 m)
HUD Energy Innovation Fund (-$50 m)
Treasury Asset Forfeiture Funds (-$333)
Animal and Plant Health Programs (APHIS) (-$27 m)
HHS Community Economic Development (-$16 m)
HHS Mentoring Children of Prisoners (-$24 m)
Public Health and Social Services Emergency Fund (-$276 m)
At first glance, this list gives the appearance that they're busy trimming newly-found lard. In fact, though, all of these items are ALREADY in the president's 2011 or 2012 budgets. Nothing new here.
Many of the other "new" cuts are essentially "earmarks" -- specially-targeted spending that the president has already vowed to eliminate.
And then there's a cut of $280 million for the cancellation of the "ARC Tunnel." What's that? It's the "Access to the Region's Core" commuter tunnel that was supposed to be built under the Hudson River connecting New Jersey and Manhattan. But it was already cancelled -- last year -- by New Jersey Gov. Chris Christie.
Republicans say the White House proposal is "unserious" and "indefensible." Hardly an auspicious start to finding an agreement to avoid a government shutdown, with another deadline now two weeks away.
But there's little doubt the White House wants very badly to avoid a shutdown, fearing it will stall the economic recovery. So somewhere in the West Wing, or deep in the Eisenhower Executive Office Building, OMB staffers are no doubt sharpening their budget cutting knives, because the White House's first step in this budget battle is not going to cut it.
Chip Reid is CBS News' chief White House correspondent. You can read more of his posts in Hotsheet here.
Thanks for reading CBS NEWS.
Create your free account or log in
for more features.