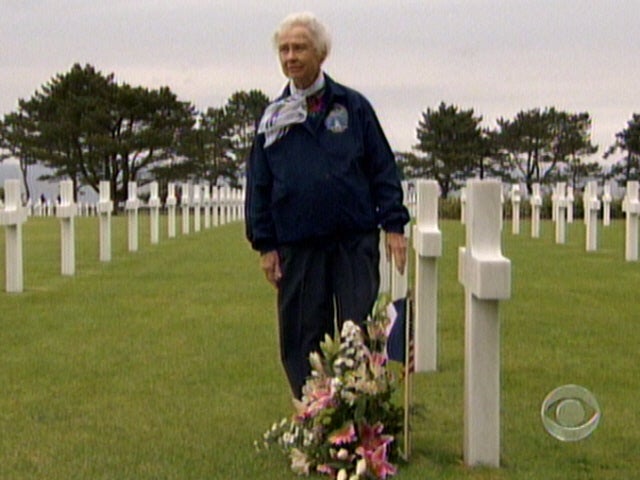 For WWII soldier's widow, a 60-year mystery finally solved
Sixty-eight years ago today, Gen. Dwight Eisenhower gave the final order for the allied invasion of Normandy. It was the eve of D-Day.
Among the Americans who fought to liberate France in the months ahead was 1st Lt. Billie Harris. CBS News went "On the Road," to tell Harris' story -- part mystery, part romance.
Peggy Harris of Vernon, Tex. never got a knock at the door, never got a telegram, never got anything definitive explaining what happened to her husband Billie during World War II. And so, in the absence of answers, she has remained dutiful to this day.
"Billie was married to me all of his life, and I choose to be married to him all of my life," Harris said.
Peggy and Billie got married just six weeks before he got shipped off to war. A fighter pilot -- his last mission was July 17, 1944 over Nazi-occupied northern France. He never returned from that mission.
At first Billie he was reported as missing. Then he was reported as alive and coming home. Then Peggy got a letter saying actually he'd been killed and buried at one cemetery -- then another letter saying he was buried at a different cemetery. Then she was told maybe those aren't his remains at all.
"They don't forget": Normandy still honors American WWII pilot's sacrifice
Texas rep. apologizes to WWII soldier's widow
Peggy was very frustrated. She waited. Months turned into years -- "and still no answer." Years turned to decades. So she wrote her congressman.
Wrote repeatedly, in fact, asking for any information about the fate of her husband. The last letter, in 2005, was directed to Rep. Mac Thornberry of Texas, who also happens to be vice-chairman of the House Armed Services Committee.
In his reply, Thornberry said Billie was "still listed as 'missing in action' in the National Archives."
Billie's cousin, Alton Harvey, grew up with this mystery.
"Didn't feel it was right that he just went off to war and didn't come back - end of story," Alton said. "You need to know what happened to him."
So a few years ago, he decided to try and get to the bottom of it for Peggy. He started by requesting Billie's military records.
And that's all it took.
"I said that can't be," Alton recalled. "It never dawned on me he was there."
Few missing soldiers have ever been easier to find than Billie Harris. In Normandy, France -- at the world's most famous cemetery -- along its most traveled path, the answer has been lying all along -- clear and sobering as a white marble cross.
So why then, as late as 2005, was Peggy's congressman still telling her that her husband was missing in action? Turns out, there are no records of Rep. Thornberry ever even checking with the National Archives. And if he had, as CBS News did, he would have seen it says right there - KIA: killed in action.
Thornberry didn't want to talk to us. And for her part, Peggy harbors no grudge.
Note: After this story aired, Rep. Thornberry's office issued an apology for "mishandling" of information relating to Harris' case.
"You have to learn to be forgiving," she said.
She's just glad to finally have an answer.
Since learning her husband was buried here, Peggy has been sending flowers - 10 times a year she sends flowers, making Billie's, by all accounts, the most decorated grave in all of Normandy.
Cemetery officials say she's also, as far as they know, the last widow who still visits here.
After 60 years, she's clearly got a lot of mourning to make up for.
"When people speak of closure, they are people have never experienced anything like this," Peggy said.
Acceptance: Peggy says at this point that's the best she can hope for. And her visits help her get there. Plus she says, after just six weeks together as husband and wife -- and more than six decades apart -- any time together is a treasure.
Peggy has discovered that the people of one French town have loved and honored her husband almost as long as she has. Watch part two of Steve Hartman's report from Normandy.
Thanks for reading CBS NEWS.
Create your free account or log in
for more features.