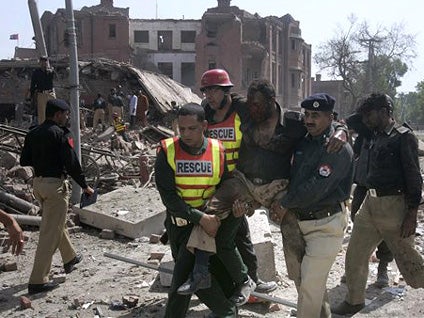 For Those Who Love Shrimp
Cookbook author Bruce Weinstein shows us how to make a delicious meal from his new book, "The Ultimate Shrimp Book." The Saturday Early Show gave him $30 for his menu:

Shrimp Puffs
Shrimp Linguine Fra Diavolo
Banana Caramel Ice Cream Sundae

When people cook shrimp, he says, the biggest mistake they make is cooking them too long. Most people overcook them, and the shrimp tastes like rubber. Shrimp should only take two to three minutes to cook.

According to Weinstein, shrimp is the world's most popular fresh seafood, and only canned tuna tops shrimp in popularity. The chef says that, whil it is trye that shrimp is high in cholesterol, it actually contributes to better ratios between LDL ("bad" cholesterol) and HDL ("good" cholesterol). He also says that shrimp lowers triglycerides in the blood.

"The Ultimate Shrimp Book" is part of an ongoing series that includes "The Ultimate Ice Cream Book," "The Ultimate Party Drink Book," and "The Ultimate Candy Book." He believes that shrimp fits right in because shrimp is fun food, party food -- quick, simple, and delicious. The book contains more than 650 recipes.

Weinstein has some great tips on how to buy the best shrimp. Just smell them! They should have little odor, just a hint of the sea, clean, and bright.

They should not smell like a bait shack. If they smell like ammonia or rotten eggs, it means the shrimp are old.

Shrimp should not smell like chlorine, either. Washing shrimp in chlorine to kill bacteria is legal, but not acceptable.

Shrimp should not smell like gasoline. It means the harvesting trawler was leaking fuel into its belly.

And shrimp should not appear dusty yellow, especially around its neck. It's an indication of excessive sodium bisulfate, and that means the meat will be rough.

Three "shrimp" terms that may confuse you:
prawns: In most of North America, a prawn means any large shrimp (usually 15 or fewer per pound). However, in Great Britain, a prawn is any medium or large shrimp (35 or fewer per pound). And in the Pacific Northwest and Alaska, a prawn is a large freshwater shrimp. In the end, "prawn" is a term bandied about recklessly, according to Weinstein. No recipes in his book call for prawns.
Gulf shrimp: This used to mean any shrimp caught wild off the Texas coast. It was once the sole source for the U.S. market. However, it has morphed into a feel-good moniker for any shrimp from a warm-water locale. Unless you live in Galveston, Texas, the label is just for pure marketing purposes.
scampi: It is a Venetian word for a small clawed lobster that is so rare now. In Italy, it is now reserved for a close cousin of the original; it now refers to a 9- or 10-inch Norway lobster. In the United States, scampi no longer refers to any particular crustacean at all, but rather to a preparation: baked or broiled in oil or butter with garlic.
Shrimp Puffs
(Makes 12 puffs)
Ingredients:
1/4 pound small shrimp, peeled and cleaned
1/3 cup water
1 tablespoon olive oil
1/4 teaspoon salt
1/8 teaspoon ground black pepper
1/3 cup all-purpose flour, plus additional for the baking sheet
1 egg
1 egg white
unsalted butter for the baking sheet
3 tablespoons, grated parmesan cheese
1 dash Tabasco or more to taste
1/2 teaspoon thyme
Method:

Bring 1 quart of salted water to a boil in a large saucepan over high heat.

Add the shrimp and cook until they are pink and firm (about two minutes).

Drain and cool the shrimp. Finely chop the cooled shrimp and set aside.

Preheat the oven to 400 degrees. Butter and flour a large baking sheet. Set it aside.

Combine the water, olive oil, salt, and pepper in a medium saucepan over high heat and bring the mixture to a boil. Reduce heat to medium-low and add the flour all at once.

Use a wooden spoon to stir until a soft dough forms. Continue to cook and stir until the dough dries out a bit, leaving a film around the inside of the pan. Remove the pan from the heat and transfer the dough to a mixing bowl.

Using the wooden spoon, beat in the egg and egg white, making sure they are completely incorporated. Beat in the cheese, Tabasco, thyme, and shrimp into the dough.

Drop by tablespoonfuls 2 inches apart on the baking sheet and bake for 30 minutes or until the puffs are lightly browned.

Serve hot.
Shrimp Linguine Fra Diavolo
Ingredients:
2 pounds plum tomatoes (about 12), halved
1/4 cup olive oil
6 cloves garlic, minced
1 pound linguine
1 1/2 teaspoons crushed red pepper flakes
1 pound medium shrimp (35 to 40 per pound), peeled and deveined
salt and freshly ground black pepper to taste
2 tablespoons chopped fresh parsley
Method:

Preheat the oven to 450 degrees.

Place the tomatoes cut side down in a roasting pan or lipped baking sheet just large enough to hold them all in one layer. Drizzle them evenly with the olive oil and sprinkle with the minced garlic. Bake for one hour or until they are lightly browned and very soft.

Remove the tomatoes from the oven and allow to cool for 10 minutes.

Transfer the tomatoes, garlic, and all their juices to a food processor. Process until the tomatoes are pureed.

Cook the pasta according to the package instructions. Drain thoroughly. Place a large saucepan over medium heat until hot. Add the pepper flakes and stir them around for 10 seconds to release their flavor. Add the tomato puree and the shrimp.

Bring sauce to a simmer and cook, stirring constantly, until the shrimp are pink and firm (about 3 minutes).

Season with salt and pepper. Add the cooked pasta and toss until well combined and heated through.

Place in a large serving bowl and sprinkle with chopped parsley.
Banana Caramel Ice Cream Sundaes
(Makes 4 sundaes)
Ingredients:
1/4 cup (1/2 stick) unsalted butter
4 small bananas, about 1 pound
1/2 cup sugar
1/4 teaspoon ground cinnamon
1/8 teaspoon grated nutmeg
2 tablespoons banana liqueur
1 teaspoon vanilla extract
1 quart vanilla ice cream
Method:

Melt the butter in a large saucepan over medium heat.

Peel and slice the bananas into 1/2-inch pieces. Place them in the pan. Cook, stirring, until the fruit begins to soften, about two minutes.

Add the sugar, cinnamon, and nutmeg to the pan. Cook, stirring gently, until the sugar dissolves and begins to caramelize, about two minutes.

Add the banana liqueur and vanilla. Stir to combine.

Serve the topping over ice cream.
---
For more from Bruce Weinstein, visit www.ultimatecook.com.
Thanks for reading CBS NEWS.
Create your free account or log in
for more features.