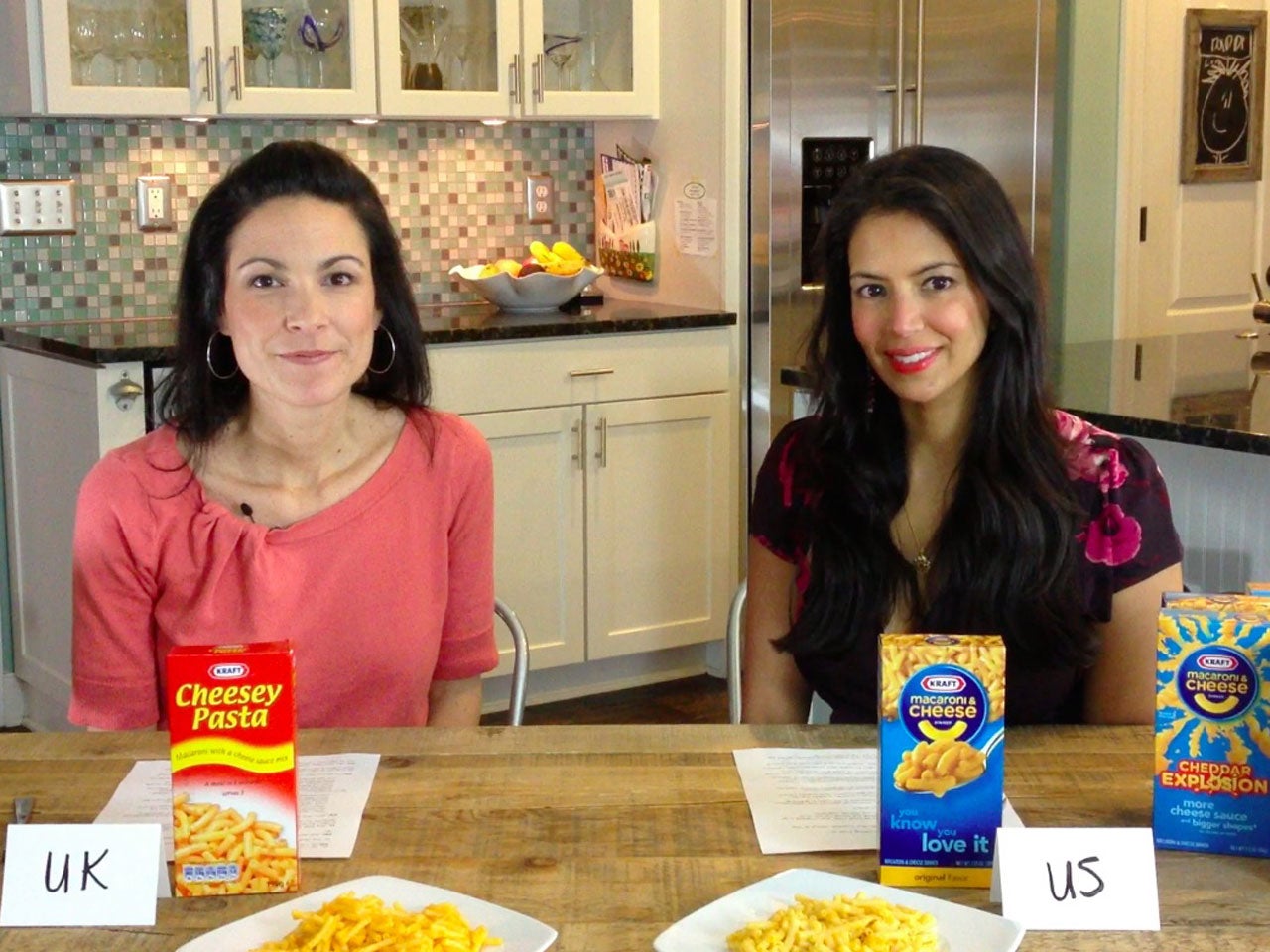 Food bloggers start petition to drop yellow dyes from Kraft Mac & Cheese
Are the colored additives used in Kraft's popular Macaroni & Cheese products dangerous?
That's what two food bloggers are alleging in their petition to Kraft Foods to remove Yellow No. 5 and Yellow No. 6 from the blue-boxed pantry staples.
Yellow Nos. 5 and 6 are used to color beverages, dessert powders, candy, ice cream, custards and other foods.
Vani Hari, from the blog Food Babe, and Lisa Leake, from 100 Days of Real Food, have taken to Change.org to petition Kraft's management to remove the dyes, saying they may potentially cause health problems and are not included in Kraft's Mac & Cheese products sold in the United Kingdom.
"Kraft reformulated their product for the UK, but not for their fellow American citizens," they argued.
They recorded a YouTube video taste test of both U.S. and U.K. versions of Kraft Macaroni & Cheese (called Cheesey Pasta across the pond) and found "virtually no difference in color or taste" -- so they are asking why these additives are being used if they've been linked to health risks.

On the 100 Days of Real Food blog, Hari posted side-by-side lists of ingredients found in certain food products in the United States versus those found in the United Kingdom across several brands.
At press time, the petition had nearly 135,000 signatures.
The Center for Science in the Public Interest, a consumer advocacy group, has been petitioning to ban food dyes in the U.S. for years.
In a 2010 report called Food Dyes: A Rainbow of Risks, the CSPI says Yellow Nos. 5 and 6 can cause hypersensitivity, or allergic reactions, and contains carcinogens called Benzidine and 4-amino-biphenyl. Some studies reported hyperactivity in children associated with Yellow 5 intake or genotoxicity -- or damage to cellular DNA -- says CSPI.

Yellow 5 is the most widely used food dye after Red 40, according to CSPI. The organization included case reports of four people who had dangerous reactions linked to Yellow 5.
"Since Yellow 5 poses some risks, has not been adequately tested in mice, and is a cosmetic ingredient that serves no nutritional or safety purpose, it should not be allowed in the food supply," the CSPI included.
Yellow 6 was linked to three case reports of hypersensitive reactions, according CSPI. Studies of cancer in rats have been inconclusive, with some findings of tumors, but the Food and Drug Administration concluded they were not related to Yellow 6, CSPI said.
The FDA is responsible for regulating all color additives in foods to ensure they are safe to eat, contain only approved ingredients and they are accurately labeled, the agency says on its website.
The FDA notes that in 1986, its Committee on Hypersensitivity to Food Constituents concluded there was no evidence the additive causes asthma attacks, though it may cause hives in fewer than one out of 10,000 people. Because of that, Yellow 5 is required by law to be identified on the ingredient line, so the few who may be sensitive could avoid it.
"The safety and quality of our products is our highest priority and we take consumer concerns very seriously," Kraft Foods Corporate Affairs spokesperson Lynne Galia said in an emailed statement to CBSNews.com. "We carefully follow the laws and regulations in the countries where our products are sold. So in the U.S., we only use colors that are approved and deemed safe for food use by the Food and Drug Administration."
Galia also referenced the International Food Information Council Foundation, a non-profit research group that notes there is insufficient evidence for a causal relationship between food color consumption and hyperactivity.

Galia added that some customers prefer foods without certain ingredients, and Kraft offers 14 products without added colors and those with natural food colors, including Kraft Mac & Cheese Organic Cheddar and some Homestyle varieties.
The petitioners also received a similar response from Galia, and commended the company for even responding. But they said Kraft is still missing the "bigger issue," because 30 of the Mac & Cheese products still contain the additives. They say that's unfair to children and uneducated consumers.
"If Kraft's 'safety and quality' of their products is their "highest priority" and they "take consumer concerns very seriously,' then why have they continued to use a questionable ingredient that requires a warning label in Europe?" they wrote March 6th.
An increasing number of petitioners have taken on food companies with help of the Internet. A Change.org petition in January gained over 200,000 signatures to remove brominated vegetable oil, or BVO, from PepsiCo's Gatorade, the Associated Press reported. BVO is a flame retardant that's banned in Japan and the European Union, the petition noted. The company agreed to remove the ingredient following the response.

Social media backlash that started on the vegan food blog thisdishisvegetarian.com last March and resulted in a Change.org petition called for Starbucks to stop using cochineal extractto dye its strawberry Frappuccinos. The FDA said the dye was safe, but consumers complained because the dye's made from crushed-up beetles and Starbucks said it would phase out the extract.

Thanks for reading CBS NEWS.
Create your free account or log in
for more features.