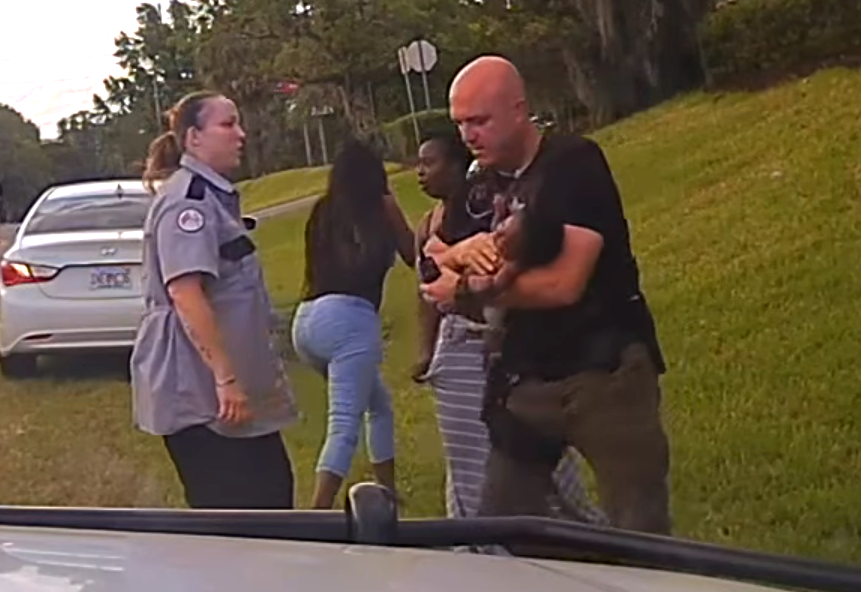 "He's one of many good guys": Mother hails Florida officer for saving baby
Deputy Jeremie Nix of the Marion County, Florida, Sheriff's Office was in the right place at the right time Wednesday as he was driving home from his shift. Nix is credited with saving an unresponsive 3-month old when he rushed the infant to the hospital, according to CBS affiliate WKMG-TV.
The incident was all caught on dashcam video from Nix's cruiser. He was flagged down by a distressed mother at an intersection and he sprang in to help the baby.
"You can tell he's completely lifeless," Nix told WKMG-TV. "She just hands him to me and the first words out of her mouth were, 'Don't let my baby die.'"
Nix attempted to revive the child, named Kingston, and he took one breath, but it was faint, WKMG-TV writes. Nix had radioed for an ambulance, but he couldn't wait.
"I didn't have time," Nix said. "This baby didn't have time to wait on an ambulance."
So Nix told the mother, Nechole Cromwell, to follow him as he took it upon himself to drive the child to the hospital. He used his siren on the way to the Ocala Regional Medical Center.
Kingston is expected to make a full recovery.
"In my 17 years of doing this job, that was the most scary, emotional and rewarding day ever," Nix said. "I remember praying, thanking God for putting me in the right place at the right time for the right reason."
Cromwell thanked Nix and God in a Facebook post Thursday.
"I just wanted the world to know how great this officer is, & how GREAT GOD is," she wrote. "Not all officers are bad, he's one of many good guys."
Thanks for reading CBS NEWS.
Create your free account or log in
for more features.