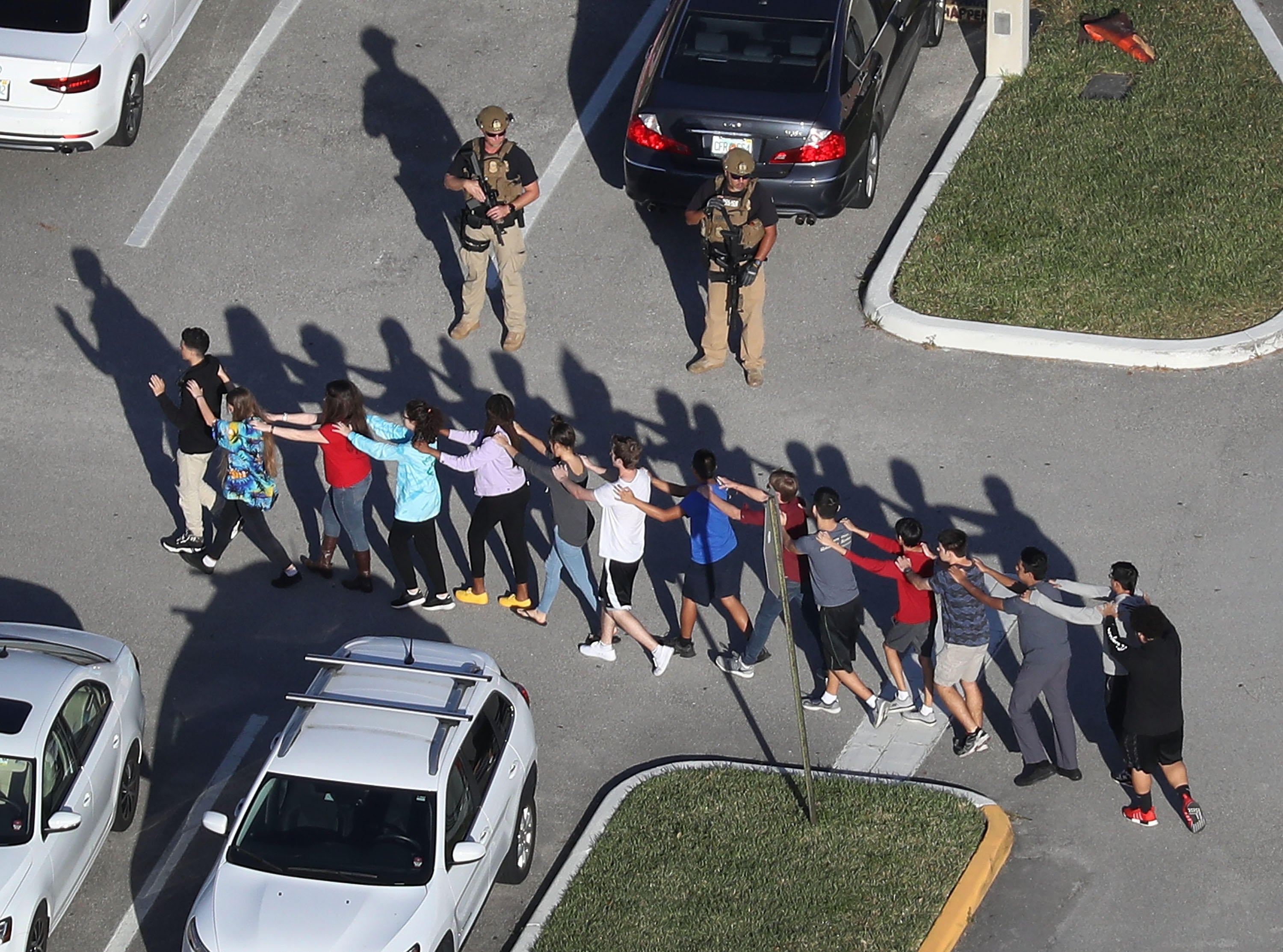 Charges: Florida school shooting suspect blended in with fleeing students
PARKLAND, Fla. -- The Florida teen accused of opening fire at his former high school with an AR-15 rifle Wednesday, killing 17 and wounding 15, was able to elude officers responding to the scene by ditching the weapon and blending in with fleeing students, according to an arrest report.
Nikolas Jacob Cruz, 19, was arrested in a nearby residential neighborhood following the deadliest school shooting in the U.S. in five years. Thursday, he was charged with 17 counts of premeditated murder after being questioned for hours by state and federal authorities. He appeared in court Thursday afternoon and was ordered held without bond.
A probable cause affidavit released by the Broward County Sheriff's office Thursday revealed new details about how Cruz entered Marjory Stoneman Douglas High School and how he dodged police following the massacre. The report says Cruz was seen arriving at the school in a gold car by an unidentified employee who recognized him as a "former troubled student." An Uber driver later told police she dropped him off there, the document says.
The Uber driver was not involved in the shooting plot and wasn't aware of Cruz's plans, Broward County Sheriff Scott Israel said Thursday.
The employee said he radioed his co-worker when he saw Cruz, wearing black pants and a maroon shirt, carrying a black duffel bag and a black backpack, walking "purposefully" toward a school building. Less than a minute later, the employee heard gunshots and called a "Code Red," the document says, indicating an emergency on campus.
Investigators say Cruz admitted that he walked into the school with an AR-15 rifle and began to shoot students he saw in hallways and on school grounds. He allegedly said he brought additional loaded magazines that he hid in his backpack until he got to the campus and began the assault.
Cruz also allegedly told investigators that as students began to flee, he decided on a plan to discard the rifle and vest with additional magazines so he could "blend in with the crowd." The document says investigators later uncovered the rifle and magazines in the locations he indicated.
After running a trace on the gun, the ATF determined it was legally purchased by Cruz in February 2017, the documents say.
As law enforcement rushed to respond, Cruz was able to escape the school undetected. He stopped at a WalMart, bought a drink at a Subway restaurant and stopped at a McDonald's as authorities searched for him, Israel said.
Cruz's description was broadcast over police radio, and he was arrested about an hour later in a residential neighborhood by a Coconut Creek police officer who recognized him from that description.
The arresting officer, Michael Leonard, said he was driving down a back road looking for the suspect when he saw a teen walking on a sidewalk that matched the description.
He said he looked like a "typical high school student."
"For a quick moment I thought, could this be the person, is this who I need to stop? Training kicked in. I pulled my vehicle over immediately. I engaged the suspect. He complied with my commands," Leonard said. "He was taken into custody without any issues."
Thanks for reading CBS NEWS.
Create your free account or log in
for more features.