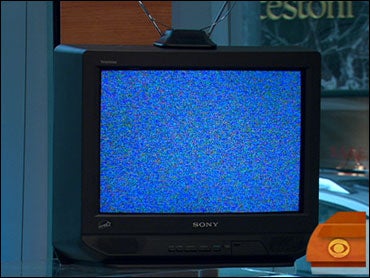 Flipping The Switch To Digital TV
The nationwide transition to digital television, also known as DTV, begins on Friday.
CBS News science and technology correspondent Daniel Sieberg appeared on The Early Show Thursday to discuss the transition, and what it means for you.
Early Show co-anchor Harry Smith pointed out that the analog signal will be turned off sometime on Friday, leaving about 2.8 million homes without a signal.
Sieberg said a vast majority of households are ready to make the switch, but if you are part of the nearly three percent who aren't, you can get a converter station that will enable you to receive the digital signal.
New televisions produced after March 2007, Sieberg said, have a digital tuner built into them, so you don't need to do anything. People with cable or satellite signal, Sieberg said, won't have to do anything either.
But if you have an older television, or one that uses an antenna, Sieberg said, you will need a digital converter box, which you can purchase yourself or fill out an application for $40 federal coupon to help offset or cover the cost of a converter.
"It's easy for this to be confusing," Sieberg told Smith. "I mean, there are lots of wires, VHF and UHF, and digital, analog all this stuff. It can be a little intimidating for people. Fortunately, most people have a younger person in the family you can call up and say, 'help me out here.'"
Thanks for reading CBS NEWS.
Create your free account or log in
for more features.