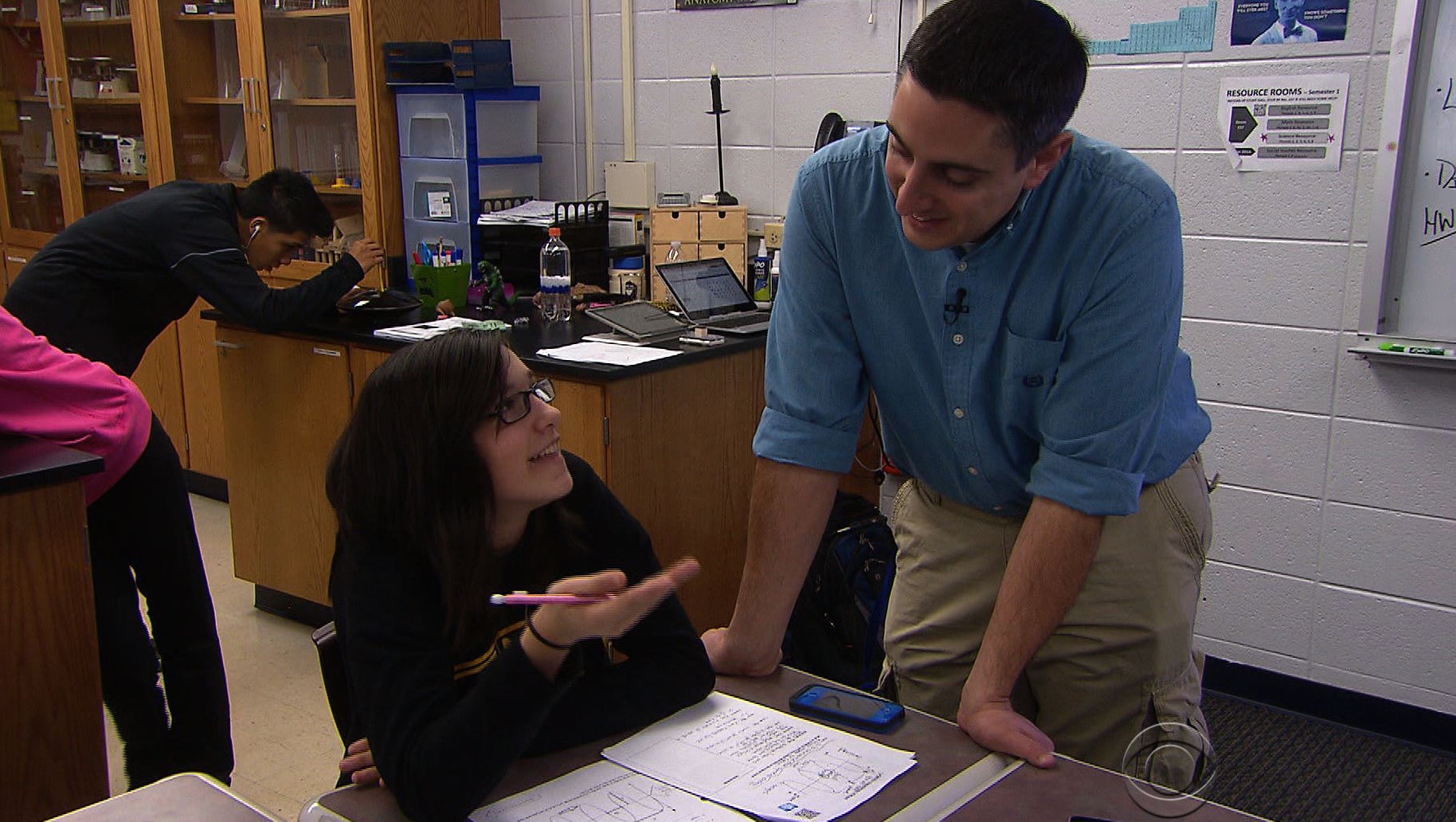 Flipped classrooms provide a new way of learning
GURNEE, Ill. -- There's a new way for school kids to do their homework -- and perhaps, a ray of hope for the parents who frequently get called on to help. Check out the flipped classroom.
At Warren Township High School in Gurnee, science teacher Collin Black helps kids do homework in class and sends his lectures home.
Black and others who've embraced what's called the flipped classroom condense their lectures into a brief, homemade and often light-hearted video.
Students can digest the information outside of class whenever they like. The next day, they get their questions answered and apply the lesson with the teacher in the room.
"I can talk faster in the video because I don't have to slow down for the kids to make sure they're catching it," said Black. "They can pause it, rewind it, so I can talk faster, and they can pick up that information quicker."
Freshman Hailey Dorsey echoed that point.
"We're, like, able to pause and go back and, like, re-go over stuff we don't understand," she said. "The videos are nice. I actually like them. They are much easier than what we had to do last year."
"It's really nice to go home, go look on the YouTube channel and you know, watch the videos," said Jared Cosey, another freshman.
Educator Jon Bergmann, along with partner Aaron Sams, came up with the flipped classroom concept. It was originally designed for football players who missed class while on the road.
"The question I like to ask is, 'What's the best use of your face-to-face class time?'" said Bergmann.
"We have school backwards. We're sending kids home to do the hard stuff. We're sending them home to apply, analyze and synthesize content, and they can't do it," said Bergmann. "Now when they come to class in a flipped classroom, the difficult tasks – application, analysis and synthesis – happens with the expert, the most important person, the teacher, present."
Three percent of teachers are flipping classrooms now, 18 percent have expressed interest and 28 percent of school administrations want to do it, according to Project Tomorrow, a national education nonprofit group.
"I can challenge the ones who are doing really, really well and help the kids who are really struggling with it," said Black. "But no matter what, every day now I talk to every kid."
For Black, the flipped classroom is right-side up.
"As I'm helping them, all of a sudden you see them like, 'Oh!,' and that light switches on," he said. "I love seeing that. When I see a kid who's been struggling, and then they understand it, that's what does it for me, for my job."
And for a whole group of young minds.
Thanks for reading CBS NEWS.
Create your free account or log in
for more features.