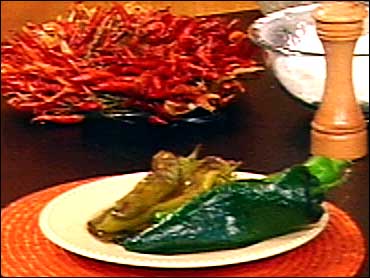 Haute French cuisine may be the foundation of our resident chef Bobby Flay's culinary experience, but Spanish and Southwestern flavors are truly his passion. If there's a chili around, he'll find something to do with it. So, roll up your sleeves, and get your palate ready to bear witness to his delicious Chiles Rellenos.
According to Barron's "Food Lover's Companion", Chiles Rellenos (CHEE-lehs rreh-YEH-nohs) is literally translated as "stuffed peppers." It is a Mexican specialty that consists of cheese-stuffed mild green chiles, "cloaked with an egg batter and fried until the outside is crisp and the cheese inside is melted."
For his recipe, Flay recommends Poblano or Anaheim Chiles. The idea is to choose a chile that is thick fleshed and large enough to hold a filling.
Poblano chiles are dark green chiles (sometimes they're almost black), usually mild in flavor, although some have a bit of a kick. They are great for stuffing because of their size - generally 4 to 5 inches long tapering from top to bottom in a triangular shape. These are the same chiles that in their dried state are called Ancho or Mulato chiles.
Anaheim chiles, generally medium green in color and mild in flavor, are long and narrow in shape. Aside from being stuffed, they're also used a lot in salsas, and, yes, they were named for the city of Anaheim, Calif., where they're most commonly available.
Prepared chiles for this dish are seeded first (the seed is where the kick of the chile comes from) and sometimes toasted on a hot griddle or under a broiler until blackened (so, when cooled, the outer skin of the pepper can be removed). Then the top is cut off to form the filling pocket. This is the step Flay says folks often get wrong at home so he will demonstrate on Thursday's The Early Show the correct method for peeling roasted peppers so when fried they don't fall apart.
The following are his recipes:
Chiles Rellenos with Roasted Vegetables, Chorizo & Tomato-Red Pepper Sauce
Serves: 8
Dark Beer Batter:
1 bottle dark beer
2 eggs
2 cups flour
Salt and pepper
Method:
Whisk together the beer and eggs in a large bowl. Slowly whisk in the flour until smooth and season with salt and pepper. If the mixture appears too thick, add a few tablespoons of water.
Filling:
1 large beet, roasted, peeled and finely diced
1/2 cup crumbled goat cheese
1/2 cup grated Monterey Jack cheese
1/4 cup finely chopped cilantro
Salt and freshly ground pepper
8 Poblano peppers or Anaheim peppers, roasted, seeded and peeled
4 cups white cornmeal
4 cups peanut oil
Method:

Mix together the beets (or eggplant or chorizo), cheeses and cilantro and season with salt and pepper to taste.
Stuff each pepper with approximately 3 tablespoons of the mixture.
Batter lightly and dredge in the cornmeal.
In a large frying pan, heat the oil to 370 degrees F.
Fry the peppers in batches, turning until lightly brown, about 4 minutes.
Drain on paper towels.

Ladle sauce into the center of a plate and place chile relleno on top.
Serve immediately.
Optional Fillings
1 small eggplant, roasted, peeled and cut into 1/2 -inch dice; fontina cheese and goat cheese
8 ounces Spanish chorizo, cut into 1/2-inch dice and sautéed until golden brown; white cheddar and goat cheese
Tomato-Roasted Red Pepper Sauce
2 tablespoons olive oil
1 medium Spanish onion, finely chopped
2 cloves garlic, finely chopped
1 large red bell pepper, roasted, peeled, seeded and chopped
2 cups plum tomatoes and their juice, pureed
3 tablespoons chopped cilantro
Salt and freshly ground pepper
Method:

Heat oil in medium saucepan over medium heat.

Add onions and garlic and cook until soft.

Add red pepper and cook for 2 minutes.

Add tomatoes and cook over high heat until sauce is thickened, about 20 minutes.

Add cilantro and season with salt and pepper to taste.
Thanks for reading CBS NEWS.
Create your free account or log in
for more features.