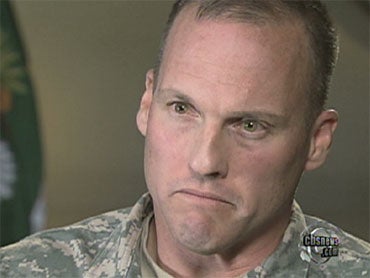 Don't ever stew over what goes into beef bourguignon, because the bottom line is this classic French dish goes with just about anything. On a chilly winter day, beef bourguignon is a great dish to warm and welcome friends and family. Early Show resident chef Bobby Flay shows us his version.
What sets beef bourguignon apart from American beef stew is the wine in which beef bourguignon is cooked. The wine, and lots of it, is what boosts the flavor of the meat and savory seasonings in the broth.
Beef bourguignon originated in Burgundy, France, and was made with the wines of that region. As the dish grew in popularity in other regions, the French began to use almost any red wine ranging from fruity Beaujolais to cabernet sauvignon.
These days, a full-bodied pinot noir is more commonly used - and it doesn't have to be the most expensive pinot out there. Generally, the wine you serve for dinner could also be the same pinot for this dish. Let your wallet be the judge.
Next to wine, the core of beef bourguignon is the beef itself. You often hear things like: Go for a meat that is well-aged, marbled with fat, and has plenty of connective tissue to dissolve during the cooking process to enrich the sauce. In addition, you want to choose beef great for braising: chuck roast, brisket, bottom round, for example.
Beef bourguignon requires hours of slow cooking, so you want beef that will not only hold up under hours of heat exposure and taste better over time, but also render additional flavor to the sauce.
Unlike beef stew, the chunks of beef in beef bourguignon are usually "satisfyingly large and utterly tender," as described in Cook's Illustrated's "Soups and Stews." Cook's goes on to say that, "Beef Burgundy is earthy, big, robust, warm and welcoming in a brooding sort of way."
Yet another level of flavor comes from the aromatic vegetables and herb seasoning. In the case of Flay's recipe: onions, celery, carrots, garlic, bay leaves, thyme, parsley, pearl onions and cremini mushrooms make up this bevy of flavor.
Generally beef bourguignon is served with pasta so Flay has chosen pappardelle, wide noodle pasta with rippled sides.
Here is the recipe:
Beef Bourguignon with Pappardelle
Serves: 4
Ingredients
3 lbs bottom round, cut into 1-inch cubes
Salt and freshly ground pepper
1 cup all-purpose flour
4 ounces slab bacon, cut into small dice
Canola oil
1 medium onions, diced
1 large carrot, diced
1 stalk celery, diced
2 cloves garlic, coarsely chopped
1 bay leaf
4 sprigs fresh thyme
4 sprigs fresh parsley
4 cups homemade beef stock or low sodium canned beef stock
2 cups dry red wine
1/2 pound pearl onions, cooked until tender
1/2 pound cremini mushroom, quartered and sautéed until golden brown
2 tablespoons chopped parsley
1 tablespoon chopped fresh thyme
1 pound pappardelle, cooked to al dente
Method:

Preheat oven to 350 degrees F. Season beef with salt and pepper and dredge each piece in flour and tap off the excess flour. Place bacon in a large Dutch oven over medium heat and cook until the bacon is golden brown and fat is rendered. Remove the bacon to a plate lined with paper towels.
Raise the heat to high, add a tablespoon of canola oil to the fat in the pan and begin browning the meat, in small batches, adding more oil as needed. Remove the browned meat to a bowl and set aside.
Add more oil to the pan if needed and add the onions, carrot and celery and cook until soft. Add the garlic and cook for one minute. Return the beef to the pan along with the herbs, stock and wine, season with salt and pepper and bring to a boil over high heat. Cover the pot and place in the oven and cook until beef is fork tender, about 2-3 hours.
Remove the beef from the pan to a bowl and strain the cooking liquid through a fine mesh strainer. Place the strained liquid into a medium saucepan, bring to a boil and cook until slightly thickened. Add the beef, bacon, onions and mushrooms to the pan and stir in the chopped herbs, season with salt and pepper to taste.
Serve over the pappardelle.
---

Bobby Flay is chef/owner of Mesa Grill and Bolo restaurants. Host of the TV Food Network program "Food Nation". Author of 4 cookbooks - "Bold American Food", "Boy Meets Grill", "Bobby Flay's From My Kitchen To Your Table" and "Bobby Flay Cooks American." And he will be The New York Times Dining Out chef columnist every other week for the next four weeks.
Thanks for reading CBS NEWS.
Create your free account or log in
for more features.