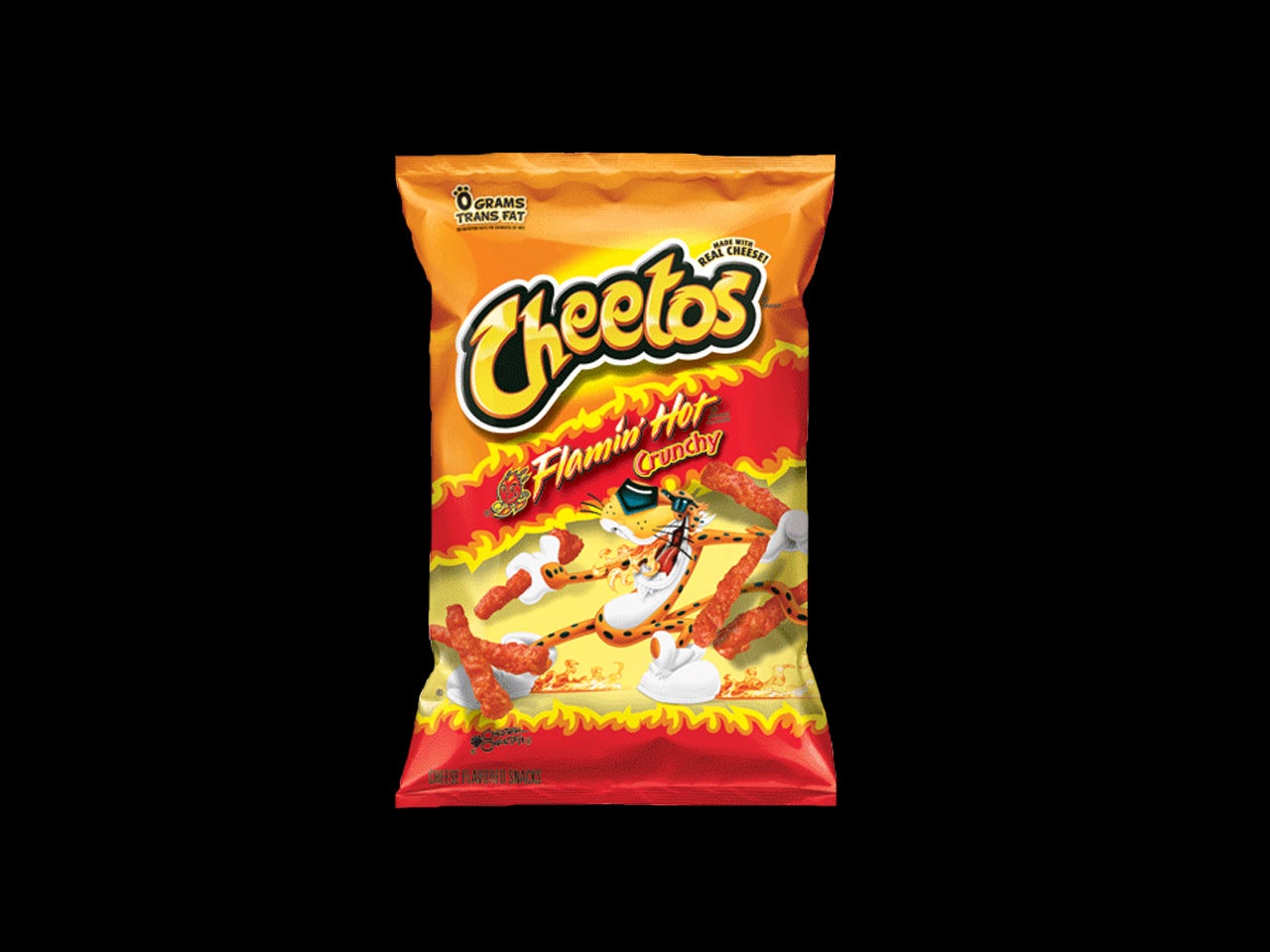 Flamin' Hot Cheetos under fire from schools
Could Flamin' Hot Cheetos be hazardous to your health? Some school districts are banning the snack, claiming it provides no nutritional value -- and may even be addictive.
A health teacher from Lyndon B. Johnson Middle School in Albuquerque, N.M. sent a note home with students saying that Flamin' Hot Cheetos should be snacked on at home, according to CBS affiliate WTVR in Richmond, Va. The teacher wrote that the snack had poor nutritional value, often took the place of a lunch, led to sharing more germs with other students and caused red fingerprints that created a mess for janitors.

She's not the only educator who has a beef with the spicy snack food. Other school districts in California and New Mexico are attempting to ban Flamin' Hot Cheetos for their lack of nutritional value, and one school district in Illinois no longer sells the snack in their schools, ABC News reported.
"If children were to bring in snacks that are high in fat, high in calories, that's their choice," Illinois' Rockford School District interim superintendent Robert Willis said to ABC News. "We're not going to be providing those kinds of foods."
Rita Exposito, principal of Jackson Elementary School in Pasadena, Calif., told the Chicago Tribune that her school doesn't allow candy or Hot Cheetos. If they are seen on campus, an administrator takes them from the student.
One ounce of Flamin' Hot Cheetos -- about 21 pieces -- is about 160 calories, including 17 percent of the daily suggested serving for fat and 8 percent of serving for saturated fat. It also contain 250 mg -- or 10 percent of the daily value -- of sodium.
While the snacks may not offer nutritional benefits, are they addictive like teachers are reporting? The Chicago Tribune reported that new research shows "hyperpalatable foods" -- salty, fatty or sweet foods - can create a similar brain response as seen in individuals who addicted to illicit substances.

An unrelated commentary in the Feb 2012 issue of Nature argued that sugar should be regulatedas if it were alcohol or tobacco, because of its addictive properties and corresponding health risks.
"It's something that has been engineered so that it is fattier and saltier and more novel to the point where our body, brain and pleasure centers react to it more strongly than if we were eating, say, a handful of nuts," Ashley Gearhardt, an assistant professor of clinical psychology at the University of Mich., told the Chicago Tribune of junk food. "Going along with that, we are seeing those classic signs of addiction, the cravings and loss of control and preoccupation with it."
Frito-Lay, the manufacturer of Flamin' Hot Cheetos, told CBS station KCBS in Los Angeles that they are "committed to responsible and ethical marketing practices, which includes not marketing our products to children ages 12 and under. We also do not decide which snacks are available on school campuses and do not sell snack products directly to schools."
"I don't blame them for creating it," Gearhardt said of the snack. "I think there is a lot of competition to create ... the most rewarding and potentially addictive product possible so people crave it and they want to buy another bag."
Thanks for reading CBS NEWS.
Create your free account or log in
for more features.