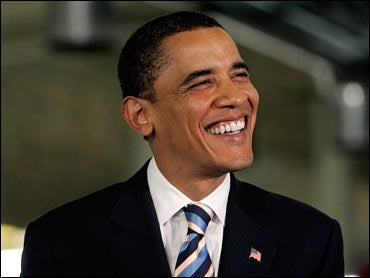 Flag Pin Just One Symbol Embraced By Obama
This story was written by CBSNews.com political reporter Brian Montopoli.
---
Last fall, Barack Obama explained why he hadn't been wearing an American flag pin on his lapel.

"I won't wear that pin on my chest," the presumptive Democratic nominee said. "Instead, I'm going to try to tell the American people what I believe will make this country great, and hopefully that will be a testimony to my patriotism."

What a difference a presidential campaign makes.

Obama, who suggested back then that the flag pin "became a substitute for I think true patriotism" after the Sept. 11 attacks, now regularly sports the patriotic symbol at campaign events.

He has given high profile speeches in symbolic locations, among them Unity, New Hampshire (on Democratic togetherness), Independence, Missouri (on patriotism) and Philadelphia, Pennsylvania - also known as the city of brotherly love (on racial division).

He has peppered many of those speeches with references to symbolic moments from the American past - mentioning, for example, Abraham Lincoln's "House Divided" address during his formal announcement of his presidential run. (Obama gave the speech at the Old State Capitol in Springfield, Illinois, where Lincoln gave that very address.)

He even briefly employed a campaign seal that looked a lot like the official presidential seal, the symbolism of which was hard to miss.

For a candidate who took an early stance against what he seemed to characterize as an empty symbolic gesture, the heavy use of symbolism in Obama's campaign has been particularly hard to ignore.

"All politicians, especially presidential candidates, traffic in symbols all the time," said Rutgers historian David Greenberg. "But Obama has given special care to his symbolic statements."

Image makers have long understood the importance of creating powerful symbolic associations for their candidates. A good photo of a politician gesturing confidently, a row of American flags behind him, can convey leadership ability and competence; a poor one, like the infamous shot of 1988 Democratic presidential nominee Michael Dukakis in a tank, can have the opposite effect.

"We live in a visual society, and you want to make the picture tell a story," said political analyst Laura Schwartz. "There are certain things when you're running for political office that you do have to wear on your sleeve."

John F. Kennedy ushered in the modern period of symbolic image making, argues Montana State University historian Joan Hoff, former president of the Center for the Study of the Presidency.

"His family life was portrayed over and over," she said. "It was all touch football and family gatherings and the children, and it was all on television." (Obama's campaign has been receiving informal advice from Kennedy speechwriter Ted Sorensen, and Obama's speeches have sometimes echoed Kennedy's.)

Ronald Reagan's image makers, who have been lauded for their success in creating strong symbolic associations with the candidate, strove to "make sure the pictures are powerful enough that people will connect him with patriotism and leadership and making the country look good again," according to Republican political consultant Ed Rollins, who was Reagan's political director.

Obama's decision to begin wearing the flag pin, despite his comments last fall, may have grown out of a pragmatic calculation that he needs to engender similar associations. (He even sports one in his first general election television ad.) Polls show that more Americans see presumptive GOP nominee John McCain as patriotic than see Obama as such.

"It's a little thing but it means a lot to certain people," said Rollins.

Image-making can be a delicate business: The Obama campaign's misguided attempt to roll out its too-presidential-looking campaign seal fed into the notion that the presumptive nominee arrogantly already believed the presidency to be his. Republicans quickly turned the now-retired seal into a joke, with the McCain campaign rolling out a video suggesting that Obama might next put his face on the Statue of Liberty or Mount Rushmore.

Greenberg argues that Obama "tends to emphasize the symbolic over policy detail" in his campaign - a tendency reflected by his reliance (especially early on) on vague notions of "hope" and "change."

"Bill Clinton used a lot of symbolism too, but he also ran with policy as his centerpiece," said Greenberg. "[Former Clinton advisor] George Stephanopoulos argued that 'specificity was the character issue,' and they made that a focus. That's not really what Obama is doing. It doesn't mean he hasn't thought about policy, but he isn't making it the central focus of his campaign."

McCain has also been able to rely on symbolism, thanks in part to his military service and time as a prisoner of war, which has invested the presumptive GOP nominee with credibility on national security. (It's no coincidence that the McCain campaign has often featured McCain's time as a POW in campaign videos.)

The symbolic power of McCain's service goes a long way towards explaining why Obama surrogate Wesley Clark's comments on "Face The Nation" Sunday - he said "I don't think riding in a fighter plane and getting shot down is a qualification to be President" - met with such strong resistance from Republicans this week.

But it is Obama - who, as the first African-American candidate with a legitimate chance at the presidency, is himself a powerful symbol - who has been most aggressive in pushing symbolic associations with his candidacy.

"Periodically, when things are going badly, you get charismatic rhetorical presidents like FDR, Kennedy, Reagan," said Hoff. "Obama is one of those, the type of candidate whose iconic representation is ultimately this message of hope and change. In that sense he's not unique."
By Brian Montopoli
Thanks for reading CBS NEWS.
Create your free account or log in
for more features.