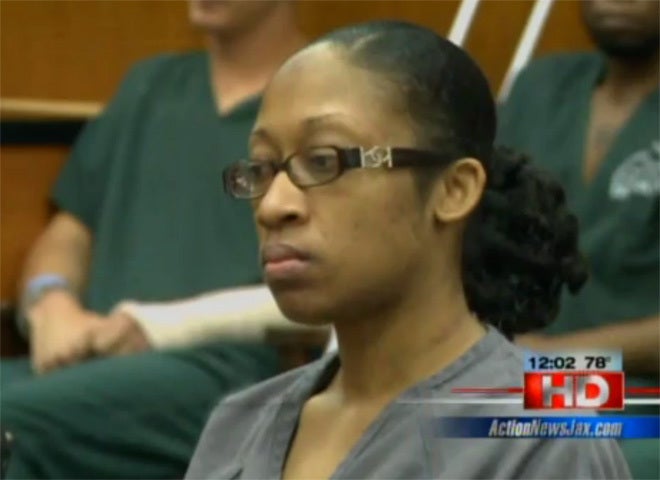 Fla. mom gets 20 years for firing warning shots
Updated on July 15, 2013 to reflect more of the testimony and aftermath of the case.
(CBS News) JACKSONVILLE, Fla. - A Florida woman who fired warning shots against her allegedly abusive husband has been sentenced to 20 years in prison.
Marissa Alexander of Jacksonville had said the state's "Stand Your Ground" law should apply to her because she was defending herself against her allegedly abusive husband when she fired warning shots inside her home in August 2010. She told police it was to escape a brutal beating by her husband, against whom she had already taken out a protective order.
CBS Affiliate WETV reports that Circuit Court Judge James Daniel handed down the sentence Friday.
Under Florida's mandatory minimum sentencing requirements Alexander couldn't receive a lesser sentence, even though she has never been in trouble with the law before. Judge Daniel said the law did not allow for extenuating or mitigating circumstances to reduce the sentence below the 20-year minimum.
"I really was crying in there," Marissa Alexander's 11-year-old daughter told WETV. "I didn't want to cry in court, but I just really feel hurt. I don't think this should have been happening."
Alexander was convicted of attempted murder after she rejected a plea deal for a three-year prison sentence. She said she did not believe she did anything wrong.
Complete Coverage: George Zimmerman trial and the Trayvon Martin case
She was recently denied a new trial after appealing to the judge to reconsider her case based on Florida's controversial "Stand Your Ground" law. The law states that the victim of a crime does not have to attempt to run for safety and can immediately retaliate in self-defense.
Alexander's attorney said she was clearly defending herself and should not have to spend the next two decades behind bars.
Alexander's case has drawn support from domestic abuse advocates - and comparison to the case of neighborhood watch volunteer George Zimmerman, who has claimed self-defense in his fatal shooting of Florida teenager Trayvon Martin.
---
According to a sworn deposition taken in November 2010, Marissa Alexander's husband, Rico Gray, 36, said that on August 1, 2010, he and Alexander began fighting after he found text messages to Alexander's first husband on her phone. The two were already estranged - according to her father, Alexander had been living at her mother's since the birth of the couple's daughter nine days earlier, and Gray, a long-haul trucker, said he spent the night before in his tractor-trailer. Gray began calling her names, saying "If I can't have you, nobody going to have you," and blocking her from exiting the bathroom.
Alexander pushed past Gray and went into the garage where she got her gun from her car's glove compartment.
Gray told prosecutors in the deposition that Alexander came back into the house holding the weapon and told him to leave. He refused, and what happened next is somewhat unclear. In his deposition, Gray said "she shot in the air one time," prompting him and the children to run out the front door. But when Gray called 911 the day of the incident, he said "she aimed the gun at us and she shot."
In August 2011, a judge rejected a motion by Alexander's attorney to grant her immunity under the "Stand your Ground" law. According to the judge's order, "there is insufficient evidence that the Defendant reasonably believed deadly force was needed to prevent death or great bodily harm to herself," and that the fact that she came back into the home, instead of leaving out the front or back door "is inconsistent with a person who is in genuine fear for her life."
Alexander's case was prosecuted by Angela Corey, the Florida State's Attorney who is also prosecuting George Zimmerman. Alexander was charged with aggravated assault with a deadly weapon, and because she discharged a firearm during the incident, the case fell under Florida's "10-20-life" law, enacted in 1999, which mandates a 20-year sentence for use of a gun during the commission of certain crimes.
Corey initially offered Alexander a three year deal if she pleaded guilty to aggravated assault, but according to CBS affiliate WTEV, Alexander did not believe she had done anything wrong, and rejected the plea. Her bet did not pay off: the jury in the case returned a guilty verdict in less than 15 minutes.
Thanks for reading CBS NEWS.
Create your free account or log in
for more features.