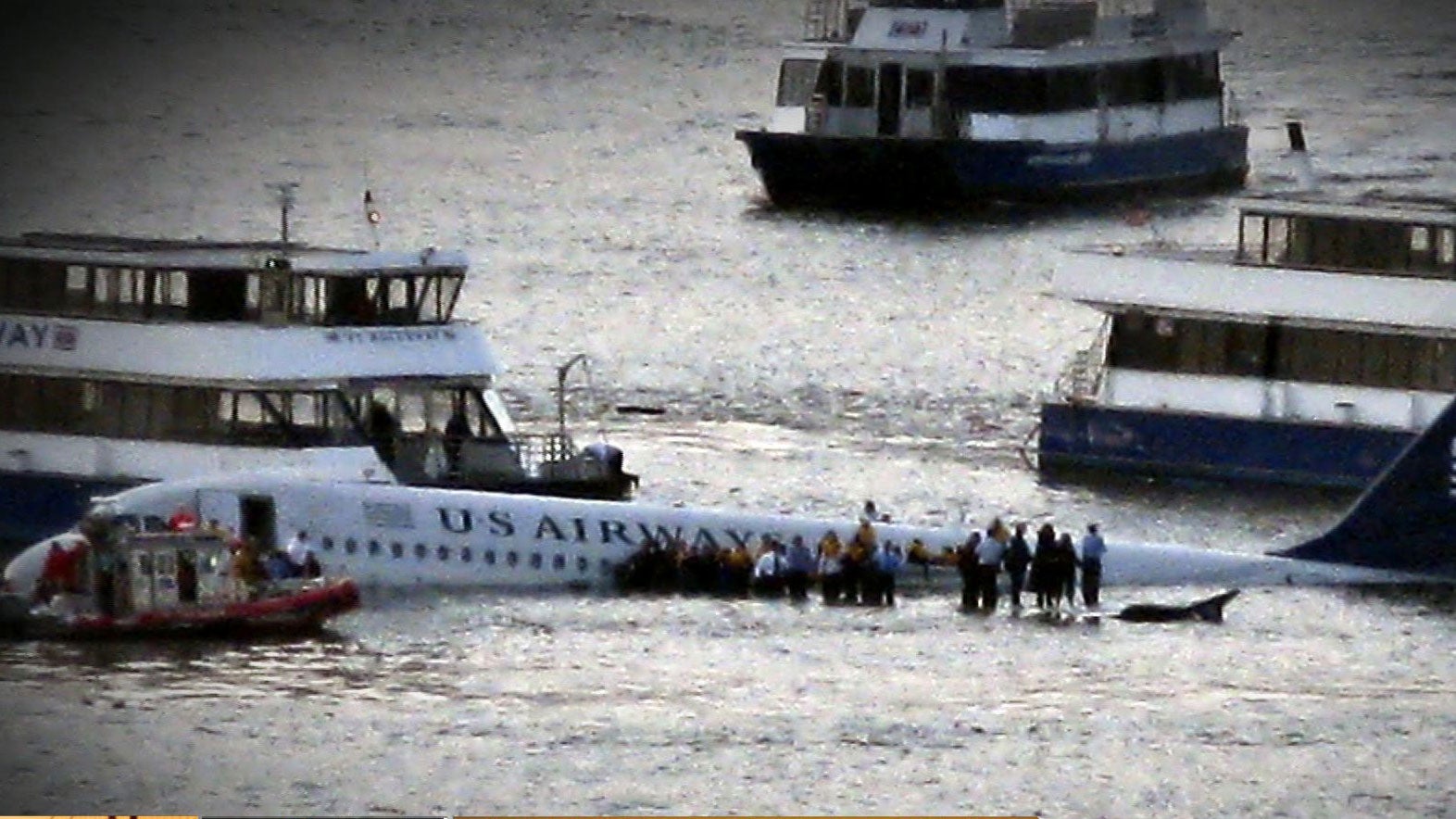 "Miracle on the Hudson" was "life-changing," captain says 5 years later
Five years ago, U.S. Airways flight 1549 made an emergency landing on New York City's icy Hudson River. All 155 people aboard survived, and the safe landing would quickly become known as "The Miracle on the Hudson."
The pilot, Captain Chesley "Sully" Sullenberger -- now a CBS News aviation and safety analyst -- and his first officer Jeff Skiles joined the "CBS This Morning" co-hosts to discuss what it is like for them on this anniversary.
It was 208 seconds from the time the birds hit the plane, to the time the plane was down in the water. Sullenberger told the co-hosts that the landing was a "startling shock."
"After almost 30 years of routine flying, where we were hardly ever surprised by anything in an airplane and we were all of a sudden confronted with an ultimate challenge of a lifetime – one we never trained for," he said. "But, I was confident at the outset, that I could find a way to solve the problem, in the time that we had."
There is debate over if it was a heroic act, or if the landing was something that any correctly trained pilot should be able to do. Skiles said that they were "very well trained" and they have that to "fall back on in these kinds of situations."

"Obviously any type of circumstances could lead to a different result," he said. "And the one thing I can tell you is I am very happy to have been flying with Captain Sullenberger on that day and I could not have had a better colleague on that day – or since."

Even with those compliments, what is interesting is the two met for the first time just three days before the start of that trip. Sullenberger said that this practice is "not uncommon at a large airline." He also said that this was Skiles' first trip on an Airbus after being trained on it, saying he was "brand new" to the type of airplane.

"CBS This Morning" co-host Gayle King asked Sullenberger if he's ever had a breakdown or cried over how life-changing the landing was. He said that on that night, he called his wife Lorrie Sullenberger.

"I called home late that night and talked to Lorrie for a subsequent time and I said, 'I think our lives are changed forever,'" he said. "I just didn't know how, or how much, but I knew, actually in the first seconds, that this was going to be a life-changing event."

Sullenberger said he knew it would be life-changing because it both put a huge focus on him as the pilot, but

also in the fact that he survived and saved 155 lives.


"It was one of those events, in the first couple of seconds, I knew it was going to be unlike anything I had ever experienced," he said. "It was going to define my life into before and after. I knew it was going to be a challenge of a lifetime that was mine to solve, but it also provided opportunities – like this one – to have a greater voice about things … we've been passionate about and care about our whole professional lives - like the safety of the traveling public."

He said that in the past five years, a lot has been learned about safety and flying, but not necessarily because of his "Miracle on the Hudson," and in fact, "very little" has changed because of that flight.

"In the final report that the NTSB wrote on our flight, they made several dozen recommendations – to my knowledge, none of which have been implemented by FAA or by industry," he said. "It's been instead the Buffalo crash a month later, in February of 2009 and only because the families of the victims have been such ardent advocates on Capitol Hill"



Thanks for reading CBS NEWS.
Create your free account or log in
for more features.