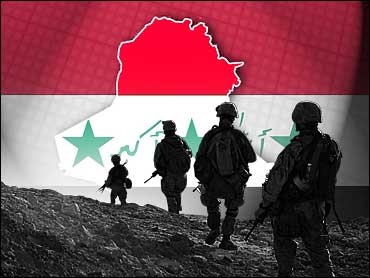 Five U.S. Soldiers Killed In Karbala
Militia fighters attacked a provincial headquarters in the Shiite holy city of Karbala, killing five American soldiers Saturday night, the U.S. military reported.
The statement said "an illegally armed militia group" attacked the building with grenades, small arms and "indirect fire," which usually means mortars or rockets.
"A meeting was taking place at the time of the attack to ensure the security of Shiite pilgrims participating in the Ashoura commemorations," said Brig. Gen. Vincent K. Brooks, deputy commander for Multi-National Division-Baghdad.
Karbala is 50 miles south of Baghdad and thousands of Shiite pilgrims are flocking to the city to mark the 10-day Ashoura festival commemorating the death of one of Shiite Islam's most sacred saints, Imam Hussein, the grandson of the Prophet Muhammad.
Brooks said the meeting was taking place in the Provincial Joint Coordination Center in Karbala when the attack occurred. Iraqi officials and security forces as well as U.S. troops were present, he said.
The U.S. troops were part of a small unit embedded with Iraqi forces, reports CBS News Chief Foreign Correspondent Lara Logan, and that could be why this attack was particularly deadly. The American soldiers did not have the protection or back-up of a big U.S. base nearby.
This attack is of great concern because, under the new security plan for Iraq, more small U.S. units will be embedded with Iraqi forces, Logan reports.
Karbala Gov. Akeel al-Khazaali had said earlier Saturday that U.S. troops raided the same provincial headquarters looking for wanted men but left with no prisoners.
Brooks said that report was incorrect. "Initial reporting by some media outlets indicated falsely that the attack was conducted by coalition forces," he said.
Earlier on Saturday, the military said a U.S. helicopter had crashed in Iraq, killing all 13 people on board.
The military located the crash northeast of Baghdad but gave no other specifics, except to say the incident was under investigation. Lt. Col. Josslyn Aberle, a military spokeswoman, said the cause of the crash was not known.
Capt. Frank Pascual, a military spokesman in Dubai, United Arab Emirates, said the craft was a Blackhawk helicopter and was believed to have suffered technical troubles before going down. He spoke to Al-Arabiya satellite television from its Dubai studios.
Saturday's death toll was the third highest of any day since the war began in March 2003, eclispsed only by 37 U.S. deaths on Jan. 26, 2005, and 28 on the third day of the U.S. invasion.
Thanks for reading CBS NEWS.
Create your free account or log in
for more features.