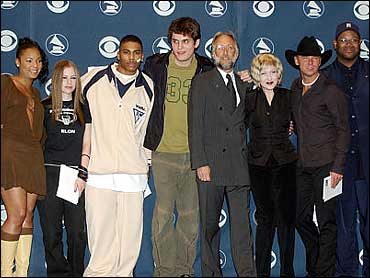 Fistful Of Grammy Nods For 8
The 45th annual Grammy awards next month will include plenty of new kids on the block along with some musical acts that have been around the block a few times.
Bruce Springsteen, Eminem, Sheryl Crow, Ashanti, Norah Jones, Nelly, Avril Lavigne and neosoul artist Raphael Saadiq all tied for the most nominations, each receiving five.
Avril Lavigne, the Canadian teenage rocker who helped turn youth interest away from teen pop was nominated in three categories, in one of them she is competing against R&B singer Ashanti.
Asked how they feel about the competition, Lavigne and Ashanti said for now they just enjoy the moment.
"It's just a cool thing to go home and be like yeah, mom and dad, I got nominated for a Grammy. I think that's so cool that we can say that for the rest of our lives," said Lavigne on The Early Show.
Lavigne debuted with a quadruple platinum and Ashanti with a triple-platinum. "The road to success has been a long one but now that we're here everything is happening so quickly. So I think all of us are really happy," said Ashanti. This does not necessarily put pressure on subsequent projects, Nelly said.
"You just do what you do and if your fans are truly behind you they're going to be there, you know," he said. "It's too late to panic now, man. You're already knee deep in it. It's best to just keep your cool and roll, you know."
Nelly had the second best-selling disc of the year with "Nellyville" and two huge hits with "Hot in Herre" and "Dilemma."
Here is a list of nominees in the top twelve categories:

Record of the Year: "A Thousand Miles," Vanessa Carlton;
"Without Me," Eminem; "Don't Know Why," Norah Jones;
"Dilemma," Nelly featuring Kelly Rowland; "How You Remind Me,"
Nickelback.
Album of the Year: "Home," Dixie Chicks; "The Eminem
Show," Eminem; "Come Away With Me," Norah Jones; "Nellyville,"
Nelly; "The Rising," Bruce Springsteen.
Song of the Year: "Complicated," Avril Lavigne & The Matrix
(Avril Lavigne); "Don't Know Why," Jesse Harris (Norah Jones);
"The Rising," Bruce Springsteen (Bruce Springsteen); "A Thousand
Miles," Vanessa Carlton (Vanessa Carlton); "Where Were You (When the World Stopped Turning)," Alan Jackson (Alan Jackson).
New Artist: Ashanti; Michelle Branch; Norah Jones; Avril
Lavigne; John Mayer.
Female Pop Vocal Performance: "Soak Up the Sun," Sheryl
Crow; "Don't Know Why," Norah Jones; "Complicated," Avril
Lavigne; "Get the Party Started," Pink; "Overprotected,"
Britney Spears.
Male Pop Vocal Performance: "7 Days," Craig David;
"Original Sin," Elton John; "Your Body Is a Wonderland," John
Mayer; "Fragile," Sting; "October Road," James Taylor.
Pop Performance by a Duo or Group with Vocal: "Everyday,"
Bon Jovi; "Girl All the Bad Guys Want," Bowling for Soup; "Where
Are You Going," Dave Matthews Band; "Hey Baby," No Doubt;
"Girlfriend," 'N Sync.
Pop Collaboration with Vocals: "Dirrty," Christina
Aguilera; "Christmas Song," India.Arie and Stevie Wonder; "What
a Wonderful World," Tony Bennett and k.d. lang; "Better Than
Anything," Natalie Cole and Diana Krall; "It's So Easy," Sheryl
Crow and Don Henley; "The Game of Love," Santana and Michelle
Branch.
Pop Instrumental Performance: "Auld Lang Syne," B.B. King;
"Blackbird," Dave Koz and Jeff Koz; "As It Is," Pat Metheny
Group; "18," Moby; "Playing With Fire," Kirk Whalum.
Pop Instrumental Album: "Just Chillin'," Norman Brown;
"Paradise," Kenny G; "Ride," Boney James; "The Power of
Love," John Tesh; "The Christmas Message," Kirk Whalum.
Pop Vocal Album: "Come Away With Me," Norah Jones; "Let
Go," Avril Lavigne; "Rock Steady," No Doubt; "M!ssundaztood,"
Pink; "Britney," Britney Spears.
Dance Recording: "Gotta Get Thru This," Daniel
Bedingfield; "Days Go By," Dirty Vegas; "Superstylin'," Groove
Armada; "Love at First Sight," Kylie Minogue; "Hella Good," No
Doubt.

This year's awards marks the ceremony's return to New York after a four-year absence (they've been held in LA for the past four years). Ashanti, Avril Lavigne, Cyndi Lauper, John Mayer, Justin Timberlake, Kenny Chesney, Nelly, and P. Diddy were among the artists who read the nominations.

In addition the President of the Recording Academy (Neil Portnow) spoke, as well as Mayor Michael Bloomberg, and the Harlem Boys Choir performed.

This year, there are 104 Grammy categories, up from 101 last year. Click here for the full nominee list. The Grammy nominations were announced at Madison Square Garden, where the awards will be held Feb. 23. Watch them live on CBS at 8 p.m. ET.

Thanks for reading CBS NEWS.
Create your free account or log in
for more features.