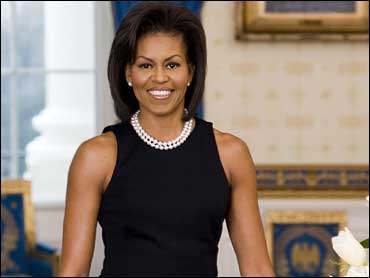 First Lady's Bare Arms Steal The Spotlight
The Right to Bare Arms. Sleevegate. Up in Arms. The Upper Body Stimulus Plan.
If nothing else, the hullabaloo over Michelle Obama's occasionally sleeveless attire, which reached a fever pitch this month, has unleashed a torrent of clever puns from headline writers - the better to distract us from that economic news we'd rather not be hearing.
Never before, surely, has a set of bare arms launched so much discussion than in the weeks since Mrs. Obama appeared sleeveless at her husband's speech to Congress in chilly February. Certainly not in equally chilly January 1963, when Jacqueline Kennedy wore one of her many sleeveless outfits to her own husband's State of the Union address.
Why, then, so much attention to Michelle Obama's well-toned biceps - well, and triceps and delts - 46 years later? Just about everyone in the worlds of fashion, media, politics and fitness has a theory on this pressing question for the body politic.
MRS. OBAMA'S ARMS SIGNIFY STRENGTH: "Let's face it," wrote New York Times columnist Maureen Dowd, one of this theory's chief proponents. "The only bracing symbol of American strength right now is the image of Michelle Obama's sculpted biceps." In a recent column, she went on to imagine that Mrs. Obama "could easily wind up and punch out Rush Limbaugh, Bernie Madoff and all the corporate creeps who ripped off America."
Not a vivid enough image for you? Try Bonnie Fuller, the former celebrity editor, who blogged that "those arms ... look powerful enough to wrap around a distressed nation and lift it up."
MRS. OBAMA'S ARMS SIGNIFY DISCIPLINE: To others, the arms serve as an example of a woman who has the self-esteem, willpower and diligence to keep herself in shape.
"Here's a woman who's balancing family and other issues like the rest of us, and she's creating the time to be strong," says Mikki Taylor, beauty and cover director for Essence magazine. "She's setting a great example by signaling she gets up every day to work out."
And fashion critic Robin Givhan sees not only discipline in those arms, but a signal of individual liberty. "Those arms represent personal time," she wrote in The New Yorker magazine. "They are evidence of a forty-five-year-old woman's refusal to give up every free moment" to her husband, kids, and other demands.
MRS. OBAMA'S ARMS SIGNIFY YOUTH: One fashion editor thinks we focus on Mrs. Obama's arms because they show us that we can keep age at bay, with enough effort.
"Arms are one of those things you notice when you age - they can look very poor," says Lesley Jane Seymour, editor of More, a magazine for women over 40. "So when you've got it, flaunt it, babe." Not only has More featured Mrs. Obama sleeveless on the cover - virtually all its celebrity cover models bare their arms, including Meredith Vieira, 55, and Jane Fonda, 71. And that's what readers want, Seymour says: "It proves the old theory wrong, that once you turn 40 you need to cut your hair short and cover up your skin."
MRS. OBAMA'S ARMS COINCIDE WITH A FASHION TREND: "If you look back at fashion history, you'll see that erogenous zones have moved up and down the body," says Susan Cernek, senior fashion and beauty editor at Glamour magazine. "It just depends on the style of dress at the time."
For history buffs, it was back in the '80s when Linda Hamilton, the ultra-toned "Terminator" actress, introduced muscular female arms into our popular culture. But the most famous celebrity arms - until now, perhaps - belong to Madonna, now 50 and still sporting rock-hard biceps.
Now, celebrities routinely request help buffing up their arms, says David Kirsch, author and trainer to the likes of Ellen Barkin, Heidi Klum and Anne Hathaway. And so, obviously, do ordinary women. Which leads us to the next theory:
MRS. OBAMA'S ARMS ARE THE EVERYWOMAN'S ARMS: "When I look at Madonna's arms I see someone whose priorities are way out of whack," says Tyler Thoreson, executive editor of men.style.com. "It takes hours a day to keep them that way. Why not volunteer instead at a soup kitchen?"
By contrast, Mrs. Obama "embodies someone who has a balanced perspective," says Thoreson.
Kirsch, the fitness expert, says women should take heart, because Mrs. Obama's arms are obtainable without much expense (though the first lady does use a personal trainer, a proposition only for the fairly wealthy.) "If you were to start tomorrow doing 15 to 25 push-ups, and you did them every day and kept increasing, you'd see a huge change," he says. And unlike Madonna's arms, Kirsch says, "Mrs. Obama's are feminine. She looks like a woman."
MRS. OBAMA'S ARMS CAN INSPIRE THE YOUNG: Like many first ladies, Mrs. Obama is clearly held up as a role model, and some see her fitness as part of that package. "Hopefully she can help prevent obesity by being a tangible example of someone who looks good and stays in shape," says Thoreson.
On the other hand, he suggests that to deflect the attention, maybe Mrs. Obama would be better off mixing up her wardrobe a bit - which her advocates would surely say she does already. "When she gives speeches, she chooses business-y blazers and polished separates," says Cernek, of Glamour.
Some say it's not enough. "I've told my trainer that I want Michelle arms. We all do, let's face it," wrote conservative columnist Kathleen Parker in an e-mail message. But, she added, "I do think a little more coverage is appropriate."
And what does the woman herself think? In a recent interview, Mrs. Obama herself jokingly referred to the uproar. Complimented by ABC's Robin Roberts on her physique, the first lady quipped with a smile: "Well I covered my arms up."
But are there negatives to all the attention? Here too, theories abound. Some have termed it sexist. "If Hillary Clinton were president," wrote feminist author Gloria Steinem in an e-mail, "would the same stories now being written about Michelle Obama's arms be written about Bill Clinton? I don't think so."
On some blogs, there have also been accusations that the attention to Mrs. Obama's arms feeds into racial stereotypes.
But perhaps the biggest danger is that all the chatter might be drawing attention from what Mrs. Obama is doing day-to-day as first lady: Her visits to federal agencies. Her stint serving lunch at a soup kitchen. Her recent trip to Fort Bragg, N.C. to meet military families. Or the day last week when she gathered an array of famous women to visit Washington-area high schools.
"There's lots of fabulous stuff she's doing that isn't getting coverage while we're all talking about her fabulous arms," says Seymour, of More magazine. She suggests, in fact, that it may be time to shift attention to the toned physique of another White House occupant.
"We need to focus on Barack's shoulders now, and whether they're big enough to carry us through this economic crisis," Seymour says.
By Jocelyn Noveck
Thanks for reading CBS NEWS.
Create your free account or log in
for more features.