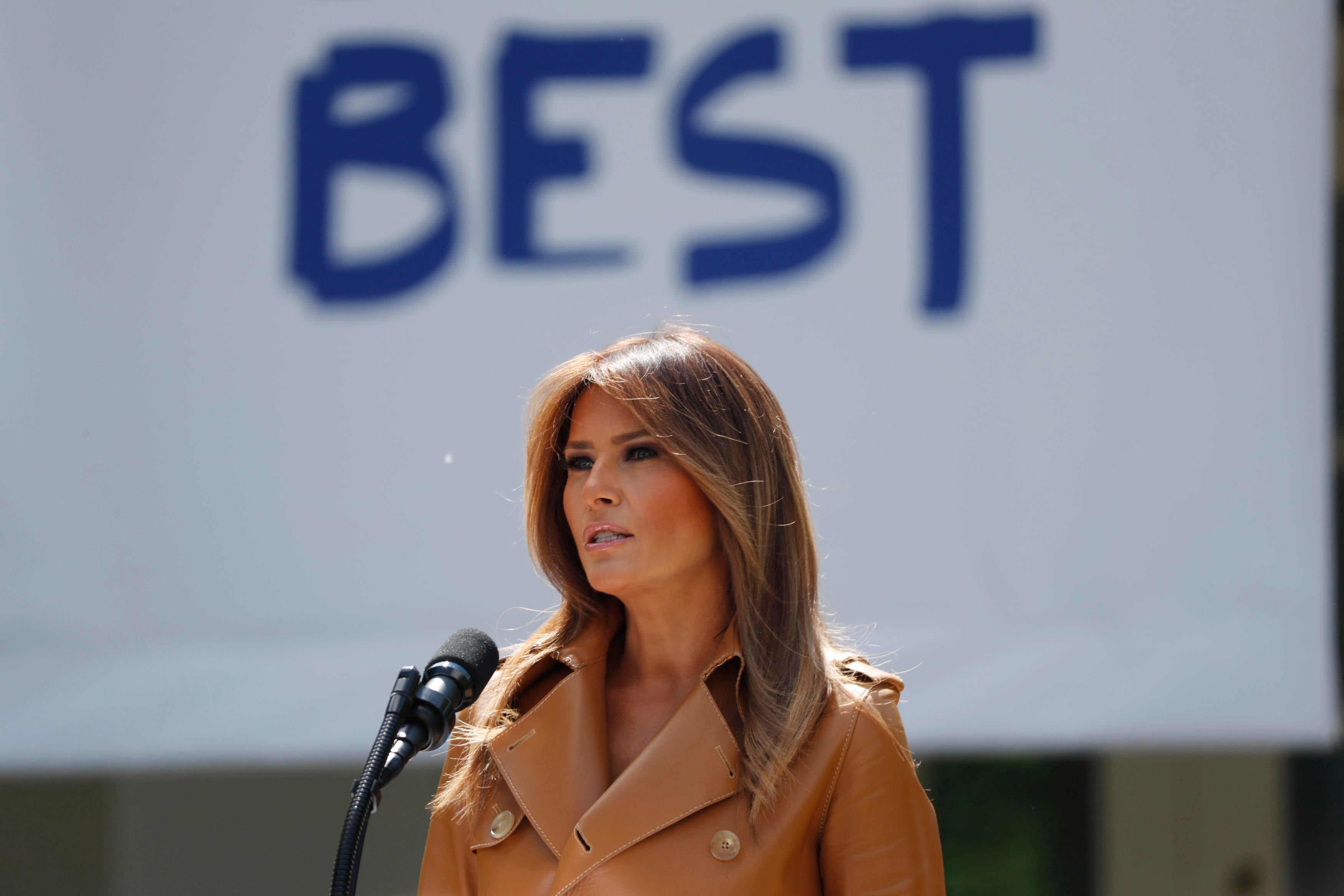 First lady unveils "Be Best" campaign to address issues facing children
First lady Melania Trump unveiled her "Be Best" initiative on Monday, a campaign to help bring awareness to the most important issues facing the nation's children including overall well-being, social media and opioid abuse. Her initiative comes after previously expressing her interest in children through numerous visits to hospitals and schools over the course of the Trump presidency.
"There is one goal, to 'Be Best' -- that is to educate children about the many issues they're facing today," she said at the Rose Garden ceremony. "I feel strongly as adults we should be best about education our children about a healthy and balanced life."
The first lady said it was the responsibility of adults to help support children as they grow to become productive members of society and the global community. Much of her campaign focuses on the emotional and physical well-being of kids, emphasizing that children know that it's "safe to make mistakes."
"They should be mindful to trust in themselves and their own emotions," said Trump. She added, "I believe we should strive to provide kids with the tools they need to cultivate their social and emotional health."
With her husband, who famously uses social media to take on his opponents, seated front and center at the ceremony, the first lady said social media plays a critical role in children's lives, acknowledging both the positive and negative impacts it has.
"When children learn positive online behaviors early on, social media can be used in productive ways and can affect positive change," she said. The first lady urged children online to "choose words wisely and speak with respect and compassion." Her focus on social media extends from her previous work during the 2016 campaign when she championed combatting cyber bullying as one of her first platforms as first lady.
She also brought focus to the deadly impact opioid addiction has on young children and infants, touching on her past participation in drug addiction roundtables and visits to local treatment facilities. Trump said the "Be Best" campaign will help to support families and children affected by the opioid epidemic, reduce the stigma of drug addiction across the country and bring awareness to programs and places currently serving the issue like Lily's Place and the Cincinnati Children's hospital.
"I will continue to travel and speak to children directly about both their victories and difficult realities they face, said Trump. She added, "My hope is that together we can be best at helping children and families find effective ways to educate themselves and support each other."
During Monday's event, the first lady invited Mr. Trump to sign an official proclamation marking May 7 as "Be Best" Day, and he hailed the first lady's initiative as "heartfelt."
"Everywhere she has gone, Americans are touched by her sincerity, moved by her grace," said Mr. Trump. He added, "your compassion for our nation's children inspires us all. "
The president pledged to "be best for our families, best for our communities and best for our nation."
Thanks for reading CBS NEWS.
Create your free account or log in
for more features.