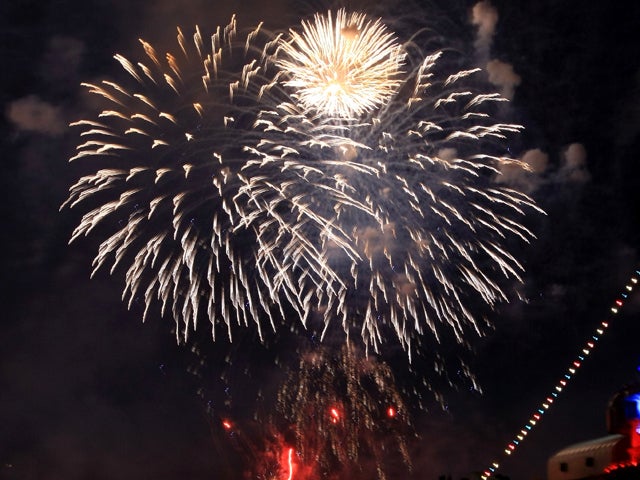 Fireworks' popularity skyrocketing
Family, fireworks, a day off from work -- the Fourth of July is just days away.
On Monday, many more people will be celebrating with fireworks than ever before. In fact, the numbers are exploding, reports CBS News Correspondent John Blackstone.
Of all the traditions associated with the Fourth of July, the one that rises above everything is fireworks.
But, Blackstone points out, there are reasons to think fireworks this Fourth should be a fizzle.
The South is plagued by drought, and the very real danger of wildfires could make many think twice about lighting a fuse to light up the sky.
In cities with budgets stretched to the breaking point, an expensive fireworks show can seem frivolous -- even if it is patriotic.
"We're in the business of red-white-and blue. There's no question about it," said Jim Souza, of Pyro Spectaculars.
Souza says his company is putting on as many big fireworks shows as ever, despite the economy.
"When communities can't afford it, we've seen other sponsors come in -- we've seen the merchants, we've seen the real estate agents, we've seen restaurants, we've seen anonymous donors -- whatever it takes to make this happen," Souza says.
In spite of cancellations in some communities, revenue for professional fireworks shows has climbed steadily through the recession. This year, there will be more than 14,000 of them across the country.
"They bring you joy to know that we're still here that we're able to live here free and be with our families together," says Alejandra Branchini of Monrovia, Calif.
While it seems Americans have given up so much recently, they want hold onto that one Fourth of July extravagance: the rocket's red glare, Blackstone observes.
"It's the perfect moment to light those fireworks to have them light up the sky and tell everybody it's OK to be happy, it's OK to celebrate, and it's good to be American, said Sarah Banet-Weiser, a professor of American studies.
Individual fireworks sales are shooting up, too.
"I've had so many good experiences with firecrackers, the loud noises and everything. Just kids being kids, basically," said Trevor Cigich of Orange County, Calif.
It is now legal to buy fireworks in 46 states. And Dennis Revell of TNT Fireworks says the industry is exploding with new ideas.
"Something that gives the awe factor that makes you just want to go 'wow.' I'm always amazed; we always come out with new products that continue to amaze me every year," Revell says.
Including both backyard fireworks and professional shows, the industry had $952 million in sales last year and predicts this year will be even better.
It's a business, after all, where the sky's the limit.
The American Pyrotechnics Associationhelped us with information in this story.
Thanks for reading CBS NEWS.
Create your free account or log in
for more features.