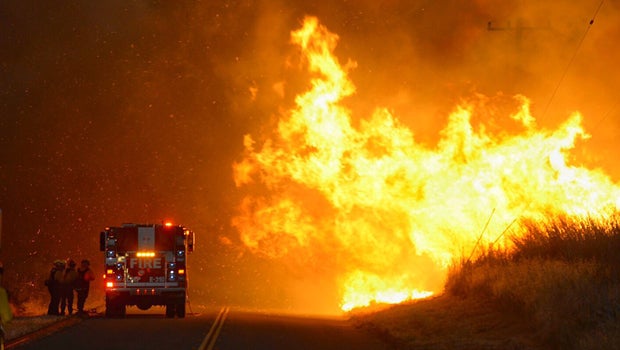 Santa Barbara fire threatens homes as crews struggle to corral flames in California
GOLETA, Calif. -- Stoked by winds, a wildfire burning west of Santa Barbara roared down mountain slopes toward the Pacific Ocean, shutting down California's major coastal highway and forcing a group of firefighters to seek shelter behind a fire engine as flames licked at them.
Authorities dubbed it the Sherpa Fire because it erupted near Sherpa Ranch, CBS Los Angeles reported. It had grown to more than 5,800 acres by Friday evening and was only 20 percent contained, according to state fire officials.
Authorities warned Friday that the region's notorious afternoon and evening "sundowner" gusts would recur through the next two days. Weekend fire dangers already were expected to worsen with the arrival of an extreme heatwave across the Southwest, including in New Mexico, where a wildfire has destroyed two dozen homes.
Firefighters do not expect to fully extinguish the blaze until Wednesday, according to CBS Los Angeles. To date, it has threatened at least 270 homes and destroyed a water plant in El Capitan Beach. Mandatory evacuations have been ordered in several areas.
The California inferno appeared to support national wildfire authorities' predictions of another dangerous and difficult year for the state after years of drought. State firefighters and the U.S. Forest Service already have fought more than 1,800 wildfires since Jan. 1, the California Department of Forestry and Fire Protection said.
While El Nino delivered rain and snow to Northern California this winter, the south was bypassed. What rain fell was just enough to sprout grasses that quickly died, adding to the danger of long-dead vegetation.
About 140 homes and ranches were considered at risk in southern Santa Barbara County at the foot of the rugged Santa Ynez Mountains, an east-west trending range that parallels the south-facing coast.
Fires become especially dangerous when sundowners are formed by high pressure inland to the north and low pressure over the ocean to the south, causing gusty winds to sweep down the face of the mountains. A gust in the fire area around 1 a.m. Friday was clocked at 47 mph, the National Weather Service said.
The Santa Barbara County Fire Department posted a picture of firefighters near El Capitan State Beach taking shelter behind a fire engine as flames and a hail of embers roared toward them.
CBS Los Angeles reporter Tom Wait said things got so dicey by the beach that firefighters and police told reporters to leave, warning they'd be cited if they didn't.
The "wall of fire" at times "looked like a fire tornado, a vortex of flames crossing through the hillside," Wait said. "It was very, very frightening."
U.S. 101, the state's main coastal highway, had to be shut down for hours for the second time since the fire erupted Wednesday.
A firefighting DC-10 jumbo jet led an air attack Friday morning, dropping vast swaths of retardant to stop the fire's movement across difficult-to-reach terrain. A fleet of planes and helicopters have assisted an army of fighters on the ground.
In central New Mexico, a blaze that began Tuesday has charred more than 26 square miles and destroyed homes near the small community of Chilili. It also blanketed Albuquerque, the state's largest city, in a thick haze.
The fire was expected to continue moving east and northeast and posed an imminent threat to Chilili, the Tajique area and the Ponderosa Pine residential area, according to U.S. Forest Service officials.
New Mexico Gov. Susana Martinez took to the air in a National Guard helicopter on Thursday to survey the devastation, according to a report in the Albuquerque Journal.
"This is a serious fire," Martinez said later during a news conference at an Estancia school that holds the command center for the firefighters. "We want to make sure New Mexicans understand that."
Extremely hot and dry weather was forecast to continue into the weekend, although gusty winds should ease, fire officials said.
In east-central Arizona, progress was made against a 12-square-mile blaze that broke out Wednesday south of Show Low.
"The winds weren't as bad, and the back-burns did exactly what we wanted them to do," Navajo County Sheriff KC Clark said at a Thursday afternoon news conference.
However, a small Navajo County community remained evacuated and thousands of other residents were told to be prepared in case they had to leave.
In Nevada, a 300-acre Reno brush fire that threatened dozens of homes was 75 percent contained and crews were mostly in mop-up mode Thursday evening.
Blazes also threatened homes in Utah, where a firefighter hurt his head in a fall.
Thanks for reading CBS NEWS.
Create your free account or log in
for more features.