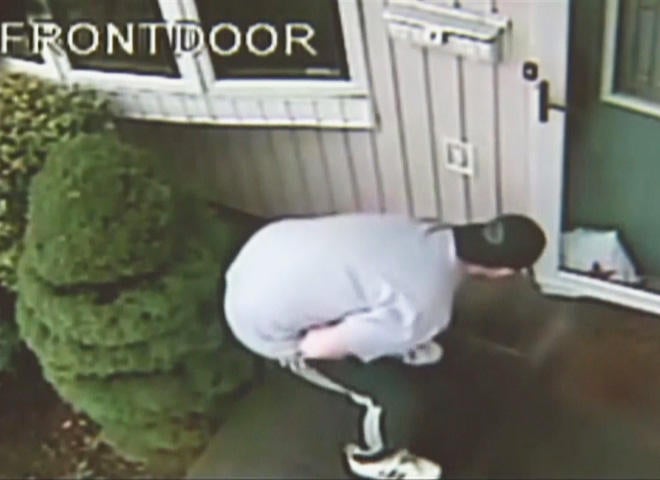 Fighting back against "porch pirates" during the holiday season
They come in the dead of night and in broad daylight: grinches stealing your holiday cheer -- and sometimes thousands of dollars worth of gifts. In Campbell, California, homeowner Terry Bohlan's security cameras caught a man stealing packages from his porch.
"You should feel safe and comfortable, not only in your home, but in your neighborhood," Bohlan said.
Online shopping, and thus home deliveries, are up 17 percent over last year. UPS and FedEx expect to deliver more than one billion packages combined.
Meanwhile, 11 million packages were stolen last year -- 74 percent while the homeowner was away.
Detectives in Washington County, Oregon, using a baited package, traced a porch pirate two blocks from where he snatched a box. Det. Patrick Altiere showed CBS News how it works.
"Our GPS tracker is in our package," said Altiere. "So we can essentially watch from a distance as a package takes a route around the city or back to the person's home or wherever it goes, we can watch it."
Homeowners themselves have taken advantage of new security technologies, like the Ring doorbell, in order to nab would-be thieves. Video of a nanny who spotted a porch pirate on a Ring doorbell and chased her down went viral.
Tacoma entrepreneur Jaireme Barrow took it one step further. He invented -- and is now selling -- booby-trapped boxes containing blank shotgun shells, designed to scare the Noel out of holiday crooks.
To combat porch pirates, Amazon introduced a program in which delivery people unlock your door and place packages inside.
Some stores, like Whole Foods, also offer the use of delivery lockers. But carriers say the safest bet is to schedule deliveries when someone is home.
Thanks for reading CBS NEWS.
Create your free account or log in
for more features.