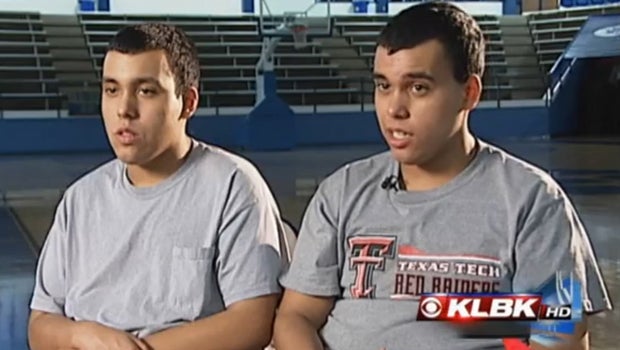 Autistic twins take to the court, and lead team to win
LUBBOCK, Texas - Matthew and Andrew Reyna are the equipment managers for their high-school basketball team, the most devoted equipment managers the freshman team coach has ever seen, Evan Onstot of KLBK in Lubbock reports.
The 15-year-old twins, who are autistic, played sports in middle school. But once they entered Frenship High School, where competition is fiercer, they decided to help behind the scenes.
"We are really serious," Matthew Reyna said. "We don't mess around. They don't have to do anything."
December brought heartache when their father, who had been sick, died.
"He always loved his sports," Matthew Reyna said. "He never said no to us. If he said he was going to do something he would do it."
But later that day, the twins walked back into the gym -- because it was a game day and they had a job to do. They told their coach, Shannon Beeles, that they needed to be there to take care of their teammates.
Their dedication led their coaches to decide to give the twins a shot on the court in the last game of the season on Tuesday.
"I took the shot, got it a nice soft touch and there it was," Matthew Reyna said.
The gym erupted in cheers and twins went on to score 15 fourth-quarter points.
"I though it was like winning the NBA finals," Matthew Reyna said. "I mean that's how exiting it was."
In all the excitement, Andrew Reyna said he thought of his father and what he would be thinking.
"Probably I think he was thinking, "Gosh my boys are strong,' and that's what we would want," he said.
Thanks for reading CBS NEWS.
Create your free account or log in
for more features.