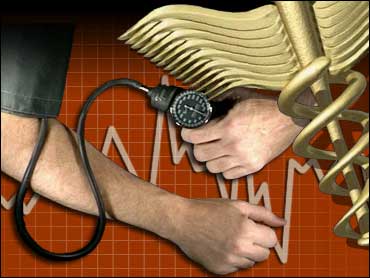 Fiber Fights Hypertension?
Bulking up on fiber may help people keep their blood pressure under control, a new study shows.
Researchers tallied the results of 25 studies on the effects of dietary fiber on blood pressure and found that a high-fiber diet was associated with a significant reduction in blood pressure levels among people with high blood pressure or hypertension.
Nearly 50 million Americans and 1 billion people worldwide have high blood pressure.
Aside from treatment with blood pressure-lowering medications, several other lifestyle and dietary modifications have already been shown to help keep blood pressure levels under control, including weight loss, reduced sodium intake, moderation in alcohol use, increased potassium intake, increased physical activity, and following the DASH (dietary approaches to stop hypertension) diet.
Although other dietary changes have been suggested for blood pressure control, researchers say there hasn't been enough evidence to recommend their use to the public.
Researchers say their findings represent the first comprehensive report of the effect of increasing dietary fiber on blood pressure and warrant additional studies in larger groups of people on the long-term effects of dietary fiber on blood pressure.
"We performed a comprehensive analysis of data from 25 clinical trials and all the data pointed to one strong conclusion — adding fiber to a person's diet has a healthy effect on their blood pressure," says researcher Seamus Whelton, a medical student at the Tulane University School of Medicine, in a news release. "Analyzing a large number of studies lends strength to the conclusions of clinical trials that involved too few participants to show an effect of dietary fiber on blood pressure."
Dietary Fiber May Lower Blood Pressure
In the study, which appears in the March issue of the Journal of Hypertension, researchers evaluated the results of 25 studies on the effects on blood pressure of adding fiber to the diet. Fiber intake in the studies ranged from 3.8 grams per day to125 grams per day.
The type of fiber added to the diet in the studies included fruit, cereal, fiber pills, and vegetables.
Overall, the results showed that adding fiber to the diet was associated with a significant reduction in both systolic (the bottom number in a blood pressure reading) and diastolic (the top number) blood pressure in people with high blood pressure.
In studies lasting at least eight weeks, the average reduction in blood pressure was 3.12 mmHg systolic and 2.57 mmHg diastolic.
A small drop in both systolic and diastolic blood pressure readings was also seen in people without high blood pressure.
"Our results suggest that increased dietary fiber consumption may provide a safe and acceptable means to reduce blood pressure in patients with hypertension," write Whelton and colleagues. "Increased intake of fruits and vegetables may provide the best means to supplement dietary fiber intake because of its potential beneficial health effects."
Sources: Whelton, S. Journal of Hypertension, March 2005; vol 23: pp 475-481. News Release, Tulane University Health Sciences Center.
By Jennifer Warner
Reviewed by Brunilda Nazario, MD
© 2005, WebMD Inc. All rights reserved
Thanks for reading CBS NEWS.
Create your free account or log in
for more features.