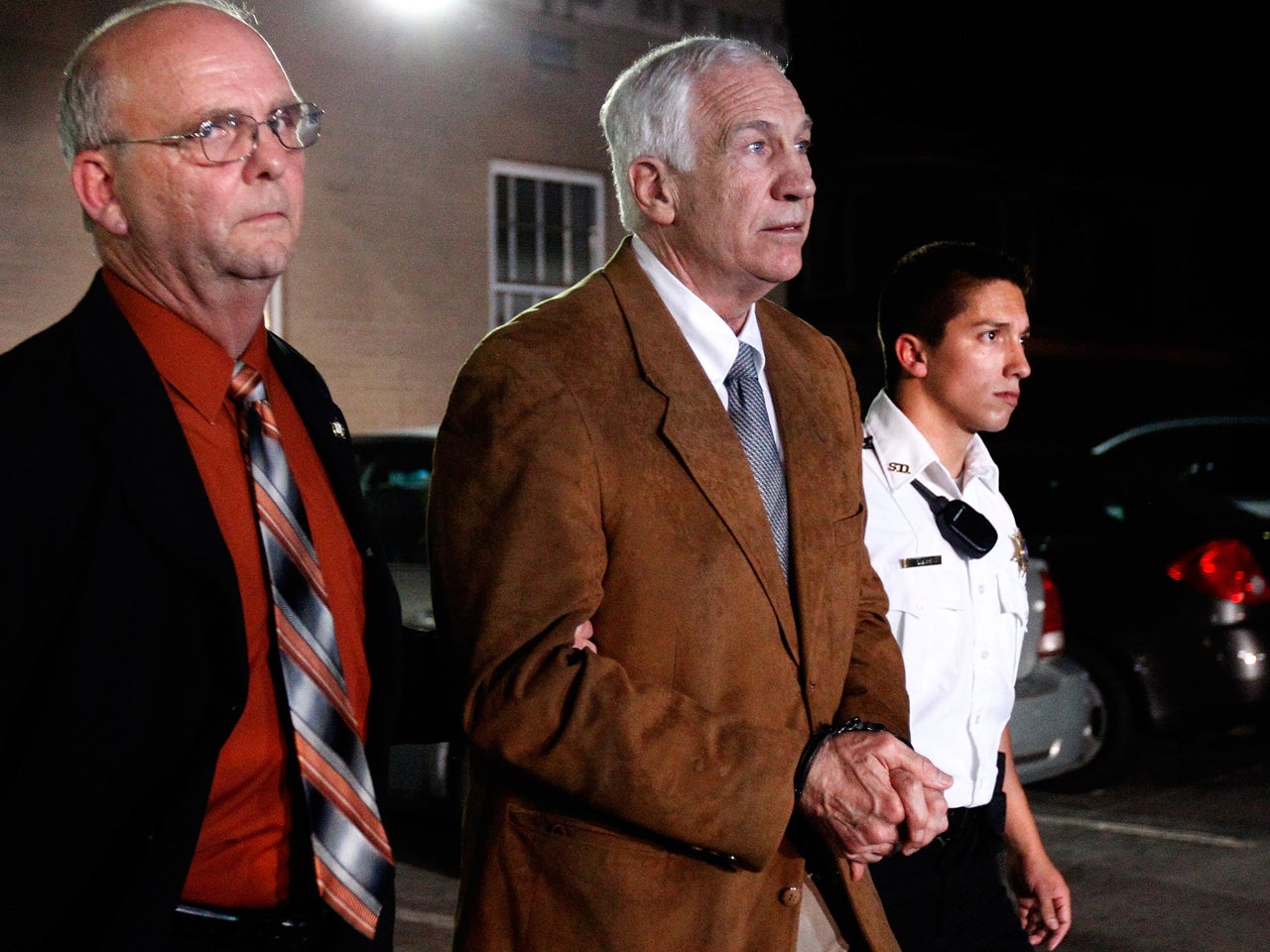 Feds probe possible Sandusky child porn ring
Updated 5:21 PM ET
(CBS/AP) U.S. Postal inspectors are leading a federal investigation into whether former Penn State assistant football coach Jerry Sandusky shared child pornography with other individuals, CBS News has learned.
Analyzing a computer seized from Sandusky, investigators are also looking into whether he sent "seductive letters" across state lines for sexual purposes. Some of these letters were said to be sent to some of his sexual abuse victims.
CBS News has learned that at the end of 2011, allegations were forward by the U.S. Attorney for the Middle District of Pennsylvania. that Sandusky used the mails to seduce individuals to cross state lines for sexual purposes, with trips and gifts offered. Investigators are looking at 6-7 victims who might have gotten letters.
Also in March of this year, U.S. Postal inspectors were tasked to investigate The Second Mile charity, which was founded by Sandusky. That investigation is on hold, awaiting for documents to be released by the State Attorney.
A source has been told that child pornography was found in at least one of Sandusky's computers. According to the source, there is no evidence that the pornography was of his victims. There is also no mention of a ring or sharing of boys with others. CBS News investigative producer Pat Milton reports that a second source said that none of Sandusky's victims have indicated that there was shared sex with them, Sandusky and any other individual.
The investigation is being carried out of the U.S. Postal Inspectors office in Harrisburg, Pa. and the U.S. Attorney Office of the Middle District of Pennsylvania.
"I haven't heard a thing about this latest allegation," Sandusky's attorney Joe Amendola, told CBS News. "Jerry continues to maintain his innocence. We think the allegation is ridiculous."
Sandusky, Penn State's defensive coordinator during the program's best years, was arrested in November on dozens of child sex abuse charges. He was convicted in June of 45 criminal counts.
Meanwhile, Penn State's board of trustees will meet this weekend to consider whether to ratify a consent decree with the NCAA that imposed penalties for how the university handled the Sandusky child molestation scandal.
Board chairwoman Karen Peetz told fellow trustees Thursday in an email, which was obtained by The Associated Press, that said there was confusion about how Penn State accepted the sanctions and whether it was the "best course" for the university.
"We have heard from President (Rodney) Erickson and from our legal team," Peetz wrote. "We have had an opportunity to speak our minds. I appreciate everyone's candor and your sincere and heartfelt comments. However, it is now time to put this matter to rest and to move on."
The resolution before the board would say that it "wishes to and hereby does ratify" the consent decree.
"We are leaders of this university," Peetz told the trustees. "We need to lead."
A notice posted on Penn State's website said the 5 p.m. Sunday telephone conference would be broadcast live online.
The NCAA on July 23 barred the school from postseason play for four years, fined it $60 million and invalidated 112 of the football team's wins for the way school officials handled abuse complaints against Sandusky.
Penn State also was stripped of future scholarships, and several high-profile players have decided to transfer to other schools since the penalties were announced. The team opens play at home Sept. 1 against Ohio University.
The NCAA concluded Penn State suffered "an unprecedented failure of institutional integrity leading to a culture in which a football program was held in higher esteem" than its own values, those of the NCAA and higher education, "and most disturbingly the values of human decency."
Penn State acquiesced to the penalties, with Erickson signing the agreement. Two days later, the trustees met in secret before issuing a statement that called the sanctions difficult but the alternatives worse.
Some trustees, alumni and others have reacted angrily. The family of former football coach Joe Paterno, who died in January, and a trustee who said others supported him have sought to appeal the NCAA's decision, but the organization has said the decision is not subject to appeals.
Thanks for reading CBS NEWS.
Create your free account or log in
for more features.