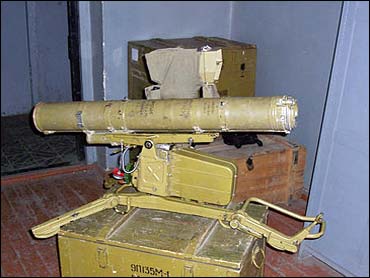 Feds Nab 18 On Weapons Charges
U.S. authorities have charged 18 people in an alleged plot to smuggle grenade launchers, shoulder-fired missiles and other Russian military weapons into the country.
The arrests resulted from a year-long investigation in which an FBI informant posed as an arms buyer with ties to terrorists. As CBS News Correspondent Wyatt Andrews reports, only eight weapons, all machine guns, were actually sold to an FBI informant.
Still agents said they had stopped an organization fully prepared to sell to al Qaeda.
The case, which took U.S. investigators to South Africa, Armenia and the Georgian Republic, also included wiretaps on seven phones and interceptions of more than 15,000 calls, according to prosecutors, the FBI and police.
The informant, an explosives expert, contacted the FBI after he was approached by a man who said he had access to weapons from the former Soviet Union and believed the informant could find a willing buyer, federal prosecutors said.
Over the following year, the informant purchased eight assault weapons: three in New York, three in Los Angeles and two in Fort Lauderdale, Fla. Using a digital camera, alleged ring members, which included Armenians and South Africans, provided pictures of the weapons they said they had available for sale, prosecutors said.
The pictures, apparently taken somewhere in Armenia, showed anti-tank missiles, a Russian missile launcher and an anti-tank rifle, among other weapons, officials said.
Seventeen of the 18 people charged were in custody on Tuesday — two arrested in Miami, five in Los Angeles and the remainder in New York. Prosecutors alleged that the defendants were preparing to import the weapons, including anti-tank missile systems, into the country from Eastern Europe.
A criminal complaint unsealed in U.S. District Court in Manhattan charged five men with conspiring to transport destructive devices in interstate and foreign commerce and 13 others with weapons trafficking for their roles in supplying machine-guns and other assault weapons destined to be sold to the informant.
According to the complaint, the informant met two of the defendants, Artur Solomonyan and Christiaan Dewet Spies, on several occasions in New York City to discuss the details of their weapons deals, including in-depth discussions about the specifications and prices of various weapons that the defendants could ship into the United States.
Three other defendants, Joseb Kharabadze, Joseph Colpani, and Michel Guy Demare aided in preparing to import the weapons from Eastern European countries, according to the complaint.
The court papers said that during a June 2004 meeting in New York City, Solomonyan provided the informant with a list of weapons for sale that included stinger missiles, AK-47s and claymore mines.
Solomonyan, 26, an Armenian citizen living in New York and Los Angeles, and Spies, a South African citizen living in New York, were arrested Monday night at a lower Manhattan hotel after meeting one last time with the informant to finalize their plans to travel to Eastern Europe to arrange the importation of the military weapons, prosecutors alleged.
If convicted, Solomonyan and Spies each face a maximum of 30 years in prison. It was not immediately clear who would represent them in court.
The FBI, which arrested them before they could leave the country to allegedly obtain the weapons, is working with Armenian and Russian authorities to secure the weapons and to arrest the responsible parties abroad, authorities said.
The defendants also are charged with conspiring to traffic in machine guns and other assault weapons, and with selling the eight weapons during the investigation.

Thanks for reading CBS NEWS.
Create your free account or log in
for more features.