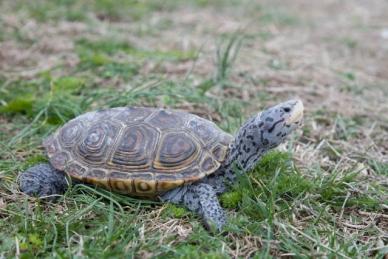 Feds indict man for allegedly trafficking thousands of turtles
There could be shell to pay for a Philadelphia man facing federal charges for allegedly trafficking thousands of turtles.
A federal grand jury indicted David Sommers, 62, for allegedly smuggling more than 3,500 protected turtles and submitting false records for a package sent to Canada, the Department of Justice said Tuesday.
Federal wildlife officials seized more than 3,400 diamondback terrapin hatchlings from Sommers' Levittown home in October and helped return them to their natural habitats in the coastal marshes of New Jersey, the department said.
Sommers allegedly poached the turtles and their eggs in 2017 and sold them to buyers in New York and Wisconsin, with each transaction totaling more than $350, according to the indictment. He also allegedly smuggled turtles into Canada in 2014 using a package that was falsely said to contain a book.
Officials said Sommers targeted a highly coveted type of turtle that isn't found in his home state.
"The distinctive coloration and pattern of the diamondback terrapin make it highly susceptible to illegal poaching and smuggling," acting assistant Attorney General Jeffrey Wood said in a statement.
New Jersey outlawed collecting and possessing diamondback terrapins in 2016, and their sale is also banned by an international treaty, the Convention on International Trade in Endangered Species of Wild Fauna and Flora.
The Justice Department said Sommers violated the Lacey Act, which prohibits the sale of wildlife that have been taken illegally. He faces five counts of trafficking or false labeling under the Lacey Act, as well as one count of smuggling goods from the United States.
Sommers faces up to 15 years in prison if convicted.
Thanks for reading CBS NEWS.
Create your free account or log in
for more features.