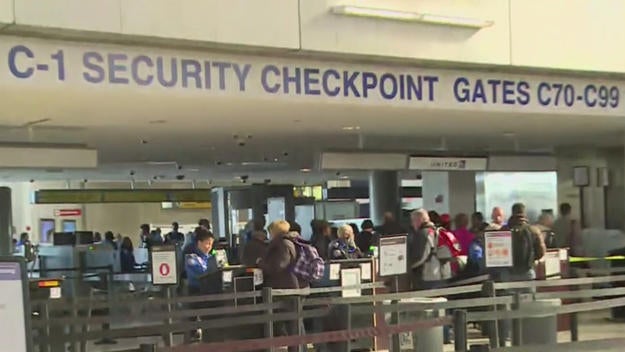 Feds: Customs officers hazing included "rape table" at Newark airport
NEWARK, N.J. -- Three U.S. Customs and Border Protection officers are accused of using a "rape table" to haze two of their colleagues at Newark Liberty International Airport.
Federal prosecutors say the officers were arrested Wednesday and are due to make their initial court appearances later in the day.
All three officers are charged with forcibly assaulting, impeding, intimidating and interfering with the two victims. It's not known if they've retained lawyers. They were expected to make court appearances later Wednesday.
Officials have said senior officers would allegedly take newer officers into a secure room, throw them on a table and grind against their genital areas.
Officers who have reported being hazing victims say the abuse happened for years. The allegations surfaced after an investigation by WNBC in New York.
The officers arrested include 38-year-old Tito Catota, of Newark; 40-year-old Parmenio Perez, of Paterson, and 32-year-old Michael Papagni, of West Orange.
According to a federal complaint, the defendants were assigned to the Passenger Enforcement Rover Team, a unit responsible for identifying passengers who might be carrying contraband or associated with terrorist activities.
The U.S. Attorney's Office says the first victim was assigned to the unit in October 2016, and within the first two weeks Papagni told him the PERT office table was known as the "rape table" and threatened that he would get the victim on it.
Federal prosecutors describe an alleged incident on Jan. 10 when Papagni allegedly told the victim he had five minutes to get out of the PERT office or Papagni would teach him "what this team is about."
Moments later, another officer shut off the lights in the office and Papagni, Catota, and another officer allegedly grabbed the victim's arms and legs and threw him on top of the office table.
While Papagni, Catota and a third officer held the victim down, prosecutors say, Perez allegedly got on top of the victim's mid-section and grinded his body against his genitals "in a motion simulating a sex act."
Federal prosecutors describe another alleged incident on Nov. 30, 2016 when a second victim who was assigned to the Port Director staff when to the PERT office and saw an officer lock one of the doors. Catota, Papagni, and Perez then grabbed the victim and threw him on his side on the PERT office table. Two of the defendants allegedly held the victim down while a third "moved his genitals up and down on Victim Two's left in simulation of a sex act," prosecutors say.
The victim struggled to get free until the three defendants eventually released him, prosecutors say.
William Fitzpatrick, Acting U.S. Attorney for the District of New Jersey, said in a statement the defendants are accused of subjecting their colleagues to "senseless acts of physical abuse."
"This behavior would be abhorrent in any environment, especially one serving a critical law enforcement function," Fitzpatrick said. "The hard working men and women who protect our borders deserve better."
In a statement, the U.S. Department of Homeland Security Office of Inspector General said it's investigating. WNBC reports the PERT team was disbanded in May after its report and 11 officers were suspended pending the outcome of the federal investigation.
"We do not tolerate misconduct in our ranks and are committed to a safe workplace environment free of harassment or intimidation," Customs and Border Protection spokesman Anthony Bucci said in a statement to WNBC, adding that CBP authorities took "administrative and management actions to correct the situation."
Thanks for reading CBS NEWS.
Create your free account or log in
for more features.