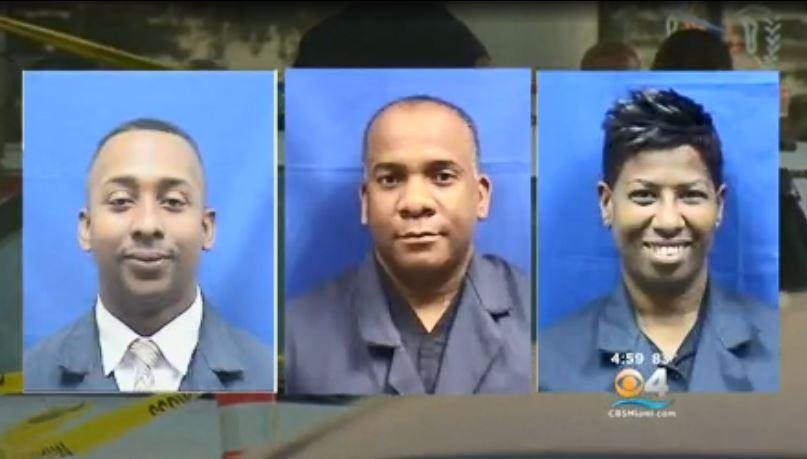 Feds: 3 Miami cops took cash to guard "drug traffickers" in undercover sting
Three City of Miami police officers are facing federal narcotics charges after they allegedly took cash to provide armed escorts for what they believed to be drug traffickers in a months-long undercover operation, federal prosecutors announced Tuesday.
Schonton Harris, Kelvin Harris and James Archibald were charged in a federal criminal complaint unsealed Tuesday with conspiring and attempting to possess cocaine with the intent to distribute and carrying a firearm during a drug trafficking crime. In announcing the charges Tuesday, U.S. Attorney for the Southern District of Florida Ariana Fajardo Orshan said the federal investigation was launched after a citizen tip. She praised Miami police chief Jorge Colina for acting quickly on the concerns the officers could be corrupt and contacting the FBI.
Orshan said the officers have been charged "with committing the very crimes they had the duty to investigate, report and help prosecute."
"Instead of ridding the streets of drugs that are ravaging our communities, these officers were willing to profit from money laundering and drug trafficking enterprises," Orshan said.
The three officers have been taken into custody and are expected to be fired, according to CBS Miami. Colina said their arrests should serve as a warning to other officers "who would break their oath, shame the ranks and dishonor the badge — there is no refuge for you here. If you are corrupt, we will find you, and you will answer for your crimes."
Colina also thanked the citizen for coming forward. The U.S. attorney's office wouldn't elaborate on the nature of the tip.
The federal complaint says a cooperating witness who was being investigated for involvement in narcotics trafficking in April 2018 agreed to record conversations with Schonton Harris. In speaking with the witness, Harris allegedly said she would accept cash payments for protecting the activities of people purported to be money laundering couriers and narcotics traffickers.
Over the next several months, federal investigators used the witness, a confidential source, FBI undercover employees and other law enforcement officers to stage the transfer of sham drugs for which Harris allegedly provided armed protection details. She would later allegedly recruit two other Miami officers, Kelvin Harris — CBS Miami reports the two are not related — and James Archibald to take part in the scheme. In one September escort, Schonton Harris and James Archibald were videotaped while armed and in uniform providing protection for what they believed was a cocaine transfer, the complaint says.
Schonton allegedly received $17,000 in bribe payments, while Kelvin Harris got $10,000 and James Archibald $6,500.
The complaint outlines a June conversation between Schonton Harris and the witness in which Harris described reaching for her gun after seeing a person she thought may rob the courier she was protecting. Schonton said she would "pop the [expletive]" and that she would protect the courier with her "[expletive] life." It also says Harris admitted to previously using and dealing narcotics and faking police-administered drugs tests. In one August conversation, according to the complaint, Harris allegedly told the witness she wasn't concerned about protecting narcotics shipments: "With me, I don't give a [expletive]," Harris allegedly said. "You can tell me, I still won't care. I don't care if it's a dead body cut up in pieces."
During one escort in October, according to the complaint, Schonton Harris and Archibald allegedly personally transferred sham cocaine to Miami-area hotels while Kelvin Harris followed in a marked police car to protect the drugs.
Schonton Harris allegedly also provided a City of Miami police department uniform and badge to an undercover FBI employee who was portraying a high-level narcotics trafficker, according to the complaint. Harris believed the uniform and badge would be provided to a hitman who planned to kill someone who had stolen drugs from the trafficker, the complaint says. She allegedly accepted $1,500 for the uniform and badge.
"Our agency is repulsed by the actions of these three individuals being arrested today," Colina said Tuesday. "They in no way reflect the bravery, honor and commitment to this community shown by the vast majority of the men and women who wear the City of Miami police uniform."
Edward Lugo, president of Miami's Fraternal Order of Police, told the Miami Herald his union "supports the actions of the police department, the U.S. Attorney's Office and the FBI."
The three defendants hadn't hired lawyers Tuesday afternoon, the paper reports. They are expected to make their initial appearances Wednesday afternoon before a U.S. magistrate judge, according to the U.S. attorney's office.
Thanks for reading CBS NEWS.
Create your free account or log in
for more features.