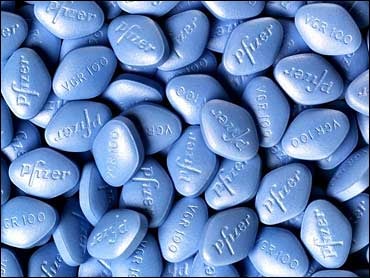 FDA Warning For Impotence Drugs
The government on Friday ordered warnings onto the labels of Viagra and two other impotence drugs that some users have developed a form of blindness — while cautioning that it's impossible to know if the pills are to blame.
The Food and Drug Administration's move comes as the agency is under intense pressure to investigate more aggressively and warn the public about drug side effects.
At issue is sudden vision loss when blood flow to the optic nerve is blocked, a condition called NAION or non-arteritic anterior ischemic optic neuropathy.
NAION is considered one of the most common causes of sudden vision loss in older people, with anywhere from 1,000 to 6,000 cases a year. Moreover, risk factors include diabetes and heart disease, two of the leading causes of impotence.
The FDA has 43 reports of NAION among the impotence drug users: 38 for Viagra, four for Cialis and one for Levitra. They include varying degrees of vision loss, including blindness.
Those are rare numbers, given that Viagra alone has been used by 23 million men worldwide since its approval in 1998, according to maker Pfizer Inc.
"It is not possible to determine whether these oral medicines for erectile dysfunction were the cause," or whether other health conditions triggered NAION in the men, the FDA said in a statement Friday.
In addition to heart disease and diabetes, risk factors include being over age 50, high blood pressure, high cholesterol and smoking.
But FDA advised patients to stop taking the pills and call a doctor if they experience sudden or decreased vision loss in one or both eyes — and to tell their doctor if they have ever suffered an episode of sudden vision loss, because such patients are at increased risk of a second episode.
Thanks for reading CBS NEWS.
Create your free account or log in
for more features.