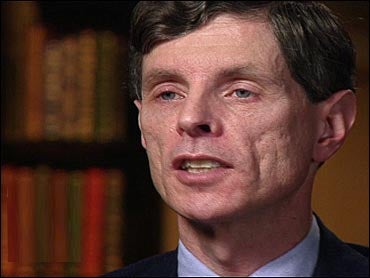 FDA: Harsh Criticism From Within
Dr. David Graham is the Food and Drug Administration's worst possible nightmare.
He blames the FDA for allowing dangerous drugs to stay on the market. He blames the FDA for not pulling a drug that he claims contributed to the deaths of thousands of Americans. And he blames FDA management for running a dysfunctional organization.
Even this week, as FDA advisers weigh the heart attack risks of some of the nation's most popular pain-relieving drugs, Graham blames the FDA once again for ignoring its own safety experts. And he's in a position to know. He's one of them, as Contributing Correspondent Jim Stewart reports.
"I know that FDA is responsible for 100,000 people being injured. And FDA wants to keep that swept under the rug nice and quiet," says Graham.
Graham is a senior scientist within the FDA's Office of Drug Safety. The extraordinary numbers he cited are his mathematical estimate of the number of Americans harmed because of the painkiller Vioxx and the FDA's decision to leave Vioxx on the market for five years -- despite mounting evidence it increased the risk of heart attacks and strokes.
In a surprise appearance before a Senate Committee last fall, Graham charged that not only had the FDA failed to act on Vioxx, it was likely to make the same mistake with other drugs because of what he says is a fatal flaw in the FDA's makeup.
The FDA, he alleged, is a house divided. There are the scientists like him who study the long-term safety of drugs already on the market. But there are far more FDA scientists involved in the process of reviewing and approving new drugs.
"The people who approve the drug in the first place, within the FDA, and take pride in the fact that they've brought a drug to the market – that this is their baby. This is their drug," says Graham.
"Most of the time a safety issue that comes up after marketing is something that wasn't identified before marketing. It's something that wasn't anticipated. And it's not like you're pointing a finger of blame at them. But it gets interpreted that way, I think. There's no equal power. We have no power and they have all the power."
And it was power that was on display when the PBS show, "Frontline," filmed a March 2003 FDA advisory committee meeting. An FDA scientist from the division that approved the drug in question got to speak, and so did a representative of the pharmaceutical industry.
Graham and his colleagues, who thought the drug was dangerous, sat in silence. The committee got his report, but he wasn't allowed to make a presentation.
"FDA has a system in place now that will guarantee that unsafe drugs will remain on the market," says Graham.
The FDA wouldn't give 60 Minutes an interview, but it essentially calls that allegation nonsense. In a written statement, the FDA said its regulation of pharmaceuticals is the most stringent in the world, and it encourages internal debate.
So why has Graham, after 20 years inside the FDA, decided to go public? It begins with an idealistic young doctor, trained at Johns Hopkins and Yale, who discovered that he had a problem handling patients.
"I couldn't turn it off. I couldn't turn off worrying about my patients," says Graham. "Late at night, I'd be reading and looking things up to see, 'Well, what else could I be doing?' And it was consuming my life."
Graham was married with two kids by the time he joined the FDA, hoping he could help the patients he would no longer see: "I thought, 'Well, I can be honest. I can follow my conscience. I can do what's good for people.'"
But he says he soon realized that he wasn't as free at the FDA as he thought. "If you're a scientist, and you raise a safety question, almost all of the time, almost 100 percent of the time, pressure gets brought to bear on you to change your opinion," says Graham.
He says part of the problem is the way the FDA is funded. Approximately half of the FDA's budget for regulating the drug industry comes from the drug industry itself, in the form of fees paid to speed up the process of drug approval.
"One of my previous bosses, who's now gone off to work for a drug company, he told me that industry was our client," says Graham. "And my response back to him was, 'Industry may be your client, but it will never be my client.'"
Graham acknowledges that encounters like that earned him a reputation as a maverick and a troublemaker, even though over the years, 10 drugs he and his colleagues considered dangerous were pulled off the market.
"I've won quite a few of them. Although I don't view it as winning them," says Graham. "You know, every drug that comes off the market represents a lot of shed blood behind closed doors."
He says he never quit, because he really enjoys the work. And the FDA has acknowledged it with a string of awards.
Graham is a frugal man, a devout Roman Catholic, and a bona fide Boy Scout who married his college sweetheart, Nancy, 27 years ago. They have six children.
He was interested in Vioxx because evidence began to mount by 2002 that Vioxx in high doses increased the risk of heart attack and stroke. Merck, the company that made Vioxx, eventually agreed to add a warning to its labels.
But by August 2004, after doing a three-year, FDA-approved study on Vioxx, Graham told his bosses he thought all high doses of the drug should be banned. "The reaction was one of rejection. Retaliation," says Graham. "Not disbelief, just anger and hostility."
Graham says he was pressured to soften his conclusions about Vioxx, and things came to a head at a meeting in late September.
"And so here, at this meeting, this senior FDA official who has responsibility for approving Vioxx and for regulating Vioxx, is saying to me, 'Why did you study heart attack in Vioxx,'" says Graham. "And there's no regulatory question here because we did our labeling change in 2002. So there's nothing here. And what they're saying to me is, 'Your study is irrelevant.'"
But just six days later, Merck surprised the FDA, saying it had decided to voluntarily remove Vioxx from the market altogether, based on disturbing new data from its own clinical trials.
Did he feel vindicated? "Oh, I felt very much so. But I can tell you that if Merck hadn't pulled Vioxx off the market, the FDA would not have," says Graham.
This is a serious charge that the FDA disputes, but by then, Congress was asking questions, and Graham agreed to testify.
But just a week before the hearing began, a series of anonymous phone calls were made in an attempt to discredit him. Graham's attorney, Tom Devine, who represents government whistleblowers, says the callers argued it would be a mistake for him to represent Graham.
"They said that he was a demagogue, he was a bully, that he had engaged in questionable scientific tactics," says Devine. "They said he was a dangerous man and he had to be stopped."
Devine says he asked for proof, but the callers couldn't provide it: "And by that point, I'd used the caller ID to trace back who was talking to me, and it turned out they were high-level members of FDA management."
"These are people – senior managers within the FDA – calling you, pretending to be whistleblowers," asks Stewart.
"Yes, sir," says Graham.
Sen. Charles Grassley, chairman of the Senate Finance Committee, says his staff investigators got similar calls. He says Graham was denigrated, "probably more so as a scientist ... anonymously." He also says he had no doubt in his mind that these were people connected with the FDA.
The FDA admits that one employee made anonymous phone calls to Graham's attorney, but says those calls were not sanctioned by the agency. Publicly, FDA officials have denied just about everything else Graham says.
"That is not the FDA I know," says Dr. Sandra Kweder of the FDA. She says the FDA acted appropriately regarding Vioxx, and she disputed Graham's calculations about the number of Americans harmed by the drug.
"These are not real deaths," she said at the hearing. "They're a mathematical model that is made up, that is put together with a number of assumptions along the way."
Ray Gilmartin, the head of Merck, told the senators it pulled its blockbuster drug off the market the moment it was sure there was a problem. "In fact, my wife was taking Vioxx, using Vioxx, up until the day we withdrew it from the market."
Graham says he knew he might be committing professional suicide when he testified, but he couldn't remain silent any longer: "It's something that my conscience just wouldn't permit. It's basically, I'm betraying my patients."
"There had to be a moment in which you made the conscious decision, I can go before the Senate and lay out my perfectly sound scientific facts, or I can go out there and lay out the facts, and I can also take a baseball bat and hit the FDA upside the head," says Stewart. "You chose to do the latter. Why?"
"Oh, I don't view it as taking a baseball bat," says Graham. "I know what I said. But the fact is that I didn't imagine that my testimony would attract the attention that it did. I honestly didn't."
But it did attract attention, and with that, came the critics.
"Somebody was quoted as saying, a former colleague, 'He virtually always believes that a drug is dangerous, but he rarely takes into account the business of the benefit of the drug,'" says Stewart.
"Right. But that's not true. The person who said that probably worked in the Office of New Drugs as opposed to the Office of Drug Safety," says Graham.
Despite all that's happened, Graham still wants to work at the FDA, but knows it won't be easy.
The agency has announced some changes that appear to address some of Graham's criticisms, including setting up a board to monitor drug safety. Graham, however, calls the changes cosmetic and believes that until the FDA gives its drug-safety scientists more independence, the public will be at risk.
"Scientists have to be free to speak the truth about the science without fear of having their careers be ruined," says Graham. "The fact that FDA threatens and intimidates its scientists, that is a public health threat."
The FDA adamantly denies Graham's charge that it intimidates its staff. But according to one government survey of FDA scientists, Graham may not be alone. Nearly one in five scientists surveyed said they had been pressured to recommend approval of drugs they had reservations about.
Thanks for reading CBS NEWS.
Create your free account or log in
for more features.