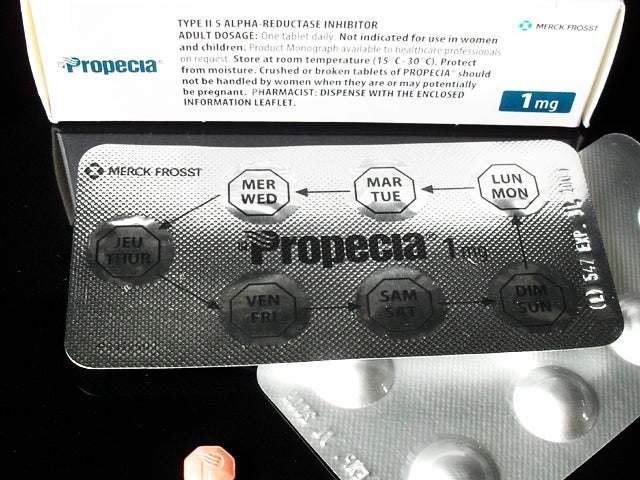 FDA adds sexual side effects warning to baldness drug Propecia
(CBS News) Merck's baldness drug Propecia is taken by many American men with thinning hairlines. The drug, known generically as finasteride, is also sold by Merck as a different pill Proscar to treat an enlarged prostate. The U.S. Food and Drug Administration has announced label changes for both drugs, saying they could cause sexual side effects in the men who take them.
PICTURES:Hey, Baldy: 10 Things You Need to Know about Hair Loss

Propecia labels will now include warnings for libido disorders, ejaculation disorders, and orgasm disorders that continued for men even months after stopping the drug, the FDA says. Proscar's label will include a "decreased libido" warning that continues after drug discontinuation. Both drugs' labels will also include a new description of reported cases of male infertility and poor semen quality that improved after patients stopped taking the drug.
"Despite the fact that clear causal links between finasteride (Propecia and Proscar) and sexual adverse events have NOT been established, the cases suggest a broader range of adverse effects than previously reported in patients taking these drugs," the FDA said in a statement. "Therefore, prescribers and patients need to be aware of them, as part of a discussion of risk and benefits of finasteride when determining the best treatment options."
Propecia was approved for male pattern baldness by the FDA in 1997, while Proscar was approved in 1992 for treating bothersome symptoms of benign prostatic hyperplasia (BPH), which is an enlarged prostate. Both are approved for only men.
Before changing the label for the popular baldness pill, the FDA reviewed 421 reports of sexual dysfunction that were submitted through the agency's Adverse Events Reporting System. Of those cases, 59 men experienced problems including erectile dysfunction, poor libido, difficulty ejaculating and orgasm disorders that lasted for at least three months after stopping the drug. The agency notes that only a small percentage of men using these drugs have experienced a sexual side effect. It cited one clinical trial of Propecia that found 36 (3.8 percent) of 945 men had reported one or more adverse sexual experiences taking the pill, as compared to 20 (2.1 percent) of 934 men who took a placebo.
For Proscar, the agency flagged 131 cases of erectile dysfunction and 68 cases of decreased libido associated.
Patients taking either of these drugs who experience adverse events should contact the FDA MedWatch program at 1-800-332-1088 or online here.

Dr. Anthony D'Amico, chief of genitourinary radiation oncology at Brigham and Women's Hospital in Boston, told HealthDay the revised labels provide an important message for some pill-takers.
"Particularly because Propecia is used by 20- and 30-year-olds for hair loss and these are people of childbearing age, so if they are getting issues with fertility that a big issue," he said.
To find out more, the FDA offers "Questions and Answers" for the new label changes.

Thanks for reading CBS NEWS.
Create your free account or log in
for more features.