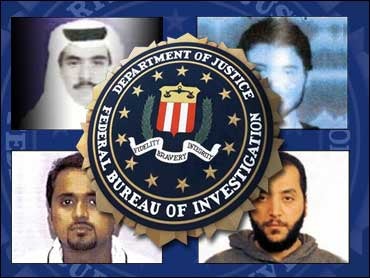 FBI's New Data Warehouse A Powerhouse
This story was written by CBS Evening News producer Rob Hendin.
---

It's been five years since 9/11 — and since then, the FBI has done a lot of expensive work to upgrade its troubled computer systems.

For the first time, nearly all FBI employees have access to the Internet. Sure, it has taken five years for the FBI to get as high-tech as most high school libraries, but the bureau has accomplished that and a lot more in a short period of time, according to senior FBI officials who briefed reporters for the five-year anniversary of the attacks.

The FBI has been plagued by missteps in upgrading its computers for the past five years but according to officials, they have a system, never before publicly demonstrated, that connects the dots in its fight in the war on terrorism.

Called the Investigative Data Warehouse (IDW) computer system, they describe it as "one-stop shopping" for FBI agents. Imagine it as a Google search engine for more than 650 million records. One person even called it "uber-Google."

An FBI agent anywhere in the world can type in any information, such as "Mohammed Atta" and "student pilot," and within five seconds, thousands of documents, FBI cables, memos, analytical reports and case information, with those search terms will appear on the screen. IDW has been online since early 2004, and agents say it works like a charm.

After 9/11, the FBI was faulted for not having any computer ability to connect the dots. There was no system in place that allowed an agent to share information with other offices or departments within the FBI.

Infamously, a memo about students at flight schools having ties to al Qaeda, written by an agent in Phoenix two months before 9/11, was never able to be seen by Minneapolis FBI agents. Minneapolis agents grew concerned about that threat after a flying instructor alerted them to a suspicious man taking flying lessons. Critics claim that if the FBI had been able to link al Qaeda foot soldier Zacarias Moussaoui's flying lesson in August 2001 to the Phoenix memo, 9/11 might have been prevented.

IDW is also very fast. An agent who has to run a search of a thousand names of potential suspects, for example, can now do so in 30 minutes, even with all variations of names, dates of birth and Social Security numbers. That same search, through the once-separate 18 databases, used to take 32,000 hours.

The system is also set up so that variations in names and dates, which differ from agency to agency, and country to country, can be searched easily. This means that leaving off the "19" in a year of birth, for example, won't keep the FBI from missing a huge lead.

Zal Azmi, the FBI's chief information officer, described IDW as the central database in the FBI's information-sharing approach in the post-9/11 world. The system is connected to the National Counterterrorism Center and to databases of the Department of Homeland Security, the CIA, the NSA and the Pentagon.

Those agencies now have to send data to the FBI, but within two years, FBI agents will be able to search those complete databases instantly. The FBI system is also connected to foreign law enforcement partners in Britain, Canada, Australia and New Zealand.

Beyond the new system, common-sense solutions have been made in the FBI's computer capabilities. Prior to 9/11, not a single FBI agent had Internet access, now most do.

Also, before 9/11, each of the FBI's 18 divisions had its own computer system and even its own make and model of desktop computers — and many of those were old computers, nearly obsolete. Now, computers and systems are standardized around the world for the FBI. Azmi said that 3,300 computers had been deployed to access secure systems. Prior to 9/11, top-secret cables from around the world and other agencies had to be printed out and hand-delivered to agents and supervisors of terrorism cases. Those cables now come right into their computers.

Also, the BlackBerry has made its way into the FBI's hands; most senior agents have the simple tool. Under the new system, an FBI agent on a stakeout of a suspect anywhere in the country will be able to search motor vehicle licenses, registrations and terrorist watch lists, and send pictures and information from their BlackBerrys to agents anywhere in the world. The system is being tested in Washington and New York.

While the bureau says it has made huge strides, agents still lack the system that they call Sentinel — a system to manage its active investigations. When up and running, Sentinel will provide more current case information, audio, video, pictures and multimedia into the IDW system. Sentinel is still three years away, and its development has been troublesome. Previous versions, called Trilogy and the Virtual Case File, had taken years to develop, cost over $170 million and ended up fruitless endeavors.

After years of struggling at information-sharing and processing, the FBI has finally gotten on the right track and finally gotten a comprehensive, effective and efficient computer system that, in the words of one senior FBI agent, "makes our jobs easier."

Thanks for reading CBS NEWS.
Create your free account or log in
for more features.