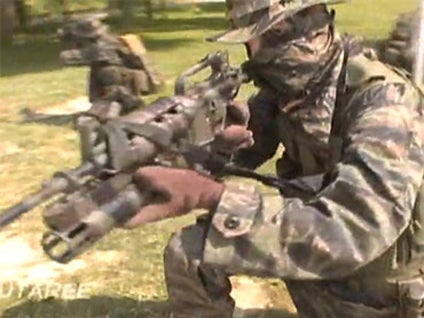 FBI: Mich. militia plotted to kill police
Updated 10:51 p.m. ET
Nine suspects arrested by the FBI this weekend were part of a plot by members of a Christian militia group to kill police officers, according to federal authorities.
According to a federal indictment unsealed this morning in Detroit, members of the Midwestern militia group had planned multiple attacks on police officers or other law enforcement personnel as a way of acting out their hatred for the government.
Arrests were made in FBI raids in Ohio, Illinois and Michigan, authorities said, before any attacks could be carried out.
A federal grand jury has charged six Michigan residents, along with two residents of Ohio and one from Indiana, with seditious conspiracy, attempted use of weapons of mass destruction, teaching the use of explosive materials, and possessing a firearm during a crime of violence.
The five-count indictment charges that between August 2008 and the present, a Lenawee County, Mich. militia group called the Hutaree was preparing to engage members of local, state, and federal law enforcement in armed conflict. The group's name means "Christian warrior," CBS News correspondent Bob Orr reports.
Indictment
DOJ Press Release (3.29.10)
Videos posted on Hutaree's Web site show heavily-armed, camouflaged fighters practicing with assault rifles. Prosecutors say militia members hoped to kill a police officer and then ambush others at the officer's funeral, Orr reports.
The indictment says that "according to the plan, the Hutaree would then attack law enforcement vehicles with Improvised Explosive Devices."
IEDs with Explosively Formed Projectiles, according to the indictment, constitute weapons of mass destruction.
"That is an amazing plan. When you think about a funeral filled with hundreds of police officers, all of them armed, being attacked by a band of militiamen, you know, one can only begin to imagine the kind of carnage that might have resulted," Mark Potok, director of the Southern Poverty Law Center told Orr.
The idea of attacking a police funeral was one of numerous scenarios discussed as ways to go after law enforcement officers, the indictment said. Other scenarios included a fake 911 call to lure an officer to his or her death, or an attack on the family of a police officer.
After such attacks, the group allegedly planned to retreat to "rally points" protected by trip-wired IEDs for what they expected would become a violent standoff with law enforcement personnel.
"It is believed by the Hutaree that this engagement would then serve as a catalyst for a more wide-spread uprising against the government," the indictment charges.
According to the group's Web site, The Hutaree "are prepared to defend all those who belong to Christ and save those who aren't . . . Christ is our king of kings and top general of all things, for we are not of this world but we live in it."
The group claims that it is preparing for the return of the Antichrist and the Second Coming: "The Hutaree will one day see its enemy and meet him on the battlefield if so God wills it."
Named in the indictment were:
David Brian Stone (whose aliases include "Joe Stonewall" and "Captain Hutaree"), 45 - the leader of the group;
Stone's wife, Tina Mae Stone, 44;
David Stone's two sons: Joshua Matthew Stone (a.k.a. "Josh"), 21, of Clayton, Mich., and David Brian Stone, Jr. (a.k.a. "Junior"), 19, of Adrian, Mich.;
Joshua John Clough (a.k.a. "Azzurlin," "Az," "Mouse" or "Jason Z. Charles"), 28, of Blissfield, Mich.;
Michael David Meeks (a.k.a. "Mikey"), 40 of Manchester, Mich.;
Thomas William Piatek, 46, of Whiting, Ind.;
Kristopher T. Sickles (a.k.a. "Pale Horse"), 27, of Sandusky, Ohio; and
Jacob J. Ward (a.k.a. "Jake," "Nate," and "Guhighllo"), 33, of Huron, Ohio.
The indictment charges members of the group conspired "to levy war against the United States, (and) to oppose by force the authority of the government of the United States."
The indictment states that the Hutaree's enemies included state and local law enforcement officials (whom it deemed to be "foot soldiers" for the Federal government), Federal employees, and anyone participating in the so-called "New World Order."
The indictment identified David Stone as the leader of the group, and alleged that he obtained information about building IEDs over the Internet and sought to have them constructed. Stone and his sons are also charged with obtaining materials to build such weapons and teaching other militia members how to build such weapons for use in criminal activity.
The grand jury also charged all nine defendants with carrying or possessing a firearm during a crime of violence on at least one occasion.
All seven defendants appearing in court on Monday requested to be represented by the federal defender's office - a department of the Administrative Office of the U.S. Courts.
The case was being investigated by special agents of the FBI and the Michigan State Police.
U.S. Attorney Barbara L. McQuade said the Hutaree had planned a covert reconnaissance operation for April which potentially jeopardized the safety of the public, requiring intervention.
The arrests have dealt "a severe blow to a dangerous organization that today stands accused of conspiring to levy war against the United States," U.S. Attorney General Eric Holder said Monday.
Stone's ex-wife, Donna Stone, told The Associated Press before the arraignments that her former husband was to blame for pulling her son into the Hutaree movement. She said David Brian Stone legally adopted her son, David Brian Stone Jr., who is among those indicted. She said the marriage lasted about 10 years.
"It started out as a Christian thing," said Donna Stone, 44. "You go to church. You pray. You take care of your family. I think David started to take it a little too far. He dragged a lot of people with him."
Donna Stone said her ex-husband pulled her son into the movement. Another of David Stone's sons was arrested Monday night about 30 miles from the site of the weekend raid at a home where he was found with five other adults and a child.
Joshua Matthew Stone surrendered about 8 p.m., said Andrew Arena, head of the FBI's field office in Detroit. Stone's friends and relatives had recorded messages, urging him to surrender, that the FBI played over loudspeakers outside the home before he and the others came out willingly, Arena said.
"We're guessing he's been in there at least a day," Arena said.
Arena said the other adults at the home were taken into custody and will be interviewed. A determination will be made later about whether they might face charges, he said. The child was 1 or 2 years old, Arena said.
Michael Lackomar, a spokesman for the Southeast Michigan Volunteer Militia, told the Associated Press that one of his team leaders got a frantic phone call Saturday evening from members of the Hutaree, who said their property in southwest Michigan was being raided by the Bureau of Alcohol, Tobacco, Firearms and Explosives.
"They said they were under attack by the ATF and wanted a place to hide," Lackomar said. "My team leader said, 'No thanks.' "
The team leader was cooperating with the FBI on Sunday, Lackomar said.
He said SMVM wasn't affiliated with Hutaree,
FBI agents in Michigan swarmed a rural, wooded property Saturday evening in Adrian, about 70 miles southwest of Detroit. The same night in Hammond, Ind., law enforcement agents flooded a neighborhood, startling workers at a nearby pizzeria. And in Ohio authorities blocked off streets and raided two homes.
(AP Photo/Madalyn Ruggiero)

Outside Adrian, two ramshackle trailers sat side-by-side on Stone's property. A long gun leaned against a washing machine that sat in the yard (left), and on top of a nearby canister was another long gun.

Heidi Wood, who lives near the property, said Monday morning she hears gunshots "all the time."

Her mother, Phyllis Brugger, who has lived in the area for more than 30 years, said Stone and his family were known as having ties to militia. They would shoot guns and often wore camouflage, the women said.

"Everybody knew they were militia," Brugger said. "You don't mess with them."

Another neighbor, Jane Cattell, said she came home from the movies Saturday night and a helicopter was circling above, its spotlight illuminating her house. She and her sister, Sarah Holtz, wouldn't say who lived in the home but said they knew them from riding their horses past their house.

There were rumors about ties to a militia, but Holtz said she knew nothing of that from her interaction with them.

"They're your average, nice neighbors," Holtz said.

Thanks for reading CBS NEWS.
Create your free account or log in
for more features.