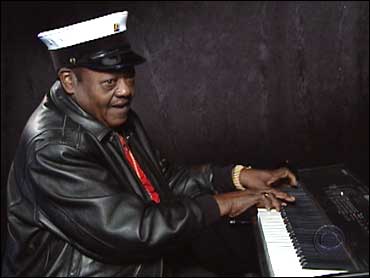 Fats Domino 'Alive And Kicking'
He is one of New Orleans's greatest treasures, but Rhythm and Blues legend Fats Domino was nearly lost when Hurricane Katrina made landfall.
His 9th Ward home was flooded to the roof when the storm laid its deathblow upon the Gulf Coast and the reclusive singer went missing. Byron Pitts reports that family and fans alike feared that the man who'd been the musical heartbeat of the Big Easy for a half century might have perished.
"I was worried when Katrina came, too!" says Domino.
He was rescued by boat and taken to the Superdome. Eventually, he was evacuated to Baton Rouge. He and his wife have made neighboring Algiers their temporary home.
"Everywhere I go, people wanna know, whatever happened to Fats Domino?
Fats Domino is indeed alive and kicking. It is a fitting title to his brand new album - his first in nearly two decades.
"I recorded that many years ago, but never did worry about getting it out too much, you know?" says Fats.
He released it exclusively through the Tipitinas Foundation, the charitable arm of the legendary nightclub of the same name, to benefit one of New Orleans's greatest natural resource — its musicians.
"He hooked up with us and realized that Tipitinas Foundation was helping other musicians and this is his way of giving something back to the community that he cherishes so much," explains Bill Taylor, the foundation's executive director.
Nicknamed more for his sound than his size, Fats domino made his first hit in 1949 and it wouldn't be the last. His beat was big and his smile was broad. All he ever needed was a piano and an audience.
"I'm a lucky dog. I sold a lot of records," says Fats.
More than 65 million records, in fact, and he's performed around the world. But nearly all the mementos of that brilliant career were washed away by Katrina. "No, that's all gone," laments Domino.
"I ain't missin' nothin'. Just one thing that happened, I guess," he says. "I'm just sorry it happened to me and everybody else, you know?"
Fats is hoping to return to New Orleans some day. "I like it down there," he says through a huge smile.
Like so many here, New Orleans isn't simply his home — it's his heart.
Fats turns 78 this Sunday, and like his beloved city, he's "alive and kicking."
For more information about the Tipitinas Foundation, visit www.tipitinasfoundation.org
Thanks for reading CBS NEWS.
Create your free account or log in
for more features.