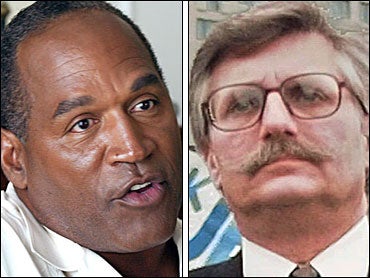 Father Wants To Own 'O.J. Simpson'
The father of murder victim Ron Goldman asked a court Tuesday to give him the publicity rights to the name, image and likeness of O.J. Simpson, who has failed to pay a $33.5 million judgment in a 1997 wrongful death lawsuit.
"He personally has never paid a dime on the judgment to anyone," Fred Goldman said. "He has made it very clear over the years that he has no intention of doing so."
The petition, filed in Los Angeles County Superior Court, asks that Simpson's "right of publicity" be transferred to help pay off the Goldman family's portion of the award, estimated at about $20 million, plus interest.
A hearing on the petition was scheduled for Oct. 17.
Simpson, who lives in Florida, was acquitted after a criminal trial of the June 12, 1994, slayings of his former wife, Nicole Brown Simpson, and her friend, Ron Goldman, outside her Brentwood home. No one else has been arrested.
The Goldman and Brown families later sued Simpson. A civil court jury, using a lesser standard of proof than is required at a criminal trial, found him liable for the killings in 1997.
Goldman continues to believe Simpson killed his son and said it would be "poetic justice" to take away the fame Goldman believes helped the football star prevail in the criminal case.
Simpson has avoided paying the civil judgment because his National Football League pension and his Florida home cannot legally be seized. However, Goldman's petition contends Simpson has continued to earn money through appearances and autograph signings.
Goldman said he wants to take from Simpson "what we perceive is probably the most important thing to him, and that's his ego, and that's the opportunity to use his name and likeness to earn money."
Yale Galanter, Simpson's attorney, said he would review the petition but had not found any legal precedent that gives a court the authority to take publicity rights.
He also denied that Simpson had avoided paying the lawsuit award.
"It's not a question of intentionally trying to avoid anything," he said. "O.J.'s life is very simply an open book. There is no money."
He estimated that Simpson makes only a few thousand dollars from autograph-signing sessions.
Goldman said he did not know how much Simpson's publicity rights might be worth or what he would do with them if he obtained them.
While publicity rights have been sold or transferred, the petition to forcibly take them to satisfy a lawsuit award is an untried legal maneuver, said Karl Manders, owner of Continental Enterprises, an Indianapolis-based company that designs and implements intellectual property protection programs. Manders said he suggested the idea to Goldman.

Thanks for reading CBS NEWS.
Create your free account or log in
for more features.