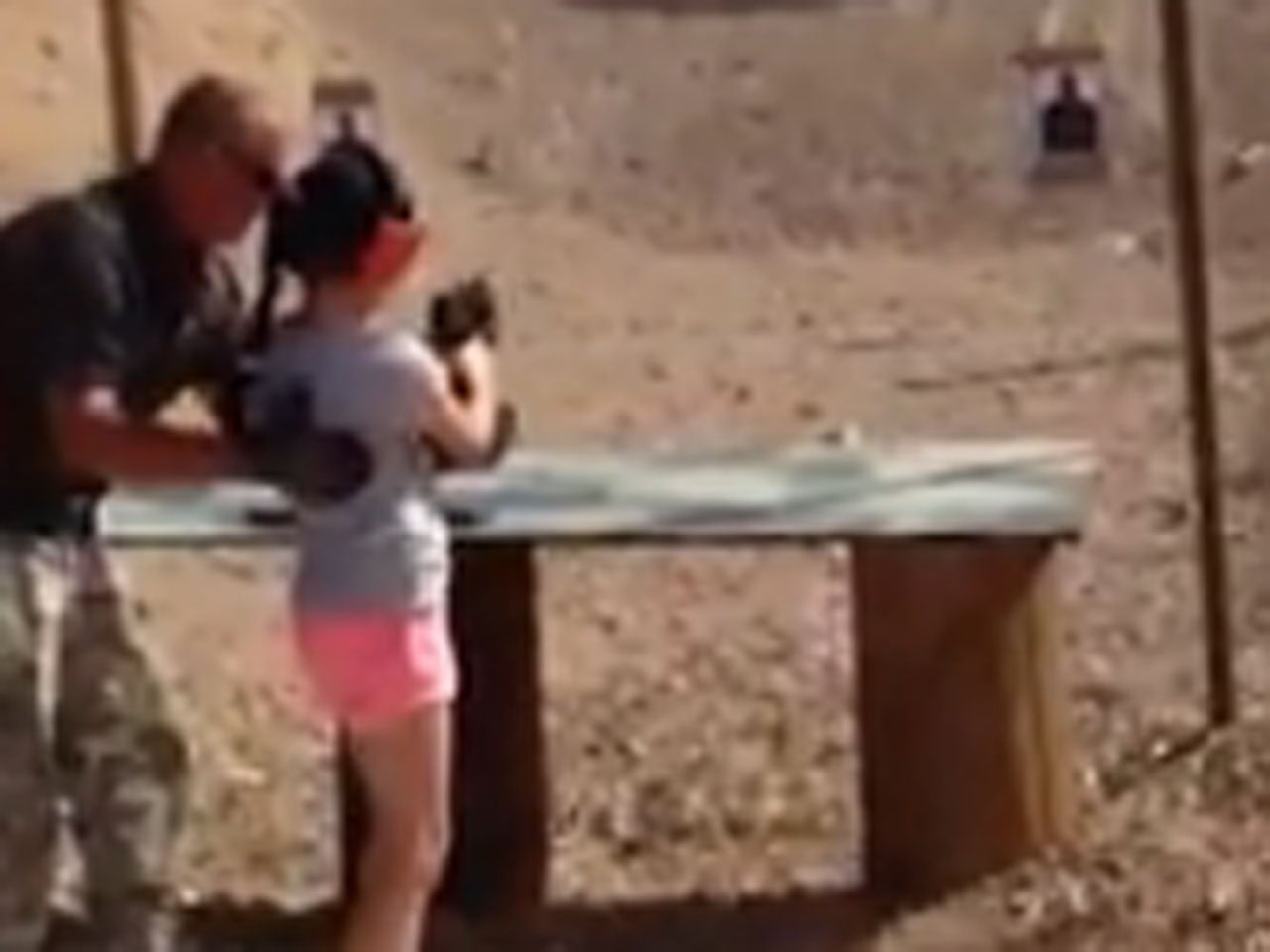 Fatal shooting by 9-year-old at firing range stirs debate over guns
PHOENIX --The death of a firing-range instructor at the hands of a 9-year-old girl bracing an Uzi submachine gun has set off a powerful debate over youngsters and guns, with many people wondering what sort of parents would let a child handle an Uzi.
As the girl opened fire at a black-silhouette target, the recoil wrenched the fully automatic weapon upward, and the instructor was shot in the head and killed.
Instructor Charles Vacca, 39, was standing next to the girl Monday at the Last Stop outdoor shooting range in Arizona, south of Las Vegas, when she squeezed the trigger.
The instructor's death generated angry social-media comments about why a child was allowed to use an automatic weapon. Many readers expressed sympathy for the girl while questioning whether the adults at the gun range were to blame.
CBS News correspondent Vinita Nair reports that the shooting range says it's already changed its regulations since the incident. Shooters will be required to be at least five feet tall or 12 years of age.
Sam Scarmardo, a former Lake Havasu City Council member who operates the shooting range, said Wednesday that the girl's parents had signed waivers saying they understood the rules of the range and were standing nearby, video-recording their daughter, when the accident happened.
"I have regret we let this child shoot, and I have regret that Charlie was killed in the incident," Scarmardo said.
Scarmardo told CBS affiliate KLAS they'd never had any type of incident at the Dolan Springs location, or at their Lake Havasu range, which has been open for 12 years. He said safety is always stressed with each and every client.
"We really don't know what happened. Our guys are trained to basically hover over people when they're shooting. If they're shooting right-handed, we have our right-hand behind them ready to push the weapon out of the way. And if they're left-handed, the same thing," Scarmardo said.
This isn't the first accidental shooting by a child using an Uzi. An 8-year-old boy died after shooting himself in the head at a gun expo near Springfield, Massachusetts, in 2008. Christopher Bizilj was firing at pumpkins when the Uzi kicked back.
Ronald Scott, a Phoenix-based firearms safety expert, said most shooting ranges have an age limit and strict safety rules when teaching children to shoot. He said instructors usually have their hands on guns when children are firing high-powered weapons.
"You can't give a 9-year-old an Uzi and expect her to control it," Scott said.
Scarmardo said his policy of allowing children 8 and older to fire guns under adult supervision and the watchful eye of an instructor is standard practice in the industry.
A video released by investigators shows the 9-year-old, whose identity hasn't been released, holding the stubby weapon in both hands. Vacca, standing to her left, tells her to turn her left leg forward.
"All right, go ahead and give me one shot," he tells the girl, whose back is to the camera during the entire 27-second video. He then cheers when she fires one round at the target.
"All right, full auto," Vacca says. The video, which does not show the actual incident, ends with a series of shots being heard.
Arizona has long had a strong pro-gun culture, including weapon ranges that promote events for children and families. Some of these ranges offer people the thrill of firing weapons such as the Uzi that are generally illegal for members of the public to own.
Investigators say no laws were broken. Nair reports that in Arizona, it's up to the gun range to permit minors to fire a gun.
The Scottsdale Gun Club in recent years has allowed children and families to pose with Santa Claus while holding machine guns and other weapons from the club. Children as young as 10 are allowed to hunt big game such as elk and deer in Arizona, provided they have completed a hunter safety course.
The gun range operator said he doesn't know what went wrong to cause the shooting, pointing out that Vacca was an Army veteran who had experience in Iraq and Afghanistan.
Scarmardo, who has been operating the gun range for more than a year and has run another for 14 years, said he hasn't had a safety problem before at his ranges.
"We never even issued a Band-Aid," Scarmardo said.
Thanks for reading CBS NEWS.
Create your free account or log in
for more features.