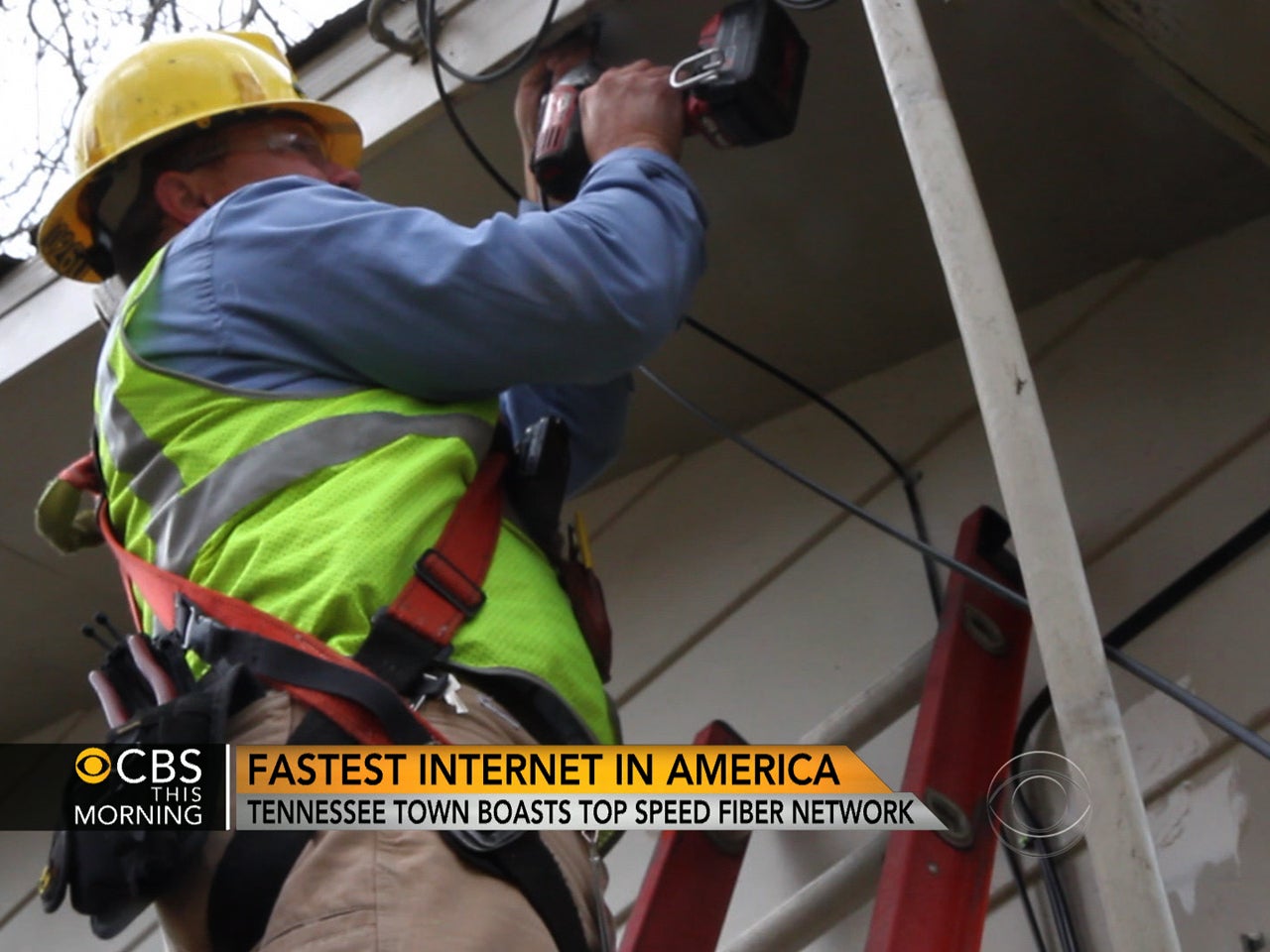 Fastest Internet service in U.S. found in an unlikely city
(CBS News) The city with the fastest Internet service in the nation isn't San Francisco, or Seattle, or a college town like Boston. It's reputedly Chattanooga, Tenn., population 167,000.
If you want to see what the rest of the world is going to look like in 10 or 15 years -- how most of us will be getting online, specifically, look at Chattanooga, the fourth largest city in Tennessee. It's an inspiring comeback story and a blueprint for the future.
In 1969, Walter Cronkite famously reported the Environmental Protection Agency's news that Chattanooga, Tenn., was the "dirtiest city in America." It was a low point for a region with high pride.
But more than four decades later, you'd hardly recognize the place. Chattanooga has not only changed its look, including a new $120 million waterfront. It has transformed its industry: a burgeoning tech hub that offers an astounding gigabyte, or "gig" for short, of Internet speed to everyone -- the first and only city in the country to do so.
Sheldon Grizzle is a Chattanooga transplant who co-founded and runs the Co-Lab Co., which helps start-up companies get off the ground. He said when people hear about Chattanooga, "it really blows people's minds -- they think there's no way that that's possible."
Grizzle said, "For me, from an entrepreneurial perspective, it's really exciting because we see these teams that we would have never -- even they would have never thought of locating here. Now, they're calling Chattanooga home because we have an asset that they can build on that they can't do that anywhere else."
The reason for that is fiber optic lines that can provide anyone in a 600-square-mile area that gig of online speed. To put the gig in perspective, the average American home gets about five megabits of Internet speed. Chattanooga's speed is 200 times faster.
Harold DePriest, president of Chattanooga's Electric Power Board, explained, "What fiber does is collapse time and space so that the very fringes of our network, which is way, way out in the country, it's just exactly the same as if it were in the middle of downtown Chattanooga."
Fiber lines have been in use since the 1960s, but they almost never were carried into individual homes. In Chattanooga, they are. DePriest said, "We basically built this interstate highway system, but we didn't put a lot of off-ramps. What we're building is the off-ramp. We're building the off-ramp that comes into the city streets, and then, all the way up to your driveway."
The board initially installed the fiber lines as an energy savings tool, so power outages could be restored faster, in seconds instead of days. But the $300 million investment paid off in unanticipated ways, when Internet service was rolled on top of it.
Grizzle said, "It's like having electricity 10 to 15 years before any other community has electricity."
Since the gig was launched, entrepreneurs all the way from Ireland to California have arrived to test just how far it will go, bringing with them $400 million in investment money and 6,000 jobs -- many of them heeding Grizzle's call.
Grizzle said, "Start building applications now. Start building devices now. Or if you're building them somewhere else, come test 'em here now."
CBS News special correspondent Jeff Glor remarked, "Because how the rest of the world is gonna look in 10 years is how Chattanooga looks --"
Grizzle offered, "Today."
Glor said to DePriest, "There must have been a lot of people who said you can't do this."
DePriest said, "Our support was always in the 80, 88 percent range. So the support was always there. Most of the opposition was based around the -- the notion, well, we're a government entity, and government just isn't smart enough to do anything right. They were wrong. We were smart enough to figure it out."
In 2013, Chattanooga sits as a city transformed. The best of the old world, combined with the best of the new -- an unlikely example for the rest of the country.
"We live in a day and age when people blow smoke all the time," DePriest said. "They talk about what they're going to do, and their talk exceeds what they're really doing. We're the other way around. We actually have it. We have built the network. It is up and working and it's here. But other people have to come and see it to believe it."
For Jeff Glor's full report, watch the video in the player above.
Thanks for reading CBS NEWS.
Create your free account or log in
for more features.