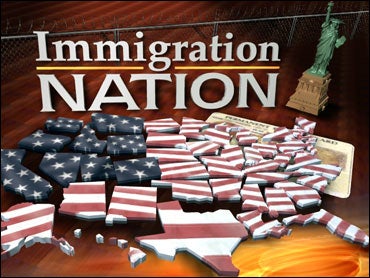 Farmers Crossing The Border - To Mexico
The Mexican state of Guanajuato has fertile land and a mild climate. For years, however, poverty there has led many north to find work on farms in the United States.
But now there is movement across the border the other way, reports CBS News correspondent John Blackstone. Steve Scaroni is an American farmer who has moved to Mexico.
"It's a very sad situation that, you know, at 50 years old, I've had to come down here in a sense, start over, to be able to complete my American dream," Scaroni said.
Scaroni now divides his time between Mexico and big farms he still runs in United States. He says he was forced to start moving to Mexico because an immigration crackdown made it increasingly difficult to get workers in Arizona and California.
"We just can't get enough labor, every day, on a consistent basis to meet our production demands," he said.
The Western Growers Association says farmers in Arizona and California often need up to 30 percent more workers than they are able to hire.
So two years ago Scaroni started moving his farms to where the workers are. He now has 2,000 acres in Mexico with 500 employees.
He even runs his own packing plant handling more than two million pounds of lettuce a week for shipment to major food processors in the United States.
The lettuce processed and packed today will be across the U.S. border by tomorrow morning. With the food crossing the border, the workers don't have to - as American companies provide jobs in Mexico.
Scaroni got a big welcome from the state's secretary of agriculture, who says providing opportunity here means people won't die trying to cross the border.
Immigration reform that would have made it easier for farmworkers to enter the United States failed in Congress last year. One of its sponsors, Sen. Dianne Feinstein, D-Calif., says worker shortages are threatening American agriculture.
Feinstein said: "Farmers will soon decide they'd rather do it in Mexico."
Already American farmers have moved more than 46,000 acres of production to Mexico.
While that's not much compared to 27 million acres cultivated in California alone, farmers who make the move believe they're at the leading edge of agriculture's future.
"I just kinda wanna get a feel for how far off harvest this is," Scaroni said.
Scaroni says unless the law soon makes it much easier to get farm workers across the border, his land of opportunity is Mexico.
Thanks for reading CBS NEWS.
Create your free account or log in
for more features.