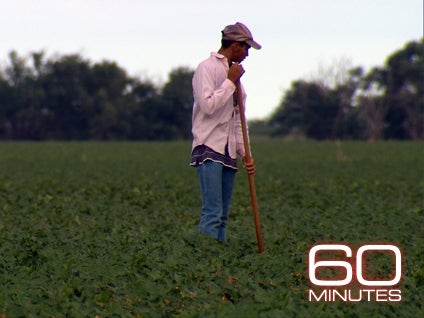 Farm labor: Children in the fields
More than 13 million Americans are out of work. If you factor in those considered underemployed, that's almost 25 million men and women in this country - somewhere on the road to either getting by financially or suffering.
We spent time with people who are finding a way to support their families by asking their children to work beside them.
Farming is the one job in America where kids as young as 12 are welcomed and, for their parents, children in the fields are needed.
On the Texas Plains, at 5:30 a.m., Carlos Casares gets his two sons ready for the long day ahead. They've come 350 miles from their home in Eagle Pass, Texas, to weed the cotton fields south of Lubbock. Cody is 13, Carlos Jr. 17.
Asked what happens if it rains, Casares told correspondent Byron Pitts, "We don't work. It's a day lost 'cause we don't get paid unless we're out here. If it rains, no pay. No work, no pay."
Over the summer, the boys work alongside their father - work he did when he was their age. All three earn the minimum wage, $7.25 an hour.
"How many years have you been doin' this?" Pitts asked Carlos Jr.
"This is my fourth year," the teen replied.
"It's hard for the kids," his father told Pitts.
Asked how it's "hard," Casares explained, "Hard, you know, bein' it's long, you know, ten hours for them, work, you know, out in the sun. It's hot. And getting up every day, every morning at 5:30 in the morning just to go to work."
Asked what his dreams were when he was 13 and 17, his sons' age, Casares told Pitts, "Be a truck driver. My dad was a truck driver. I mean, he had his own truck. And that's what I wanted to do, have my own trucks."
It's a dream that came true for Casares: Born and raised in Texas, he supported his family for 15 years as an independent truck driver. He bought his own home. But when the economy went bad, and trucking became less profitable, he went back to the fields.
Extra: Living in the migrant camp
Extra: Farm work is dangerous for children
Extra: Farm work is suitable for children
"I gotta do somethin' and that's the only thing I'm qualified for. 'Cause that's what I done all my life," he explained.
"Pick fruit?" Pitts asked. "Pick vegetables?"
"Yeah," Casares said.
The recession put the Casares family back in what's called "The Migrant Stream" - the yearly flow of farm workers from Texas, Florida and California - moving north with the harvest. It's the life his parents and grandparents had before him. Now, Casares is with his siblings and their kids.
Sunday is the one day of the week when these children can be children.
Pitts talked to some boys about the days they work.
Victor, 15, told Pitts he works 10 hours every day; another boy, age 13, also told Pitts he puts in 10 hours per day.
"Do you like this work?" Pitts asked 12-year-old Armando.
"No," Armando said.
When asked why not, he told Pitts, "'Cause it's always hot."
Asked why he does this kind of work, the boy replied, "To help my parents, to buy us clothes and school supplies."
Produced by David SchneiderCasares told Pitts that during the school year, his sons can be boys, but that during the summertime, "They become men, like me. Work out here in the fields."
Together, he says, they can earn $10,000 to $12,000 in a good summer - that's about as much as he makes driving a truck the rest of the year.
"How important is it to your family that you guys work?" Pitts asked Carlos Jr.
"I say it's very important, so we can help 'em all pay the bills and everything," he replied.
And they're helping in the one place that younger kids can: the farm. The minimum age for most industries in America is 16, but in agriculture, children as young as 12 can be hired to do farm work. Outside of school, they can work unlimited hours.
"It's hard. And it breaks my heart for me to have 'em out here like that," Casares said.
"For those who would say, that 13 year old boys and 12 year old boys shouldn't have to do this kinda work...," Pitts remarked.
"Then what would I do? Where would I live, you know? What would I give my kids? What would they wear? What would they eat?" he replied.
"You love farming?" Pitts asked Jeff Darnell, a grower in North Carolina, who like Casares is also under financial strain.
"Yeah, I love farmin'. It's a noble act if you do it right," Darnell said.
"Americans want their fruit and vegetables inexpensive?" Pitts asked.
"As cheap as they can, and they want the best," he replied.
Small farmers like Darnell have not been spared in this economy: during our visit, he took a phone call from his bookkeeper. Behind on his mortgage, Darnell could lose the family farm. He says it's one more reason why he needs abundant, cheap labor to pick his tomato crop.
"If I wanna eat constantly fresh fruit and vegetables, I need to realize there are people that got to produce that stuff, and there are people that are havin' to pick it. They're not on the high side of society, they're not livin' in the Hamptons. But if I don't have them people, you won't have that stuff here," Darnell said.
Darnell hires about 50 farm workers at the peak of the harvest. Most come from Mexico and Central America, like a 16-year-old girl, who has been working in the fields since she was 13.
"In your opinion, should a 12-year-old child be doin' this kind of work, 12, 13, 14-year-old child?" Pitts asked.
"A 14-year-old child, 12 year, I mean, if they're out here helpin' me move an irrigation pipe, I don't see anything wrong with it,' Darnell said.
"But pickin' tomatoes, pickin' strawberries," Pitts remarked.
"I picked when I was 12. Worked for $1 an hour. It was hard. But it didn't hurt me. It not gonna hurt your kids to work. Work gonna help 'em down the road," Darnell said.
Norma Flores Lopez isn't so sure of that. She works for the Association of Farmworker Opportunity Programs. It provides training and education to farm workers nationally. She'd like to see children out of the fields through changes in the law.
"We still believe in the value of kids growing up and learning how to be able to earn money. But we feel that at the age of 12, is really, really young, the same way we feel that the age of 12 is really young in any of the other industries," she explained.
A century ago, child labor in the U.S. was commonplace, from sweatshops and factories to mines. The Fair Labor Standards Act was passed in 1938. It took children under 16 out of most workplaces for their safety and welfare. The one exception was agriculture.
Back then, most farms were small family operations and child labor was considered necessary.
Today, the number of children legally working on farms is only guessed at: the U.S. Department of Labor says it might be as high as 155,000.
"We don't advocate young children working in sweatshop conditions, whether it's a factory or the farm," Frank Gasperini, executive vice president of the National Council of Agricultural Employers, told Pitts.
Gasperini's organization is a Washington lobby that represents fruit and vegetable growers.
"Why is this still necessary to have children working on farms at all?" Pitts asked.
"In terms of productivity, it probably isn't. In terms of opportunities for the children, I think it is still very valuable," Gasperini said. "There're a lot of good safe jobs for 12 and 13 year olds that give them an opportunity to have early work experience, to earn some money. And sometimes that's very important for their families."
It was important to Norma Flores Lopez and her family. She started working in corn fields at the age of 12. "This was in the middle of July and you're out there 10 to 12 hours. I'd work close to 80 hours a week, during the peak of the season. And we would work probably about three weeks straight without any days off," she remembered.
"So for you, there was nothing romantic about working in the fields as a child?" Pitts asked.
"There wasn't. I mean, you make best of what you got out there. And make it as enjoyable as you possibly can. But the truth is, it's hard work. It's hard, grueling work for very little pay," she replied.
She told Pitts health insurance was "unheard" of, overtime "doesn't happen," and that there aren't any kind of benefits.
After enduring the heat and hard work, Casares and his sons, Cody and Carlos Jr., end their day at a migrant camp.
"They do need a little work. The walls," Casares said, referring to their accommodations.
The walls move, the roof leaks and they sleep three to a room. They do it, not because they want to, and not just because they have to: they do it to help their father and they do it with a dignity that belies their age.
"It's like a teenager's right to kind of gripe about life and be dissatisfied with the things they have to do. But you guys seem okay with it," Pitts remarked.
"I really don't complain 'cause I work for what I get and I see how hard it is to get what you actually want. So I really don't complain about anything. And I know if I can't have something, but it's okay," Carlos Jr. said.
Asked if he's okay with that, Carlos Jr. told Pitts, "Yeah."
Casares says most of his weekly paycheck goes to cover food and rent. Their accommodations at the migrant camp cost $50 a week. The family's livelihood depends on what the boys earn.
"'Cause without them, you wouldn't make any money?" Pitts asked.
"No. 'Cause it would all go here. It's like if I would leave 'em over there back home, what money would I send them?" Casares replied.
On that day, when Pitts interviewed them, their earnings were cut short due to rain. Casares estimated that they could potentially lose $40 in income apiece.
Asked if they can make up that loss at some point, he told Pitts, "Yeah, we could work on Sundays, but that's the day off that I like to give to my kids."
Cody and Carlos Jr. and their cousins are the fourth generation in their family to work the farm fields of America. Their parents don't want there to be a fifth.
"That's the reason they bring us here to see how hard it is. It's better to just finish college they tell us. Be easier," Carlos Jr. said.
"Get an education," Victor, another boy, added.
But getting that education can be a struggle. Government studies show that young farm workers drop out of school at four times the national average. And the boys face not only statistics but a tough economy. Despite the odds and the obstacles, they still believe.
"What do you dream of, what do you wanna do when you finish school?" Pitts asked Armando, the 12-year-old boy.
"I wanna be a vet," he told Pitts.
Another boy told Pitts he wanted to become a "football player or a lawyer."
"So you guys really do believe you're going to college?" Pitts asked a group of boys.
"Yes," they replied.
"That you're not gonna do this kind of work?" Pitts asked.
"No. No, sir," they all replied.
"So you're gonna break that cycle?" Pitts asked.
"Yes we are," Carlos Jr. vowed.
"New generation," Victor added. "Make a new generation."
"You believe in hard work?" Pitts asked Carlos Casares.
"Oh yeah I do," he replied. "It will pay one day. You know, when I see my college, they go to college and become something that's that'll be my reward."
Thanks for reading CBS NEWS.
Create your free account or log in
for more features.