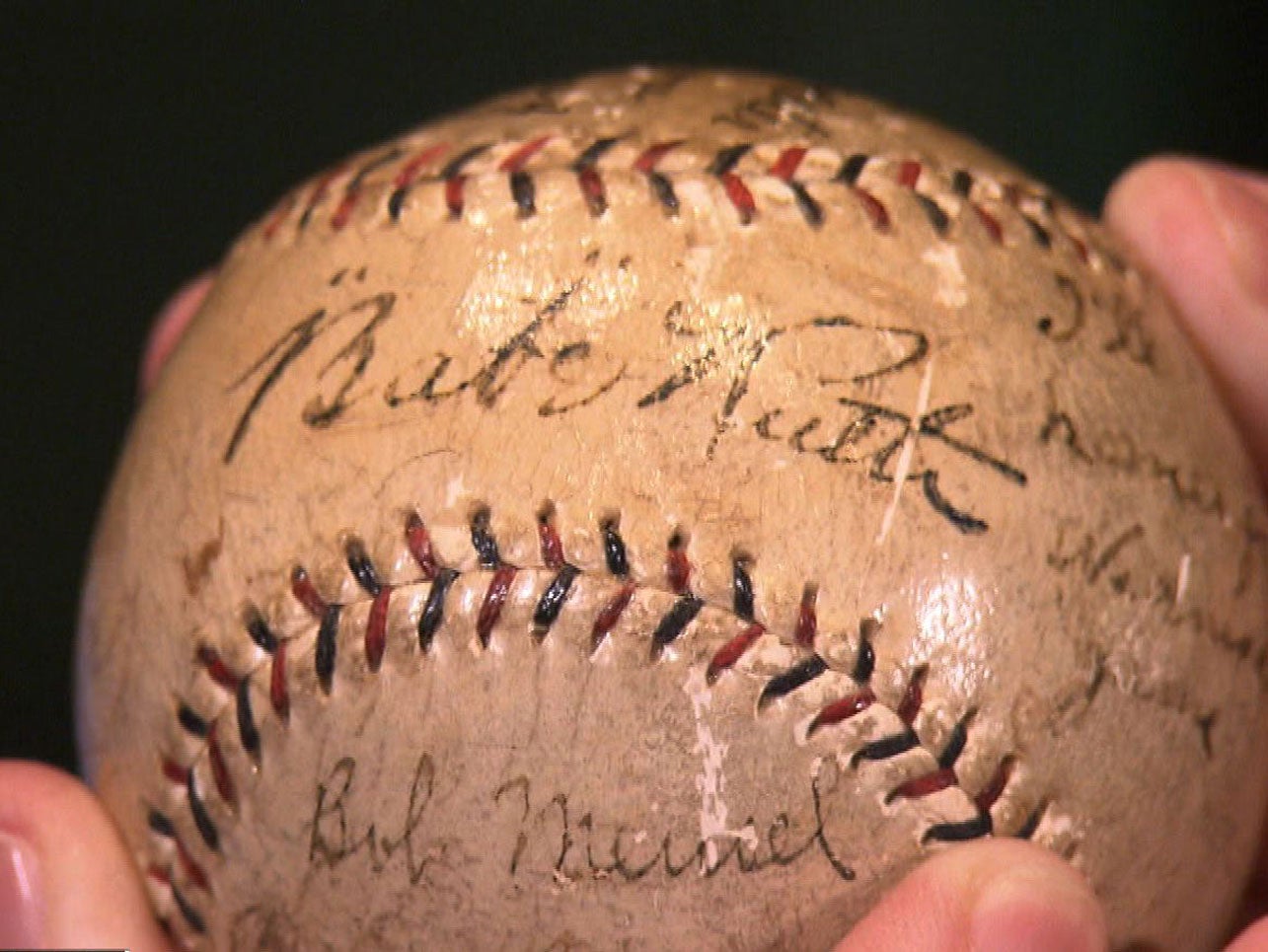 Famous Babe Ruth baseball up for auction
Babe Ruth was born 119 years ago Thursday, which is also the last chance to buy one of the most famous pieces of sports history.
The baseball up for sale has a history that reads like a fairy tale. In 1926, 11-year-old Johnny Sylvester of New Jersey was seriously injured after a horse kicked him in the head.
He had a "very serious condition developed called osteomyelitis, which is the deterioration and infection of the bone," said Andrew Lilley, Sylvester's great-nephew and producer of a documentary called "I'll Knock a Homer for You."
Doctors thought Sylvester might not survive and through family connections, word got out to the two World Series Teams, the St. Louis Cardinals and the New York Yankees. Each team sent Sylvester an autographed baseball, but there was a message from the Yankee great that got all the attention.
"When Babe Ruth got the baseball, he promised to knock a homer," said Lilley. "And he wrote it on the ball."
The Babe delivered and in a big way. He hit three home-runs that day and just like that, Sylvester started to get better.
"No one would ever be talking about this if Babe Ruth had never hit the home run for Johnny and even if he had hit the home run and Johnny never got better, no one would be talking about this," said Lilley.
He told CBS News' Michelle Miller that he has "no doubt" that Ruth played a big role in helping Sylvester pull through.
After the series, the Babe visited Sylvester as he recovered. Years later when Ruth was sick with cancer, Sylvester would return the favor and visit the dying Yankee.
Now, the story is making news again, as that original signed ball is now up for auction.
Richard Russek, the owner of Grey Flannel Auctions told Miller that the ball could go for hundreds of thousands of dollars.
"A single, signed Babe Ruth baseball, in just fair condition, is still $3,000 to $4,000," he said. "And it could go up to $300,000 to $400,000 if it's perfect."
However with this story attached to it, the ball could be worth even more.
"If you were able to have George Washington's axe, which you know was not a real story, it would be great," he said. "But this ball is a true story."
Thanks for reading CBS NEWS.
Create your free account or log in
for more features.