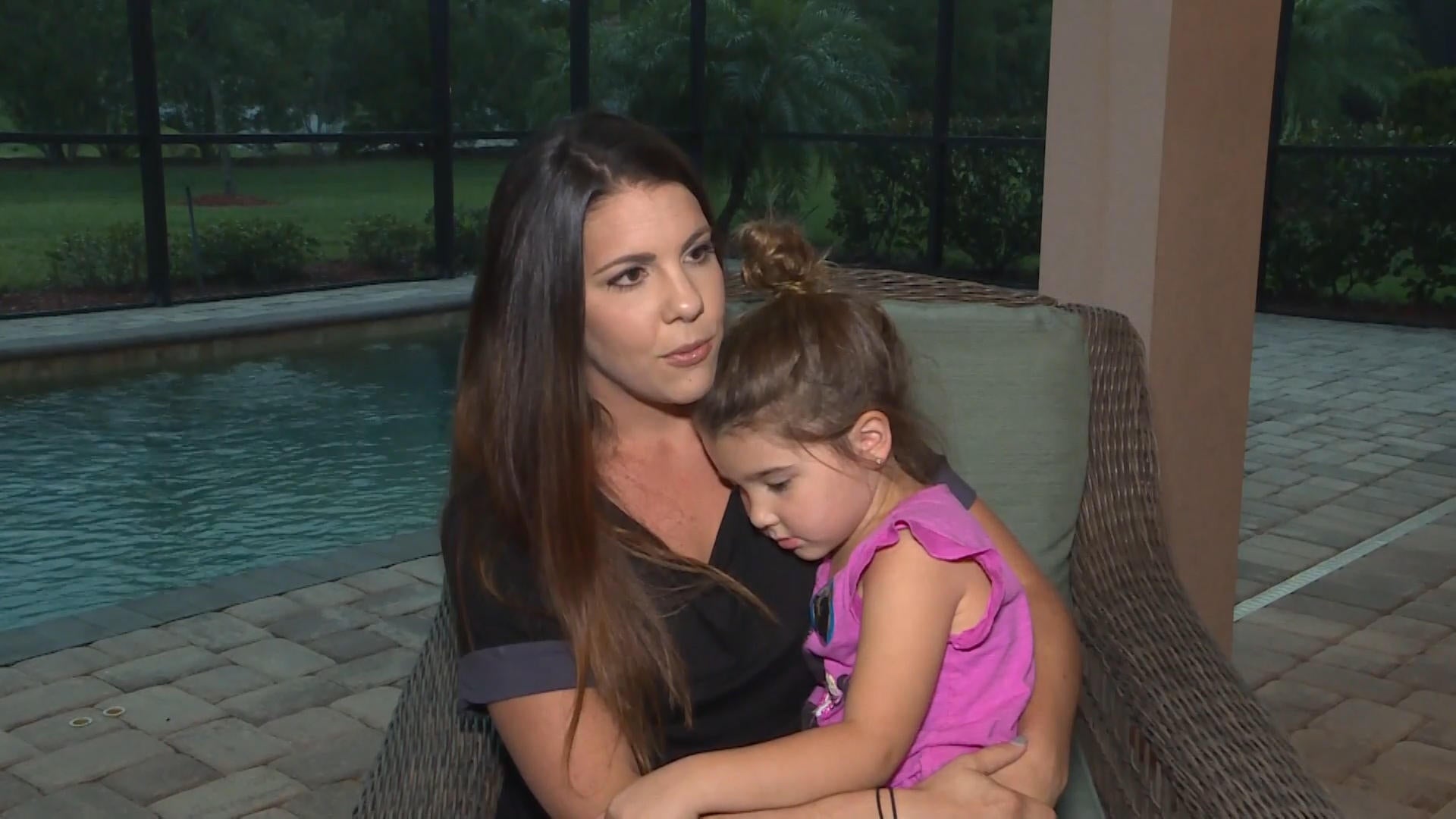 Family warns of "dry drowning" after 4-year-old nearly dies from swallowing pool water
A family from Florida had a terrifying incident when their 4-year-old daughter was hospitalized after accidentally swallowing pool water days earlier. Now, they're telling their story in hopes other parents will heed the warning signs of "dry drowning."
Earlier this month, Elianna Grace was enjoying some swimming time at her grandparents' house in Sarasota, Florida. The 4-year-old was playing with a "pool noodle" with her family.
"As many many children do every day, she was blowing in one end and blowing water out the other," Elianna's mother Lacey Grace wrote on Facebook. "By 100 percent freak accident, Elianna put her mouth to blow out at the same time someone blew in the other end, causing the water to shoot directly down her throat."
The child immediately vomited and about 30 minutes after the incident appeared completely normal again, according to her family.
But the next day, she came down with a fever. A couple of days later, after Elianna's fever went down and then came back, Grace took her to the doctor. The doctor said to immediately take her daughter to the nearest emergency room.
"Her heart rate was crazy high, her oxygen was low, and her skin was turning purple which suggested chemical infection," Grace wrote on Facebook.
A chest X-ray showed inflammation and an infection. She was diagnosed with aspiration pneumonia, also known as "dry drowning," a condition that occurs when someone inhales water through the mouth or nose and it gets into the lungs.
Lacey said she had a hunch about the diagnosis. In the days following the pool incident, she couldn't stop thinking about an article she had read a year earlier about a Texas boy – the same age as Elianna – who died from dry drowning.
"He passed away after seven days and she was on day four so it was just, I don't know what would've happened if we waited," Grace told CBS affiliate WTSP.
Unlike more typical drowning deaths that tend to happen in pools, lakes and at the beach, dry drowning can occur hours, even days, after a person inhales water. The condition mostly involves young children.
According to medical experts, symptoms of dry drowning – also known as secondary drowning – include trouble breathing, persistent coughing, sleepiness and fatigue, and vomiting.
Last year, the condition made headlines after 4-year-old Francisco Delgado Jr. – the child Grace remembered reading about – died a week after a family trip to the Texas City Dike.
The boy had shown symptoms that resembled a stomach bug for several days, including vomiting and diarrhea, but then doctors found fluid in Frankie's lungs and around his heart.
At that time, Dr. Thomas Waters of the Cleveland Clinic's Center for Emergency Medicine told CBS News that the condition can cause a child's airway muscles to spasm.
"They're trying to breathe against those closed vocal cords, which can lead to inflammation, swelling, and fluid in the lungs," he explained. "Another possibility is they get just a little bit of the fluid into their lungs, they recover, but then hours later that again causes inflammation, more fluid, respiratory distress."
Grace said she is so grateful that she read the article about young Frankie because it likely saved her daughter's life.
"There was two doctors that told me that, you know, thank God you brought her in because when her oxygen level was dropping in the hospital. She looked [like] she was sleeping, she looked like an angel, she didn't look like she was struggling whatsoever," Grace told WTSP.
Elianna is now out of the hospital and recovering at home. Grace wants other parents to know about the dangers of dry drowning.
"If you think something is off, I encourage you to get them checked out. Best case, they're gonna say, 'Your kid's OK, something that'll pass.' And, worst case, they're gonna say, 'You need to get to the nearest ER immediately.'"
Thanks for reading CBS NEWS.
Create your free account or log in
for more features.