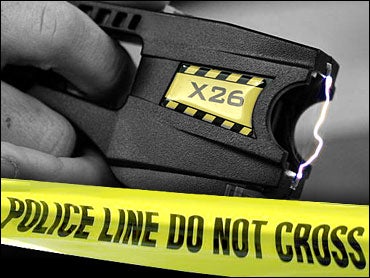 Family Seeks Justice In Taser Death
For Athena Bachtel, last August 28, 2008, is a nightmare she relives every day. It began when she heard sirens outside her home at half past midnight. To her surprise, he own son's Chevy Blazer was parked across the street.
"I never imagined that when I walked out that door that would be the last time I saw my son alive," Bachtel told CBS News this week, after settling her lawsuit stemming from her son's death.
Her 23-year-old son, Stanley Harlan, was the youngest of her three children. Easy going and sports loving, Harlan had recently become the father of a baby boy.
Driving home from work at a local restaurant that August night, Harlan was pulled over by a patrolman in their hometown of Moberly, Missouri, 40 miles north of Columbia. Police would later say he'd been speeding -- driving 38 miles an hour in a 25 mph zone.
Harlan immediately got out of his vehicle wanting to know why he was stopped, as video from the cameras mounted on police cars show. Patrol Officer Gary Breyfogle called for backup and checked Harlan's driver's license and vehicle registration.
Officers Shane Newbrough and Jeremy Baird quickly arrived on the scene. None of the officers administered any sobriety tests. They later said Harlan wasn't threatening but refused to cooperate.
Bachtel, in her bathrobe, was on the street looking on in confusion as the incident rapidly deteriorated.
"Baird just grabbed him, put his hands on him, and Stanley was just trying to get away," she said. In the police car video it appears as though the officers may have been trying to handcuff or arrest Harlan. He squirmed, they pushed.
"They never said he was under arrest," Bachtel says. "He was actually over there in the grass facing them with his hands up in the air saying, 'I'm not resisting." That's when they tased him."
Following an order by Officer Newbrough, Officer Baird deployed his X26 Taser gun -- firing its 50,000 volts of electricity three times in a row for a total of 31-seconds, which is six times longer than recommended in typical police training sessions.
"I will never forget the horrible scream my son let out," Bachtel says.
Harlan fell to the ground, knocked unconscious, and went into cardiac arrest. For 14 minutes, as seen on the videotape, the officers gave him no medical attention but did search his car. By the time paramedics arrived, it was too late.
The city of Moberly and its police department declined our interview requests but in a written statement called Harlan's death "unanticipated and unintentional."
City Manager Andy Morris wrote, "In the dynamic world of law enforcement, police officers must often make split-second decisions in tense, rapidly-evolving situations. Unfortunately, not all confrontations in which police officers are involved have safe endings."
The tragic incident in Moberly is again putting the safety of Taser devices under scrutiny.
"It's a less lethal weapon. That doesn't mean it can't be lethal," says Police Chief Ken Burton, in nearby Columbia, Missouri, were all 156 of his patrol officers are equipped with the X26, which has a firing range of 35 feet.
But Burton has restricted their use, for example, prohibiting officers from Tasering a fleeing suspect, such as the recent case of a shoplifter who was hit with a Taser while running away with a pair of tennis sneakers.
"I changed the policy, so our officers understand they need to feel like they were personally in danger or a third person was in danger," Burton says.
In eight hour training course, Columbia officers are taught that if it's necessary to fire the Taser, five seconds should be enough, and if that doesn't work to subdue a suspect, try some other use of force.
The Harlan death in Missouri comes as the popularity of Tasers with U.S. law enforcement agencies has soared in the past decade -- from 500 agencies adopting Tasers in 2000 to 14,201 agencies using them today, according to Arizona-based Taser International, the leading supplier of electronic control devices. That's eighty percent of the nation's law enforcement agencies.
Chief Burton says, "I think anything we can put in an officer's tool box that is less lethal is a positive. If it's something they can use that's not likely to kill the suspect, that's my preference."
But as of two years ago, the Bureau of Justice Statistics had already counted three dozen "Taser-related" deaths at the hands of police between 2003 and 2005, while in a 2008 report Amnesty International cited more than 50 cases where medical examiners found a Taser shock contributed to death.
Taser International disputes those findings as lacking scientific proof.
Peter Holran, the company's vice president for public relations and government affairs, told CBS News, "The electrical output of a Taser device is incapable of causing death."
He cited studies such as the work of Dr. William Bozeman at Wake Forest University, who examined 1,200 cases of Taser use by police and found serious injuries occurred less than one percent of the time.
Taser International sees its responsibility to "train the trainers" who show fellow officers how to properly use the devices. "The policy of when they can be used is up to the local community and the local agency," Holran said.
Moberly Police have suspended their use of Tasers indefinitely, as result of Batchel's wrongful death lawsuit, and will now deploy defibrillators in some patrol cars.
Outside her home, she has erected a shrine to her son, which lists the number of deaths reportedly attributed to Taser use by police.
Her settlement with Moberly also resulted in a $2.4 million payout, the maximum that could be obtained under the city's insurance policies. The primary beneficiary will be Harlan's son, who just turned one.
After a probe by the Missouri Highway Patrol, neither local nor state prosecutors brought criminal charges against the officers involved in Harlan's death. His family and their attorneys are appealing to the Justice Department to review the case in the hopes that prosecutors would consider bringing federal civil rights charges against them.
"I made a promise to our son that I would never give up, and I would fight for justice for him," Bachtel says. "You don't watch your child being murdered and feel the same about life."
Thanks for reading CBS NEWS.
Create your free account or log in
for more features.