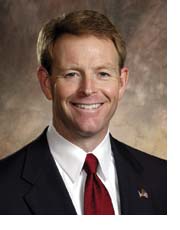 Family Research Council Lobbied Congress on Resolution Denouncing Ugandan Anti-Gay Bill
Yesterday, the blog Joe. My. God., working with a reporter from Gay City News, reported that the conservative Family Research Council spent $25,000 "to lobby Congress against approving a resolution denouncing Uganda's plan to execute homosexuals."
The site posted three screencaps from the Family Research Council's lobbying report; they suggest $25,000 was spent on lobbying what FRC described as "Res.1064Ugandan ResolutionPro-homosexual promotion."
Asked of the organization had indeed lobbied to kill the resolution, FRC provided Hotsheet with a statement calling claims that they had lobbied against the resolution inaccurate.
The Tony Perkins-led FRC said it did lobby on the bill, but not to kill it - rather to change the language it contained and "to remove sweeping and inaccurate assertions that homosexual conduct is internationally recognized as a fundamental human right."
"FRC did not lobby against or oppose passage of the congressional resolution," the group said. "FRC's efforts, at the request of Congressional offices, were limited to seeking changes in the language of proposed drafts of the resolution, in order to make it more factually accurate regarding the content of the Uganda bill."
"FRC does not support the Uganda bill, and does not support the death penalty for homosexuality - nor any other penalty which would have the effect of inhibiting compassionate pastoral, psychological, and medical care and treatment for those who experience same-sex attractions or who engage in homosexual conduct," the group adds.
The Ugandan bill, which was met with widespread condemnation, would have made some homosexual conduct punishable by death. (It now looks unlikely to become law.) The U.S. congressional resolution, a symbolic gesture, passed the Senate in April but has stalled in the House.
You can read the Senate version of the resolution here, and the House version here.
"The proposed Ugandan bill not only threatens human rights, it also reverses so many of the gains that Uganda has made in the fight against HIV/AIDS," said Howard L. Berman (D-Calif.), chairman of the House Foreign Affairs Committee, upon his introduction of the resolution in February. "This issue has united leaders of different political and religious views in Uganda and worldwide in one common belief in the rights of all human beings regardless of sexual orientation."
Thanks for reading CBS NEWS.
Create your free account or log in
for more features.