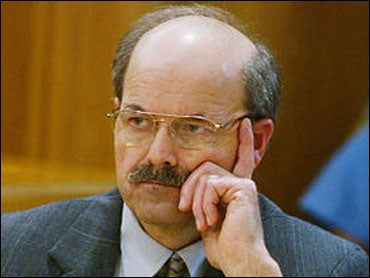 Families Confront BTK In Court
With unsteady voices and eyes brimming with tears, fathers, brothers, sons and daughters of those killed by Dennis Rader — the BTK serial killer — took place in front of a courtroom microphone to describe the depth of the pain he caused the community.
"Nancy's death is a like a deep wound that will never, ever heal," Beverly Plapp, sister of victim Nancy Fox, testified. "As far as I'm concerned, Dennis Rader does not deserve to live. I want him to suffer as much as he made his victims suffer."
"This man needs to be thrown in a deep, dark hole and left to rot," she said. "He should never, ever see the light of day."
Some of those who were given five minutes to speak to Rader and the court, such as Carmen Otero, expressed pure anger, CBS News 60 Minutes correspondent Erin Moriarty reports for CBSNews.com. Others, such as Kevin Bright, who was shot by Rader, gave testimony almost too intense to listen to.
Rader, 60, a former church congregation president and Boy Scout leader, led a double life, calling himself BTK for "bind, torture and kill." The slayings terrorized the Wichita area until Rader was arrested in February. He pleaded guilty in June to 10 murders committed from 1974 to 1991.
The sentencing hearing, which began Wednesday, was in many ways is a formality, with the only issue before the judge whether Rader will serve his 10 life sentences consecutively or concurrently. Kansas had no death penalty at the time the killings were committed.
---
Watch CBSNews.com's Live Webcast of testimony at BTK killer Dennis Rader's sentencing hearing.
---
Testimony earlier in the hearing focused on Rader's gruesome fantasies. Earlier Thursday, Capt. Sam Houston of the Sedgwick County Sheriff's Office said those fantasies were often fueled by the final moments of his victims' lives. Rader even recreated those moments, photographing himself tied to a chair and wearing a mask, a wig, a victim's dress, prosecutors said.
"He could live in that moment for years," Houston testified.
Rader's last known victim was Dolores Davis, a 63-year-old woman he handcuffed and tied with pantyhose before he choked her to death in 1991. The killer told police it took two or three minutes for her to die.
"It was this moment that victim was tied and bound," Rader wrote in a journal, Houston testified.
Rader tossed Davis' body under a bridge. He returned later to take Polaroid photographs of her wearing a feminine mask Rader himself had worn for his own bondage fantasies.
Prosecutors flashed a photograph of Rader wearing the mask, tied to a chair and donning a woman's blond wig. They also showed other pictures the killer took in which he had bound himself and was wearing a dress he had taken from Davis' house — apparently reliving the ecstasy of the murder.
Some of the most disturbing details of Rader's 10 killings were expected to come from Wichita police Lt. Ken Landwehr, coordinator of the police department's investigation into BTK, who took the stand as the final witness.
Later, family members of victims were to confront the killer and Rader himself was to have a chance to address the court.
The 60-year-old Rader, who called himself "BTK" for "bind, torture and kill," also has said he does plan to make a statement. Moriarty learned on one of her face-to-face meetings with Rader that the convicted serial killer has written his expected statement to be touchingly emotional.
The former church congregation president and Boy Scout leader pleaded guilty in June to 10 murders between 1974 and 1991. The slayings terrorized the Wichita area until Rader was arrested in February.
The sentencing in many ways is a formality, with the only issue before the judge whether Rader will serve his 10 life sentences — adding up to 175 years — consecutively or concurrently. Kansas had no death penalty at the time the killings were committed.
Wednesday's testimony outlined Rader's fascination with bondage, his desire to strengthen his hand muscles when he found it hard to choke victims, and a terrifying conversation he had with an 11-year-old girl before he killed her.
Detective Clint Snyder testified that Rader told investigators he used a squeeze ball to strengthen his grip after finding his hands numbed during strangulations.
In describing one killing, Rader told Snyder: "I'm sorry. I know this is a human being, but I'm a monster."
Kansas Bureau of Investigation special agent Larry Thomas testified that after Rader killed Josephine Otero's parents and brother, he took the girl to the basement. Prosecutors projected to a screen Rader's recollection of the exchange he had with Josephine before he killed her.
"What's going to happen to me?" she asks.
Rader: "Well, honey, you're going to be in heaven with the rest of your family."
"I remember problems with Josephine because her hair was in the way," Rader told investigators.
Rader looked away briefly as crime scene photos were shown. He otherwise appeared calm throughout the hearing, sipping water or occasionally taking notes on a legal pad.
Gruesome details of the killings were projected on a courtroom screen throughout Wednesday's testimony, including how in 1974, Rader suffocated 9-year-old Joey Otero in front of his mother, Moriarty told The Early Show's Hannah Storm.
Evidence brought to the witness stand was similarly chilling, Moriarty reports. One witness displayed the toys Rader gave to three young children he locked in a bathroom while he strangled another victim, Shirley Vian.
According to testimony, Rader at times used his connections to scouting and local churches to facilitate his crimes and provide him an alibi.
For the killing of Dolores Davis on Jan. 13, 1991, Rader left a Scout camp under the guise of going home for something he forgot, Sedgwick County Sheriff Capt. Sam Houston said. Instead, Rader went to his parents' home to change out of his scouting uniform and into his dark "hit clothes."
He took the body of another of his victims, Marine Hedge, to the church he attended in Wichita, where he put black plastic over the windows to give him privacy while he took bondage pictures for his sexual satisfaction.
Rader, referring to the last two murders near the Park City home where he lived, told police: "This is not really good serial killer business. This is right at my back door. I started getting lazy the last few years."
Wednesday's testimony was peppered with the bizarre acronyms and names police said Rader used to describe his killings. He called his potential victims projects, or PJs, and gave each a name.
He initially targeted Josephine Otero, who was Hispanic, as the object of his sexual fascination, calling it Project Little-Mex. Davis had a dog kennel at her home, so he dubbed her killing Project Dogside, according to testimony.
There also was what he called the "mother lode," a locked drawer full of crime mementos that he kept stored at his work. Rader was an ordinance enforcement officer before his arrest.
But perhaps the most bizarre acronym of all was what he called AFLV, which stood for After Life Concept for Victims — fantasies he had about his victims serving him in the afterlife.
According to testimony, Nancy Fox was to be his primary mistress in the afterlife. Josephine Otero was to be his "star young maiden," while 9-year-old Joseph II would be a boy servant and male sex toy.
The details that emerged in court were wrenching for the surviving Otero children.
Carmen Otero Montoya clutched an afghan in the courtroom and nervously tapped her foot on the floor through much of the testimony. Her two brothers, Charlie and Danny, mostly crossed their arms, occasionally wiping away a tear.
But when prosecutors projected a close-up photo of Josephine on the screen, Charlie Otero became visibly flushed, buried his face on his lap and cried.

Thanks for reading CBS NEWS.
Create your free account or log in
for more features.