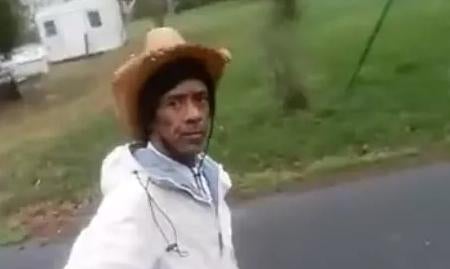 North Carolina man shot dead while live on Facebook
WINGATE, N.C. -- A North Carolina man who was broadcasting himself live on Facebook as he was walking down a street was shot and killed by another man on Monday, police said. Just minutes before the 10 a.m. shooting, Prentis Robinson had been to the Wingate police department and spoke with the chief about a cellphone that had been stolen from him, Wingate Police Chief Donnie Gay told WCCB-TV .
On a portion of the video, Robinson wore a hat and used a selfie stick to record himself talking and walking along a street in Wingate, which is about 30 miles southeast of Charlotte. At one point, he was heard saying "You on live," apparently telling another person the conversation was being recorded.
The video showed Robinson was approached by someone who fired four shots with a long gun. The camera hit the ground after the shots rang out and showed sky and trees, and the gunman running away. A car pulled up and found Robinson.
CBS affiliate WBTV reports that officials issued a warrant for first-degree murder against Douglas Cleveland Colson. On Tuesday morning, WBTV reported that Colson was in police custody.
The Wingate Police Department confirmed the arrest on its Facebook page. Police said Colson turned himself in, WBTV reports.
Wingate University and Wingate Elementary School were placed on lockdown for a couple of hours after the shooting, although the shooting didn't occur on either campus.
Robinson's Facebook account described him as a musician who lived in Atlanta. According to public records cited by The Charlotte Observer , Robinson lived in Charlotte during the previous decade but spent much of his adult life in Wingate and graduated from a local high school.
A Facebook spokesperson told CBS News that the company removed the original video.
"Because we cannot have known that the victim would have wanted this horrific act to be live streamed on social media, we have removed the original video," the spokesperson said. "We will apply a warning screen to future uploads of the video intended to raise awareness or condemn this tragedy, and limit accessibility to people over the age of 18. We will remove instances of videos from Facebook that are shared supporting or encouraging such acts of violence."
Thanks for reading CBS NEWS.
Create your free account or log in
for more features.