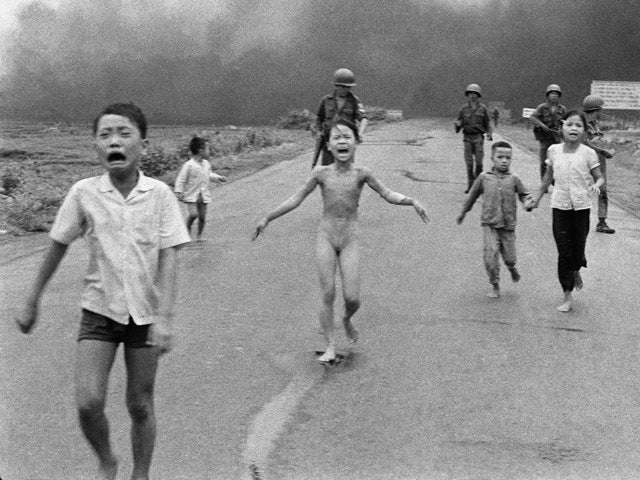 Facebook reverses its ban on iconic Vietnam War photo
Facebook reversed itself Friday after facing worldwide criticism over its censorship of an iconic photo from the Vietnam War.
The social network initially banned the photo of a naked, screaming child running from a napalm attack, apparently for violating the site's "community standards" against nudity. However, it relented as protests spread and attracted more prominent support.
"In this case, we recognize the history and global importance of this image in documenting a particular moment in time," Facebook said in a statement. "Because of its status as an iconic image of historical importance, the value of permitting sharing outweighs the value of protecting the community by removal, so we have decided to reinstate the image on Facebook where we are aware it has been removed."
It also said it would review how its community standards were applied in this situation.
The reversal came just hours after Norway's Prime Minister Erna Solberg joined others in challenging Facebook's restrictions on nudity by posting the picture. Facebook quickly deleted it.
The Pulitzer Prize-winning image by Associated Press photographer Nick Ut became the flashpoint of a heated debate about freedom of speech in Norway after Facebook removed the photograph from a Norwegian author's page last month.
Many Norwegians then posted the photo on the social media network in protest.
"What they do by removing images of this kind, whatever (the) good intentions, is to edit our common history," Solberg told the Norwegian news agency NTB.
After Facebook's change of heart, the prime minister told NRK she was pleased with the decision and that it shows social media users' opinions matter.
"To speak up and say we want change, it matters and it works. And that makes me happy," she said.
Facebook, in an earlier statement from its European headquarters in London, responded that "it's difficult to create a distinction between allowing a photograph of a nude child in one instance and not others."
The little girl in the image, Kim Phuc​​, is naked and crying as the napalm melts away layers of her skin.
Several members of the Norwegian government followed Solberg's lead and posted the photo on their Facebook pages. One of them, Education Minister Torbjorn Roe Isaksen, said it was "an iconic photo, part of our history."
Solberg later reposted the image with a black box covering the girl from the thighs up. She also posted other iconic photos of historic events, such as the man standing in front of a tank in Beijing's Tiananmen Square in 1989, with black boxes covering the protagonists.
"While I was on a plane from Oslo to Trondheim, Facebook deleted a post from my Facebook page," she wrote. "Today, pictures are such an important element in making an impression, that if you edit past events or people, you change history and you change reality."
Norwegian newspaper Aftenposten published the photo on its front page Friday and also wrote an open letter to Facebook founder Mark Zuckerberg in which chief editor Espen Egil Hansen accused the social media giant of abusing its power.
Hansen said he was "upset, disappointed - well, in fact even afraid - of what you are about to do to a mainstay of our democratic society."
"We try to find the right balance between enabling people to express themselves while maintaining a safe and respectful experience for our global community," Facebook's initial statement said. "Our solutions won't always be perfect, but we will continue to try to improve our policies and the ways in which we apply them."
Paul Colford, AP vice president and director of media relations, said: "The Associated Press is proud of Nick Ut's photo and recognizes its historical impact. In addition, we reserve our rights to this powerful image."
Before it was published 44 years ago, AP also had a discussion about the image because it violated the news agency's policy on full-frontal nudity.
Hal Buell, then AP's executive news photo editor in New York, said he received a message from Saigon photo editor Horst Faas saying a "controversial picture" was coming up.
"Maybe we discussed it on the desk for 10-15 minutes," said Buell, who is now retired. "But there is nothing about this picture that is prurient. How can we not publish this picture? It captures the horrors of war. It captures the terrible situation of innocents caught in the cross-fire of the war​."
Thanks for reading CBS NEWS.
Create your free account or log in
for more features.