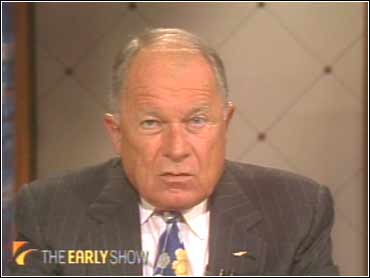 F. Lee Bailey Disbarred In Florida
Famed attorney F. Lee Bailey was banned from practicing law in the state of Florida by the state Supreme Court Wednesday.
Bailey was disbarred for the way he handled 600,000 shares of stock owned by a former client now serving a life sentence in a federal prison for drug smuggling. Bailey said he took control of the stock that was worth nearly $6 million as payment for his services. Federal prosecutors claimed the stock was meant for seizure and that Bailey had only been given control over it for limited purposes and a limited period.
He initially refused to relinquish control of the stock but changed his mind after almost six weeks in a federal prison in 1996.
The unanimous order gives the celebrated defense lawyer, whose clients included Sam Sheppard and O.J. Simpson, 30 days to close his practice in Florida.
The Supreme Court said Bailey was guilty of "the most serious and basic trust account violations" for his handling of some stock in the case of convicted drug dealer Claude Duboc.
Bailey was supposed to put the stock toward Duboc's forfeiture requirement as part of an agreement with federal prosecutors
"Nevertheless, from the day it was transferred to him, Bailey treated the money as his own," the court said in an unsigned unanimous opinion.
Bailey lives in Manalapan near Palm Beach. He is also a member of the Massachusetts Bar. The court said Bailey, rather than keeping money from the sale of stock separate, mixed it with money in his own bank account, obtained a line of credit on it and sold some of it.
A referee in the case, brought against Bailey by the Florida Bar, had found numerous rules violations and recommended the disbarment.
Bailey represented Duboc in a 1994 drug smuggling case and worked out a deal with prosecutors under which his client would plead guilty and forfeit all of his assets to the federal government. Among the assets were $5.8 million worth of stock in Biochem Pharma.
The deal called for Bailey to use that money to liquidate other Duboc assets, including two large estates in France, car collections, boats and art works. The two estates needed large amounts of money for maintenance while waiting to be sold.
Bailey can't reapply for admission to the bar for five years under the order. After that, if he were to reapply, he would have to retake the bar exam and undergo a background and character examination.
In addition to Sheppard, an Ohio doctor eventually cleared of killing his wife in the 1950s who was the inspiration for the television series The Fugitive, and Simpson, Bailey also represented the Boston Strangler and Patty Hearst.
©MMI The Associated Press. All Rights Reserved. This material may not be published, broadcast, rewritten, or redistributed
Thanks for reading CBS NEWS.
Create your free account or log in
for more features.