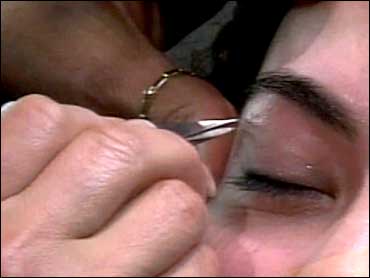 Eyebrows: Shaping Your Face
Many women spend a lot of time and money on their make-up, hair and nails, but sometimes overlook their eyebrows. But, as The Early Show contributor Lynda Lopez reports Tuesday, that's changing.
If you're not in the habit of going in to have your eyebrows shaped by a professional, maybe you should. Beauty experts say that the importance of a well-shaped brow can't be underestimated. And if you want to go to the best, we can point you in the right direction.
Many stars have had their eyebrows shaped by a woman named Eliza Petrescu.
"I've been fortunate all these years to touch many celebrity faces, from Giselle the model, to Cindy Crawford," says Petrescu. "I did Oprah, too…. Tracy Pollan… comes regularly."
But, these days, it's not only celebrities who realize the importance of great brows.
"It makes the biggest difference. Once you have your eyebrows done, it's like a mini-facelift," Petrescu explains.
In her Fifth Avenue salon, her team of experts uses tweezers and hot wax to transform unruly brows into sophisticated perfection.
It has been said that if your eyebrows are done right, it is the key to your whole face, as far as how makeup looks on you.
"Absolutely," Petrescu agrees. "When your eyebrows are done, your whole face is balanced."
But clients who want pencil-thin eyebrows, like those of movie stars from the '30s and '40s, may be disappointed. Petrescu says that today, eyebrows should look natural and should be tailored to fit the individual's face.
If you lie a pencil against your nose, where it touches the eyebrow is where your eyebrow should start. When the pencil is placed in a line running from the edge of your nose to the corner of your eye, where it intersects with the eyebrow is where it should end.
Women aren't her only clients. Recently, Eric Lisher, an investment banker, had his first appointment. (He said the waxing felt like "a Band-Aid being ripped off… not so bad at all.")
So if someone should notice that he got his eyebrows waxed and groomed and they look so great, what will he tell them?
"I'd tell them to go ahead with it," Lisher says. "It's actually a very quick, painless process, and I like what I see."
An appointment with Petrescu can cost more than $75. If that's a little too pricey, there are alternatives. One technique is centuries old, and only costs you $7. It's an ancient Indian method of hair removal called eyebrow threading.
"They actually use a special European thread," explains Mike Ajmera, who manages the Eyebrow Threading Salon in New York City. "They make a lot of twists and turns with the tread, turning it into a loop, and they'll use that to try to catch the hairs in the twists and twirls that they make from the thread."
Ajmera says the technique is relatively painless, and his clients prefer it to waxing.
"Some people who have sensitive skin, they tend to break out or get red bumps from waxing, but threading is a much more natural approach," he says. "We recommend that people come and give it a try. I assure you that you'll like it better than waxing."
So whether you prefer waxing, threading, or old-fashioned tweezers, experts say that more and more people are opening their eyes to the importance of shapely brows.
Concludes Petrescu, "Eyebrows can make or break the face, and people are more and more aware of that. My saying is that if eyes are the windows to the soul, then eyebrows are the frame."
She says you should have your brows shaped about every 5 or 6 weeks. And she says that too many women over-pluck their eyebrows and that a professional can really help you find the right shape for your face.
Thanks for reading CBS NEWS.
Create your free account or log in
for more features.