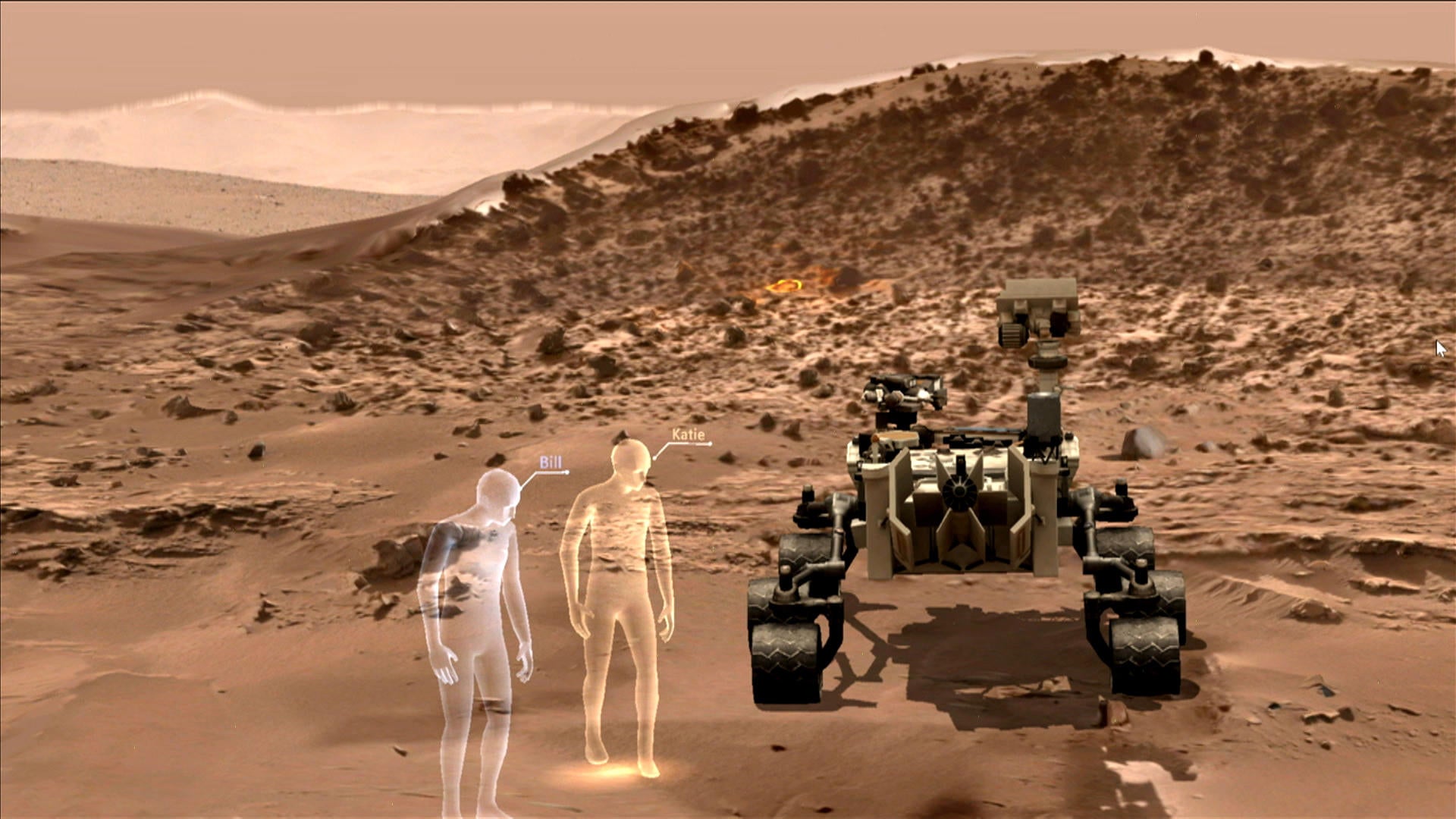 What's it like to be on Mars? Take a virtual-reality tour
Sand dunes stretch for miles, climbing into the sky. Ancient lakebeds are host to round pebbles, evidence that water once flowed past them. The Martian landscape is intricate and often Earth-like, and thanks to virtual reality, can now be experienced up close.
This week on 60 Minutes, correspondent Bill Whitaker gets a firsthand look at Mars, thanks to NASA's sophisticated rover named Curiosity. The rover touched down on the red planet in August 2012 and has been taking pictures and running experiments ever since.
In addition to Curiosity, NASA receives images of Mars from an earlier, smaller rover named Opportunity and from satellites that have been scanning the Martian surface for more than 50 years. With all of these pictures, NASA has pieced together what it says is an accurate topography of Mars in 3D.
Technology brings it to life through Microsoft HoloLens mixed reality headsets. In mixed reality, virtual elements are merged with the user's actual environment. The headsets use software called OnSight, a mission operations tool co-developed by Microsoft and NASA's Jet Propulsion Laboratory (JPL) that lets researchers participate in a shared virtual reality from anywhere in the world. All the images are real pictures of Mars; nothing is rendered.
"The virtual reality tour was one of the coolest things I have had the chance to do working at CBS," Whitaker says in the video above.
"You can't really tell when you're seeing it on TV," Whitaker says. "It has to be seen with the virtual reality glasses on. You're on the surface of Mars."
Walking in Curiosity's tracks, Whitaker explored the Martian surface with Katie Stack Morgan, a research scientist with NASA's JPL.
"Having that 3D perspective is really important for understanding, you know, what is the rover seeing?" Stack Morgan says. "What are these rocks?"
The area Whitaker explored is where NASA first discovered a habitable environment on Mars.
Stack Morgan also showed Whitaker a three-mile-high mountain called Mount Sharp, the area Curiosity will explore next on the red planet. Mount Sharp is composed of layers and layers of rock that NASA hopes holds the key to understanding how Mars changed over time.
"We are really excited to examine a transition from a time when Mars was habitable to a time when Mars maybe wasn't habitable," Stack Morgan says. "And we think that transition is up there on the mountain, and so that's what we're aiming for. There is so much history right here. It makes me just want to run to it and start climbing up it."
"Well," Whitaker replies, "it looks like you actually could."
Last fall, the JPL opened an exhibit called "Destination: Mars" at the Kennedy Space Center, allowing visitors to use Microsoft HoloLens headsets for their own virtual tour of Mars, but the exhibit closed at the beginning of the year. A spokesperson told 60 Minutes Overtime that the JPL is currently working to develop a more widely accessible virtual reality experience for the public.
The video above was produced and edited by Lisa Orlando.
Thanks for reading CBS NEWS.
Create your free account or log in
for more features.