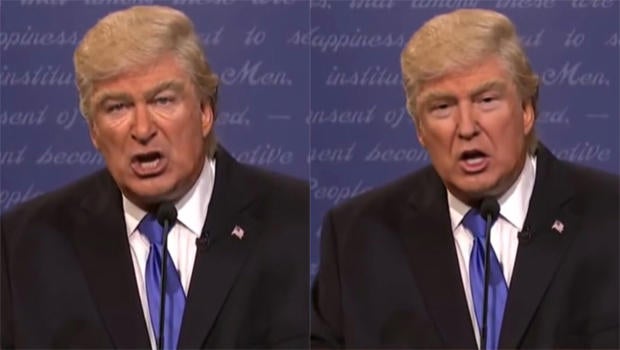 Expert warns of "terrifying" potential of digitally-altered video
Alec Baldwin is to some a perfect stand-in for President Trump. But in a digitally-altered video online, the president's face has been digitally stamped onto Baldwin's performance.
It's part of a wave of doctored audio and video now spreading online.
"The idea that someone could put another person's face on an individual's body, that would be like a homerun for anyone who wants to interfere in a political process," said Virginia Senator Mark Warner. He believes manipulated video could be a game-changer in global politics.
"This is now going to be the new reality, surely by 2020, but potentially even as early as this year," he said.
"Derpfakes" is the anonymous YouTuber who has made fake videos of President Trump, Hillary Clinton and Vladimir Putin, based off of performances by the cast of "Saturday Night Live."
In a message to CBS News, he said he does it for "fun." And though he sees the potential for fake news, he adds: "People will have to adapt as the tech is here to stay."
Hany Farid runs a lab at Dartmouth College aimed at exposing digital fakes.
Correspondent Tony Dokoupil asked Farid, "Are we ready for this?"
"No. We are absolutely not ready for this. We are absolutely not ready for it," Farid replied. "On so many different levels, we're not ready for it."
For starters, Dokoupil asked Farid to make a fake video. "I want to replace your face with Nicholas Cage's," he said.
Why Nick Cage? "Just because it's awesome," Farid laughed. "No other reason."
The result: "You can look at that all day long, and that, I tell you, is a pretty compelling fake," Farid said.
The method, recently published online by an anonymous developer, is one of several that Farid is tracking. This program demonstrated in the video below can change facial expressions in real-time.
And there is an Adobe program that can create new audio from written text.
"Right out of the gate, that's terrifying," Farid said. "I mean, that is just terrifying. Now I can create the president of the United States saying just about anything."
Adobe calls this an "early-stage research project." While the company acknowledges the potential for "objectionable use," it believes "the positive impact of technology will always overshadow the negative."
All these methods have legitimate uses in digital video and design. But Farid worries they'll be weaponized, too.
"I think the nightmare situation is a fake video of a politician saying, 'I have launched nuclear weapons against a country.' The other country reacts within minutes, seconds, and we have a global nuclear war," Farid said.
His lab is developing tools to quickly identify fakes. But Farid suspects this is just the beginning of a longer struggle.
"We have a 'fake news' phenomenon that is not going away," he said. "And so add to that fake images, fake audio, fake video, and you have an explosion of what I would call an information war."
Sen. Warner said, "There is no Democrat or a Republican that would be safe from this kind of manipulation. But, boy oh boy, we need as a country to get our act together."
Warner is asking the major tech companies to work with Congress to rein in false news, and now also false video.
CBS News reached out to a number of tech companies for comment and heard back from Reddit and Facebook. Both companies are aware of this false video phenomenon and are looking for ways to regulate it.
Thanks for reading CBS NEWS.
Create your free account or log in
for more features.